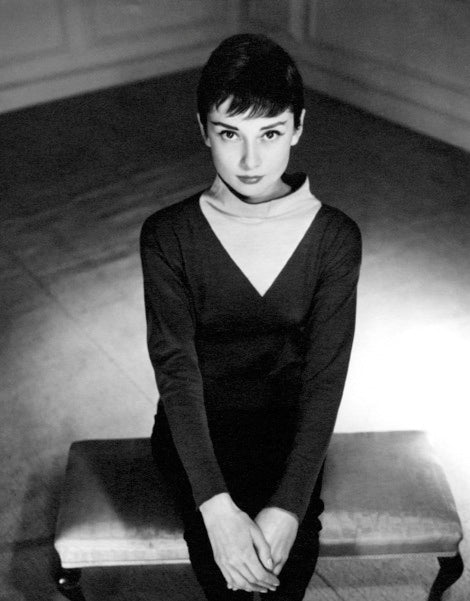 Portraits of an Icon - the must-see Audrey Hepburn Exhibition & Giveaway
Audrey Hepburn is one of those enduring beauty icons who will always fascinate and inspire. She taught us how to rock pearls, breton stripes, liner and a pixie cut better than anyone else, and no-one else before or since has been as graceful, chic and downright gamine as her - she really took sophisticated glamour to a whole new level!
Like women all over the world, Audrey has always inspired me - I've watched her films and pored over images of her for many years. I'll never forget the first time I saw Roman Holiday and was instantly enthralled by those big doe eyes, strong brows and, of course, this is the film where Audrey, as Princess Ann, visits an Italian barbershop and has her long hair cut into that crop.
When it came to writing my book there was no question that I would include Audrey as one of my iconic Makeup Muses. While I was researching, I came across a beautiful quote by Alexander Walker, the author of a biography on Audrey (Audrey: Her Real Story), which I thinks sums up her up perfectly - he said that Audrey had 'innocence and good sense, a wide-eyed eagerness for life, a gift for happiness, a vulnerability that invited protection, but also an air of natural independence.'
Audrey left an incredible legacy, not just her wonderful films but, as many of you will know, she spent much of her later life as a Goodwill Ambassador for UNICEF, visiting over twenty countries to spread awareness of poverty. She was especially interested in helping children and founded Audrey Hepburn's Children's Fund, which still provides funding to support healthcare and education for children - so she really was an all-round amazing and much-loved lady.
I was really excited when I heard that the National Portrait Gallery in London was planning a new exhibition showcasing Audrey's life and career, from her childhood in Holland and early years as a dancer in London, to her rise to fame as an Oscar-winning Hollywood actress and later philanthropic work. Part of the National Portrait Gallery is actually built on what was the site of renowned London nightclub Ciro's, where Audrey got her first big break (65 years ago!) when she was talent spotted while performing in Cecil Landeau's Petite Sauce Tartare.
There are some beautiful photographs in the exhibition, including classic film stills and iconic magazine covers, shot by amazing photographers like Richard Avedon, Cecil Barton, Irving Penn and Norman Parkinson, alongside behind-the-scenes images and personal photographs donated by Audrey's two sons. Definitely worth seeing if you're an Audrey or general fashion, film or photography fan. Unsurprisingly, I love the 1962 Jours de France magazine cover above, with Audrey as Holly Golightly - and 'Cat'!
Audrey Hepburn: Portraits of an Icon is running from 2nd July - 18th October and if you live in London or you're going to be visiting over these dates I have five pairs of tickets to the exhibition to give away. - This competition is now closed - stay tuned for the winning looks.
Audrey Hepburn Breakfast at Tiffany's Inspired Makeup 

Audrey Hepburn Funny Face 1950's Inspired Makeup 
Photos courtesy of the National Portrait Gallery.