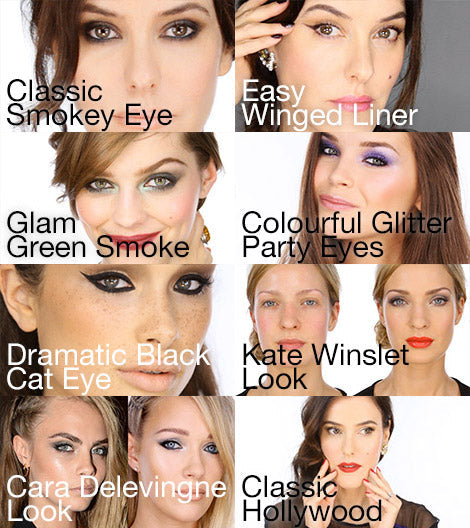 New Year's Eve Makeup Inspiration
If you're heading out for New Year's Eve and want some makeup inspiration, here's a round-up of a few of my all-time favourite party tutorials.
NYE is the perfect time to pump up the makeup glamour. I personally love classically beautiful, drop dead gorgeous, Hollywood and vintage-inspired party makeup - flawless, radiant skin with well placed highlighting is instantly beautifying, and you can't go wrong with a killer red lip (if you're in the market for a new red lipstick, watch my Ultimate Guide here). Sparkle of some sort is also a must (it's rude not to!) for the holiday season - golden eyeshadow teamed with black liner, mascara and a few individual false lashes at the outer corners is another of my easy, go-to party looks.
If you want to try something a little different, I love smoky eyes with colour - sultry greens and deep berries are deliciously wintery, but you can use whatever shades you like (remember that you can adapt all of the products I use in my tutorials depending on the makeup you have and the colours that suit you). Add a dab of coloured glitter to the centre of the lid as a finishing touch.
Though it might sound obvious, my top New Year's Eve tip is to allow enough time to do your makeup - there's nothing worse than having to rush your face! Makeup application helps you to get into the party spirit, so figure out what time you need to leave and work backwards so that you can really focus and enjoy it.
Wishing you all a happy, healthy and prosperous new year, and remember, if you try any of these looks and upload photos to social media, tag them with #MyLisaLook so that I can see and like your pictures. Here's to 2016! X