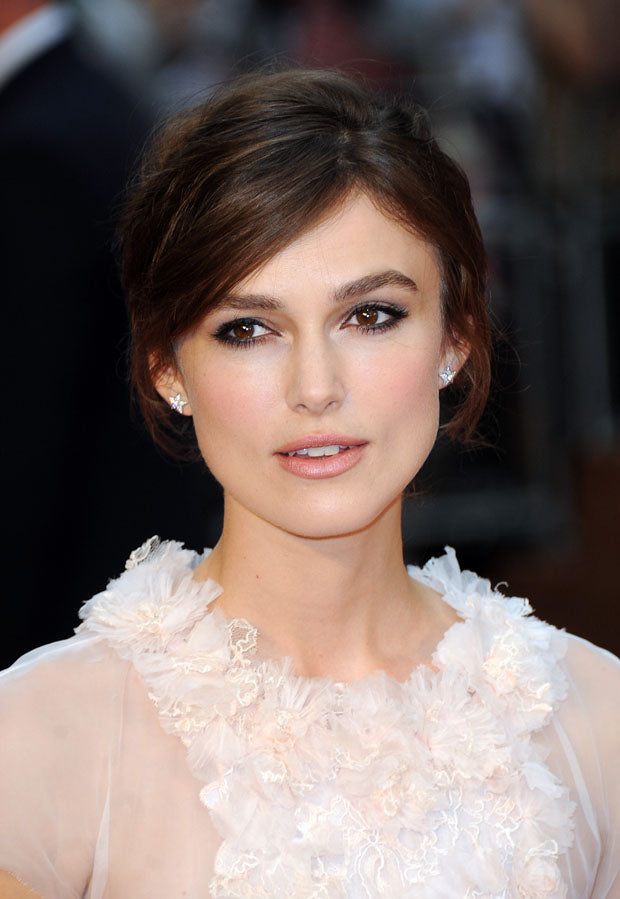 Keira Knightley Red Carpet
I was really pleased to be asked to work with Keira on the press junket and world premiere of Anna Karenina. As well as being a beautiful face to make-up, I've been excitedly looking forward to seeing this movie.
Keira's stylist Camilla showed me the beautiful premier dress on the first day, so I had time to think about a look that would work well. The Chanel couture dress was a dream! Pale rose pink, feminine, pretty and perfect for Keira. The pewter belt added a little unexpected texture and helped me to shape the make-up.
I wanted to do a soft, pale and pretty make-up that had a romantic feel but was careful to add strength around the eyes so the overall look didn't end up looking insipid or washed out against the dress - a fine balance! Above all the make-up needed to be elegant and flatter Keira's naturally beautiful face.
I started with a flawless base; Kiera has gorgeous skin, so this wasn't a difficult challenge by any means! I used Perfection Lumiere in 10 Beige, applied in thin layers using a brush to really buff into the skin.
I also applied the concealers Éclat Lumiere (20 Beige Clair) and Lift Lumiere (10 Beige Lumiere) around her eyes and on the high points of her face to highlight and shape.
After a light dusting of Poudre Universelle Libre in 20 Clair I went onto eyes.
I began with a perfect liquid line along the upper lashes using Ecriture De Chanel - 10 Noir. I was careful to keep the liner extremely thin at the inner corner and only building up from around a third of the way along. I softened the line slightly using the powder shadow Ombre Essentielle in Ebony. At the outer corner I lifted and elongated the liner into a small kitten flick. I washed a mixture of the two shades in Ombres Contraste Duo in Gris - Subtil across Keiras eyelids, mixing it until it was a very soft shimmery silver/grey. I also added the pale pink Ombre Essentielle - 76 Liberty at the socket line to blend and soften. Underneath the lower lashes I used the Duo again, to add some softly smokey definition. A blush of the shimmery pink Liberty at the inner corner and Stylo Yeux Waterproof - 10 Ebene along the lower waterline completed the eye look. I then added lots of Inimitable Intense Mascara - 10 Noir and a few individual lashes by Liz Martins at the outer edge of the upper lashes.
The eyes had enough drama so brows were lightly powdered using Le Sourcil De Chanel 20 Brun for a soft, flattering effect.
For cheeks I dusted Joues Contraste in Rose Initiale 72 mainly to the apples of the cheeks for a fresh flush of colour. I used a large brush, swirling very lightly so the blush would feel like it was coming from within with no visible edges.
Lips were shaped with Le Crayon Levres in Natural 34 and the beautifully chic and elegant lipstick, Rouge Allure in Evanescente 88 finished off the look to perfection.
When I said goodbye to Keira at the end of the after, after party (many hours later!) her make-up was still looking fresh and flawless - I was very happy! 
I absolutely loved the film and urge you to see it. All the performances are beautifully understated and believable. The staging is very interesting as the story is told through a series of theatrical sets and stages, so it's like watching a play on screen - sounds strange I know, but it's amazing how quickly you get used to it and carried away! The sets, costumes, jewellery, lighting and production are so deliciously sumptuous - a real feast for the creative eye. And the dancing and music!!! Oh the dancing is just too fabulous, so intricate and sensual. I really want to learn how to do it but all the actors said it was unbelievably hard to do! Keira is as divine in the film as she is in real life ...I had a great couple of days.
Would you wear this (or a similar) look?
Hair - Ben Skervin
Stylist - Camilla Pole