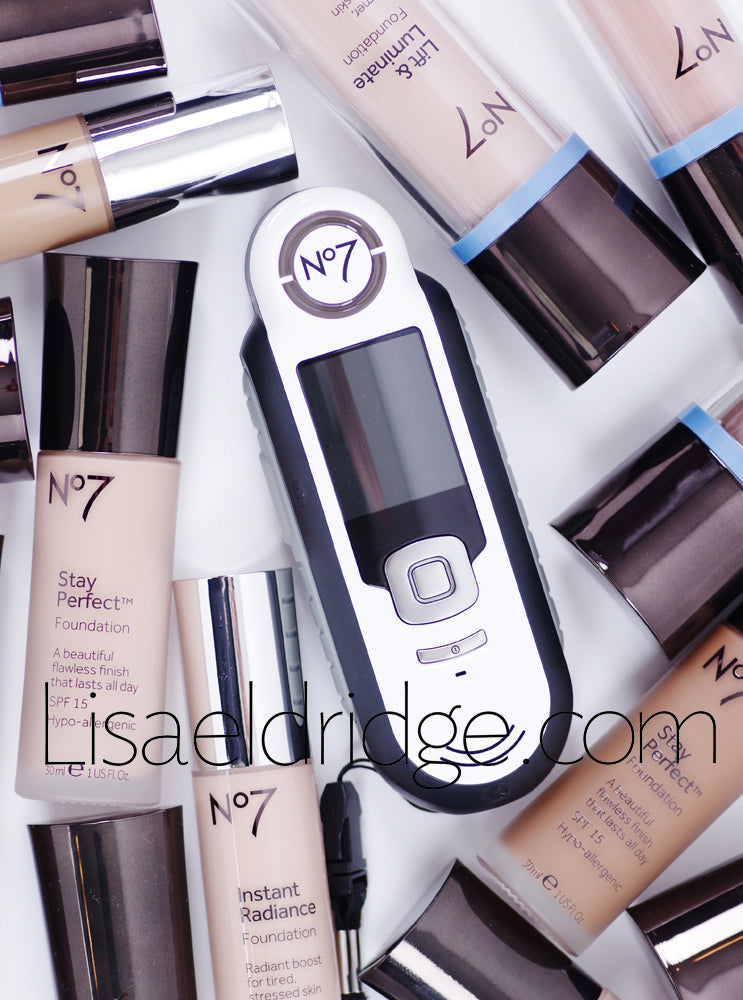 Discover Your Skin True Match
As you've probably noticed, nothing on my blog or videos is ever sponsored. I pride myself on the fact that this website, my other platforms and my opinions aren't for sale and are always excluded from any on-going contracts I have. As you may also know, I'm the creative director of the Boots brand No7. I've never posted about anything entirely No7 before but today I really have to. Not because Boots has asked me to (they haven't) but because I'm especially proud of what we have been working on for the past three years.
Three years ago we began work on the mammoth task of totally revamping the brand. If you go into Boots tomorrow (the 29th August) you'll see new counters, new packaging, new colours, new products, new textures, formulations and even new consultant uniforms.
In addition to developing new colours across eye shadows, lips and nails etc we wanted to do something radically different with foundations. Enter US company X-rite, owners of the original colour brand Pantone, who develop state of the art colour technology. Using their cutting edge, scientific colour measuring equipment we began photographing and measuring the skin tones and under tones of real women (we even had a secret codename 'Rainbow' for the project). When it comes to testing any new ideas and products, No7 prides itself on that fact that all their claims are based on serious numbers. Often you see an advert in a magazine and the claim will read something along the lines of "87% of women said it made their skin look better" and you think that sounds good until you read the small print underneath "based on 100 (and often much less!) people tested" We know that's pretty much nonsense and always endeavour to test on a reasonable amount of women. This project was no different - 2008 women of all ages and ethnicity took part.
The initial data was collated by Jo Watson, who headed up all the testing and worked 24/7 on the project along with Helen Bowering and their teams (shout out to both) up at Boots HQ and by the end of phase one, seventeen distinct skin tone 'clusters' were identified. I remember my initial thought two years ago on seeing all the different tones mapped out on a graph was how subtle the differences were. I know that skin is never just yellow or pink based of course as this is far too simplistic but the scientific evidence showed exactly how the mix of under tones within skin (red, yellow, blues, pinks greens etc) is, incredibly finely tuned, balanced and subtly nuanced. From there, phase two of the testing process started with 50 shades of foundation from across the 17 clusters until we finally arrived at the 17 shades launching across all seven formulations tomorrow.
One of the most exciting things about this re-launch is that the technology will be available in store in the shape of a small hand-held device. Each one of these devices has 8 led lights and 1 UV light. Each light enters the skin at a different angle and the cameras attached take 27 skin photographs with each click. The device can take up to 10 readings per analysis …227 photos! The best bit is that it works in any light so the results are the same if you measure in the dark or outside in strong sunlight. Ambient light doesn't affect it at all – a welcome relief knowing how unrealistic and harsh shop lighting is!
Millions of women struggle to find the right shade of foundation because of many factors. In my experience here are a three of the main ones:
1. They truly believe themselves to be a certain shade – often lighter or darker than they actually are.
2. They are dependant on the skill of the beauty consultant. Whilst some are great, others may be new and inexperienced. It takes years to become good at matching people with the right foundation shade on sight – trust me on that one!!
3. The lighting in the store is so bizarre and unrealistic that any true matching is virtually impossible.
As someone who grew up in a house with an enormous drawer in the kitchen dedicated solely to foundations which hadn't quite 'worked out' for my mother - (probably one of the things that got me interested in make-up artistry at a very early age!) - I think this service will be a godsend to many women as it takes away the guesswork. As a scientific instrument the device itself doesnt make a subjective judgement in the way a consultant might, it just reads the numbers so will tell it like it is!
Your skin needs to be make-up free for measuring so the consultant will remove your existing base along both sides of your jaw before using the device. If you are wearing fake tan it will measure its colour so can also be helpful for women who are trying to find a foundation to match their fake tan. Likewise if you have a much darker body than face you can have your face matched to your body. For this reason, the service is only available in stores that have a trained consultant present. Once you have your perfect colour match they can then advise you which of the seven formulations is right for you. This will depend on your skin type and texture preferences. The whole thing takes a matter of minutes and is completely free.
As a make-up artist, something which I have personally found interesting has been witnessing women getting very hung up on the names of foundation. I met a lady recently who was quite obviously wearing a foundation much darker, and shall we say more orange looking, than her natural skin-tone. After the consultant had zapped her with the device and showed her the colour on her face, which liked she agreed blended in very well, you should have seen the look of horror on her face when I told her the name of the shade was Cool Ivory! She asked me if there was a mistake in the name as she is usually a 'Honey' or 'Bisque'. Convincing some women that they are not as honey toned and likewise medium toned gals that they are not as porcelain as they thought, may be a challenge!!
I have posted a video on you tube with more information that demonstrates how the device works. In addition I'm also offering 10 viewers the opportunity to receive their perfect match and formulation for free! Although No7 is set to go global, the service will only be available in the UK initially so I will also personally put together 5 goodie bags of some of my favourite new eye and lip products for international readers. Information on how to enter will be in the film.
View the video here.
Tips for getting an accurate reading:
1. After the consultant has removed your exisiting make-up allow enough time for any redness to calm down. Even if you cant see it, its there and the device will pick up on it. So wait for the blood in the skin to settle down.
2. If you have been rushing to get to the store and are feeling hot and flushed, wait a few minutes for your skin to return to normal before getting measured. Otherwise you will register more pink!
3. Dont have your skin tone meaured immediately after a sunbed, workout or any heat treatment.
4. Let the consultant know if you have any distinct colour differences between your face and body, if you are wearing fake tan or if you have any particular concerns. You may for example need to get your neck measured to match up to your face, or vice versa. Especially at this time of year following summer holidays. They will be happy to tailor the consulation to your specific needs and preferences.
5. If you have red blemishes, acne or any form of dark pigmentation along your jawline the consultant may choose to measure a little away from this zone in a more 'neutral' area.
6. Patchy fake tan which has been on for a while is not a good canvas on which to test. Best to wait until it it has worn off completely or, if you perfer to match to the fake tan, its freshly applied and even.
Do you struggle to find a good foundation for your skin tone? Do you have a draw full of foundation shades and textures which didn't work out? Tell me you foundation matching stories, the good, the bad and the ugly ... you know I love to hear!!!