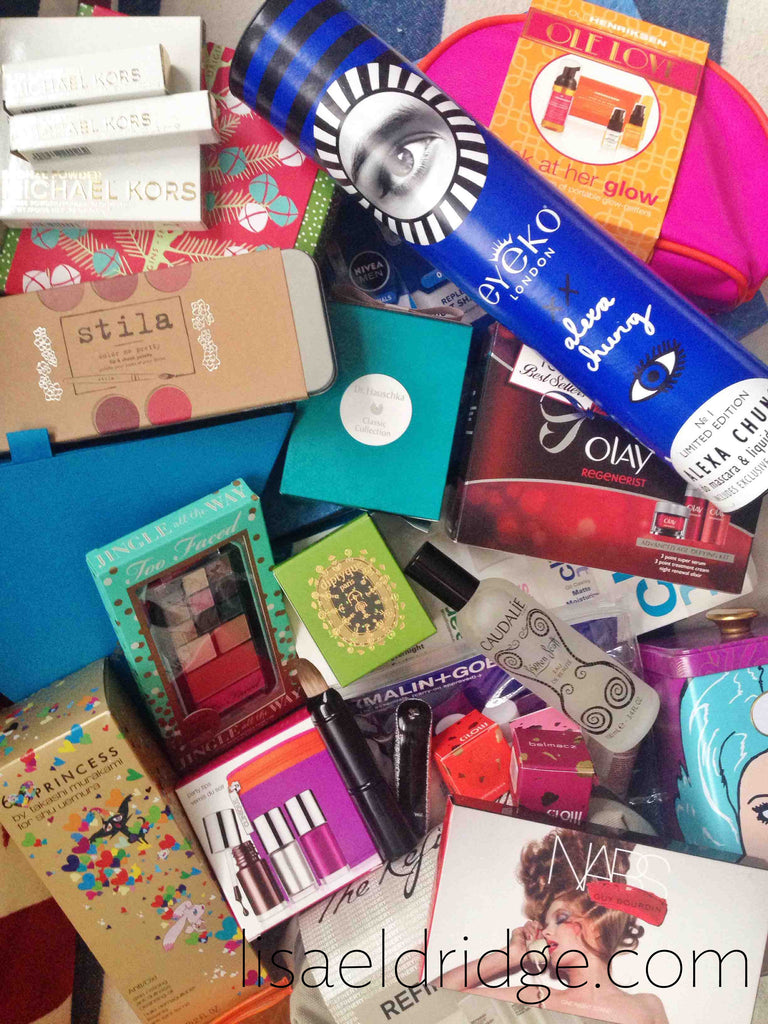 And The Winners of The 59 Beauty Goodies Are...
It's that time again folks, time to announce the winners of my Holiday Giveaways!!! Thank you so much for all the lovely comments, tweets, FB messages and Instagram likes. Huge congratulations to all the lucky winners, there are some truly wonderful goodies winging their way to you! I will start to notify each of you individually now. As usual I'm sorry to leave some of you disappointed, I really wish I could send each and everyone of you something. 
I hope my Gift Ideas have been useful and if you're still shopping for your loved ones here's a roundup of all the videos. 
If your name appears on the list please check your inbox and reply as soon as possible, so I can get your pressies sent out quickly! If you haven't received an inbox message yet, you soon will.
So, without further ado here are the names of the winner nest to the prize they have won …
Too Faced - Jingle All The Way Palette - Beyouthful Fun
Mavala - Angel - Ксения Верлан
Liz Earle - Christmas Star - MaeMelon
Stila - Color me Pretty Convertible Colour Lip & Cheek Palette - Kimmy Su
3x Urban Decay - Heavy Metal Glitter Eyeliner - Wondermell
Benefit - It's a Love Fest Gift Set - Kelsey Kreamer
Clinique - Whole Lotta Candy - Elie Anne
Signed Eyeko - Alexa for Eyeko Set - Georgia A
Ciaté - Chalkboard Manicure - Karen Marks
Topshop - Mini Lip Bullet Duo - 6ipu4ka
(This competiton was on instagram, you will receive an @ from me, to @ me back with your contact details. )
8 x Belmacz - Glow - Gold Leaf Lipgloss -  lizzi_lizzi
Kure Bazaar - Nail Polish - Cappuccino - fusakofuey
Michael Kors - Set-  jezzacookson
Nars - Guy Bourdin Holiday Collection - One Night Stand Cheek Palette - sairamac86
Paul and Joe - Eye & Cheek Colour Set - conkershell
Shu Uemura - Takashi Murakami Collection - A/O Cleansing Oil and Lip & Cheek Tint Color- alithiamardz
This Works - Dream Team - princesscutiepie
Aerin by Estee Lauder - Eau de Parfum - Gardenia Rattan - Ana Maria
Estée Lauder - Pure Color - Nail Lacquer - Ballerina Pink - Eva Chapsanidou
Estée Lauder - Pure Color Nail - Bittersweet - katjaleuschner
Estée Lauder - Zodiac Powder Compact - Sarah Joncas
L'Occitane - Jasmine Hugs and Kisses - ZanaAdriana
L'Occitane - Shea Butter Hand Cream - Anastasiya Kurhanava
1 x Laura Mercier - Colour To Go Portable Palette - Warm - funismyaddiction
1 x Laura Mercier - Colour To Go Portable Palette - Cool - morningwhirlwind
Miller Harris - Candle - Le Petit Grain - Montserrat Juárez
Neom - Three Nights of Peace - apocryphalic
Olay - Regenerist Night Renewal Elixir - qseued
Olay - Regenerist - 3-Point Treatment Cream - loralee chea
Olay - Regenerist - Advanced Age-Defying Kit - Софья Чухланцева
Orla kiely - Geranium - Washbag Gift Set - Linda Lee
Bobbi Brown - Date Night Lip and Eye Palette - Erina La Bramasole
Caudalie - Beauty Elixir 100ml - Rachcake29
Charlotte Tilbury - The Rock Chick - Colour-Coded Eye Shadows - ofrierson
Eve Lom - The Perfect Partner Duo Gift Set - Nina's Newborns
Jouer - Party Perfect Collection - mshellers
Sonia Kashuk - Dual Foundation / Powder Brush - bubbleforest
Sonia Kashuk - Jewel of an Eye Palette - Zivile
Sonia Kashuk - Synthetic Crease Shadow Brush - Mirjam van Drecht
DADS, BROTHERS, BOYFRIENDS ETC
Bulldog Skincare - Duo with Face Wash and Moisturiser - Yekaterina Shishkovskaya
Dermalogica - Clear Start Breakout Clearing Kit - EricaceaeCalluna
Elemis - The Adventurer - Selma Aganagic-Gabela
Malin + Goetz - Essential Kit - Carmela Terrado
Nivea Men - Invigorate Set - Mari Bella
The Refinery - Shave Essentials - ANAPLATANOS
Tom Ford - Bronzing Gel - bluebellsinthewoods
Tom Ford - Hydrating Lip Balm - BlushingForeigner
Aerin - Lip Gloss - Vibrant - melovemakeup
Aromatherapy Associates - Festive Bath and Shower Collection - Melissa Ringsell
Aromatherapy Associates - Little Bell - Den Bee
Lancôme - Blush Highlighter Limited Christmas Edition - Mary O'Reily
Lancôme - L'Absolu Rouge Collector's Edition - Emmanuellejr
Origins - Make a Difference Rejuvenating Skincare Collection - Federica Caiazzo
Weleda - Wild Rose Body Care Starter Kit - Nastasja Horvat Petrik
Dr Hauschka - Classic Collection - toxicjade
Clinique - Party Tips - Moda: (Im)possível
IMAN - St Tropez Collection - Elizabeth Osier
Ole Henriksen - Look At Her Glow Kit - Robert Seese
Diptyque Candle - Pine Bark - nieesia25
Thank you again to everyone who entered.  
Lisa X