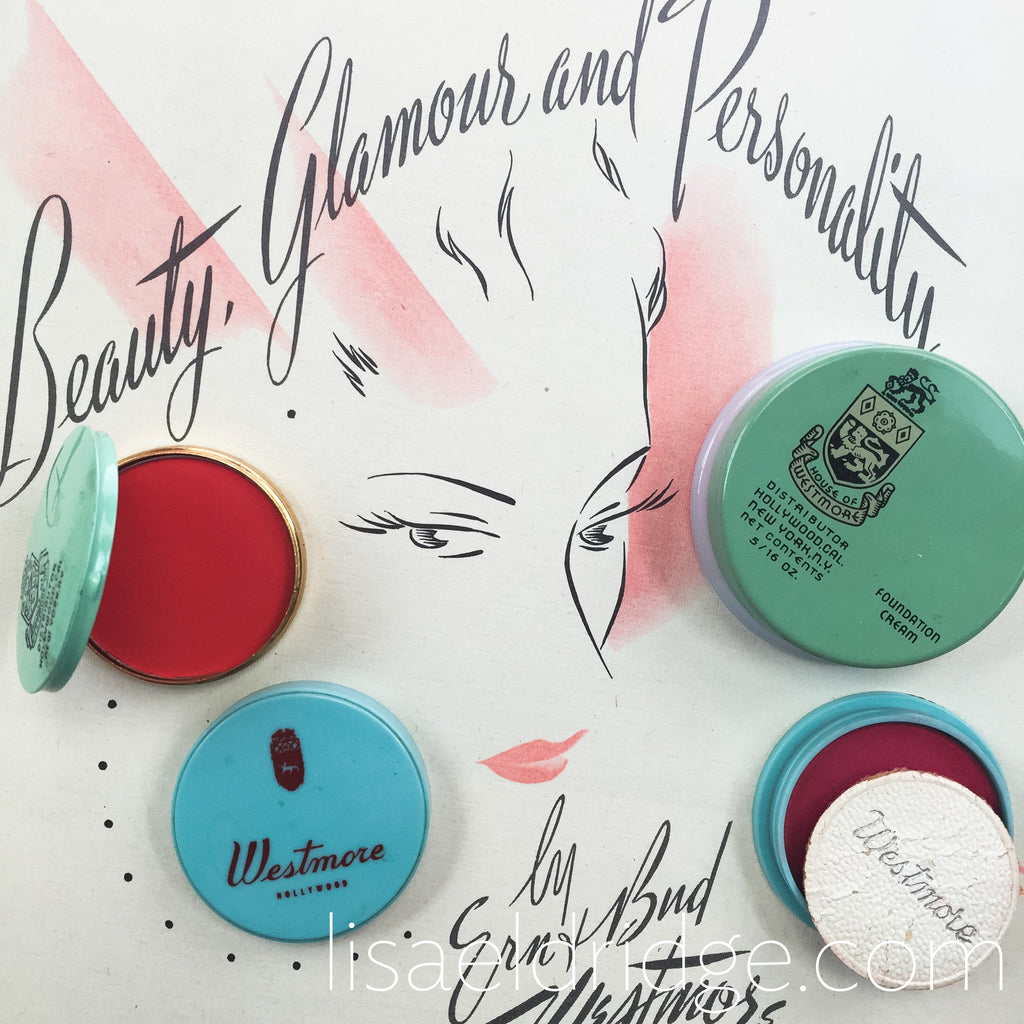 Vintage Beauty Advice from Hollywood's Makeup Legends
To say the modern makeup industry started in Hollywood is no exaggeration - and in those days, the Westmores WERE the makeup industry.
One of the things I really wanted to highlight in my book was the full story of this incredible dynasty who set up the very first makeup department in Hollywood and went on to dominate the industry. Although a lot of women might not recognise the name 'Westmore', the Westmore family (father George and his sons Perc, Mont, Ern, Wally, Bud and Frank) were hugely influential in shaping women's appearances, from eyebrows to lips and hairstyles, throughout the first half of the 20th Century. All of the iconic movie stars passed by the Westmores' makeup chairs at some point (in fact Bette Davis once said that she owed her entire career to the Westmore brothers) and when you're inspired by a makeup trend today, it's possible that it has its roots in a style first developed by a Westmore (Face Paint - The Story of Makeup).
Even before I started the main body of research I'd already spent years delving into the Westmores history, and my original copy of Ern and Bud's book, Beauty Glamour Personality (published in 1947), took pride of place in my #houseofeldridge library. Even though I've read it many times over (like Sophia Loren's makeup book), their beauty tips and irreverent take on style and exercise still makes me smile!
I thought it would be fun to share some of their top tips for the 1940's woman as many are still relevant today... 
Always remove your makeup properly - Remember, there can be no real complexion beauty unless the skin is kept immaculately clean.
Do facial massage - Apply cleansing cream with the tips of the fingers and massage with the palm of the hand, using light strokes upward and outward from the chin to the ears. Aside from the softening and removal of dead skin particles, the object of massage is to stimulate and increase circulation throughout the tiny veins and capillaries that bring 'life to the skin'.
Use blush, but keep it subtle - Rouge should always be used sparingly. It's appearance should be nothing more than a natural blush - avoid that painted look! Rouge is not only used for colour but also to change the contour of the face. Always blend it out delicately to fade into your foundation.
Brighten your brows - If your eyebrows are too light they can be darkened with an eyebrow pencil used with short light strokes. If your eyebrows don't need darkening, an application of a tiny drop of oil will make the hair glisten and bring about a becoming effect.
'To omit the use of mascara is like hanging a picture on the wall without a frame' - Apply with light, upward strokes of the brush so that the lashes curve upward and you take on a young, wide-eyed and wondering look. Apply mascara thickly and instead of looking young and innocent you'll look worldly and sophisticated - which you may or may not desire!
On the other hand... Some of their other tips are laughably outdated and downright dodgy...
Anyone can be beautiful (with a bit of work) - The 1940s and 50s were a time when brutal, negative critiquing of women's faces by male makeup artists was considered acceptable and 'helpful' - as demonstrated in the makeover section of the book. Although few women are beautiful, or even pretty, through skilful makeup and hairstyling, any woman can be endowed with good looks. Ern and Bud show some of their real life makeovers throughout the book to prove their point, for example Miss Eileen Rastall of Queen's Grove Road, London, is described as someone who 'just missed being a really pretty girl' and Miss Margaret Morrison of Glasgow, Scotland, who was 'nice looking but her face was a little vague' - both are transformed into glamorous bombshells by the brothers of course ; )
Never match your makeup to your dress - The colour of your hair and skin are the only things that control the shade of your foundation, rouge and lipstick. The purpose of makeup is to enhance the beauty of your face and not your dress. I agree with this when it comes to eyeshadow, however we don't live in a world of makeup rules anymore, thankfully, and I do love a red lip and a red dress!
'Wrinkles usually put an end to romance' - Virtually putting an end to all hope of romance at a time when the body itself is still young and vital. Along with balanced diet and plenty of sleep, the brothers suggest a good psychological adjustment to life is necessary to prevent premature ageing - before finally concluding that 'plastic surgery is, of course the only solution.'
You need a manicure every week - Whether you go to the beauty salon or do it on your own, set aside an hour each week for a complete manicure. It's better to stick to the same day of the week so that, with 'repairs' in between, you will never have neglected looking nails! Also, just a tiny bit of rouge on fingertips will give them a slender, tapering appearance.
Watch your skirt length - Good taste demands that skirts for street wear never be worn shorter than one inch below the bend of the knee in the back. Anything shorter than this only succeeds in removing all grace and impressiveness from a figure in motion.
You must look pulled together at all times - If a woman feels the need to spend a great deal of time glamourising herself before going out in the evening, why wouldn't she take the same amount of time to glamorise herself before going out in the morning? If she did, she might find that it pays to be glamorous!
You can read a lot more about the Westmores in my book, Face Paint: The Story of Makeup.