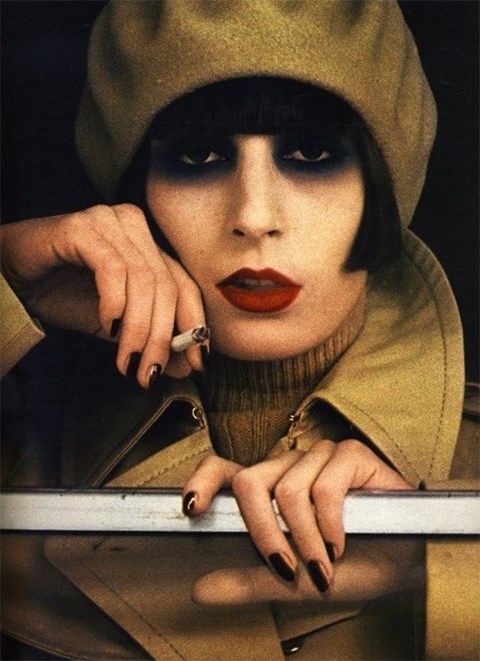 The Beauty Pioneers: Serge Lutens
Makeup artist, photographer, art director, filmmaker, perfumer… it's hard to define Serge Lutens, but true to say that he's one of the most iconic beauty visionaries of our time, with an incredibly powerful and provocative style. He's also someone I've greatly admired and looked up to throughout my career, and I followed in his footsteps working as a creative director for beauty mecca Shiseido (one of my favourite things to do during my time there was to visit the archives and look through all of Serge's incredible work for the brand).
Born in Lille, Northern France in 1942, Serge started working at a salon in his teens, allegedly against his will - though it allowed him to begin to cultivate his beauty style and spend time photographing his clients and friends (he never went anywhere without his Instamatic camera). In 1962, after serving in the Algerian war, a 20 year old Serge relocated to Paris and approached Vogue Paris editor, Edmonde Charles-Roux, with his portfolio - three days later, he collaborated with them on their Christmas issue. Talk about a fast mover! After that, his style, versatility and creative vision quickly caught the attention of the entire fashion industry and he began to work for titles including Elle, Le Jardin des Modes and Harper's Bazaar, alongside the great photographers of the time, Richard Avedon, Guy Bourdin, Helmut Newton and Irving Penn.
Serge's first big job in product development came in 1967 when he was approached by Christian Dior. Dior had previously produced a small run of limited edition lipsticks in 1950, before their first full range, Rouge Dior (available in eight shades), in 1953. They were also the first European couture house to produce a range of nail polish in 1962, however, towards the end of the sixties, Dior's makeup line started to become a little staid - hence the appointment of Serge. Despite the fact that he was just 24 at the time, and very much a 'new star' on the scene, the result was a blockbuster hit. In fact in 1974 Diana Vreeland, the legendary editor-in-chief of US Vogue, declared his work the 'revolution of makeup!' In an interview with Serge who, when asked 'what did she mean by this?', said…
"That women were being held captive by shapes and techniques, and that makeup was taking advantage of their obsessive fear of being themselves: 'If you have a square chin, put blush on your jawbones; if your eyes are too small, etc.' An entirely ridiculous conception of perfection! By creating new makeup colours, I was changing women's attitudes. At the time it was like burning bras along with all of society's norms. The United States immediately adopted my vision… When Diana Vreeland published this article, she declared colour like world leaders declare war. As for me, I was playing exactly the role I set out to play." Love!!
In 1980, apparently tired of 'being labelled Monsieur Dior', Serge approached Japanese beauty company Shiseido who, at the time, were huge in Japan but relatively unknown on the international scene. With Serge designing packaging, creating products, marketing and developing the business, Shiseido quickly developed a powerful visual identity and became one of the most dominant beauty brands of the 80s and 90s. 
Serge also created his first fragrance, Nombre Noir, with Shiseido in 1982. A decade later in the early 90s, he opened his own fragrance boutique, Les Salons de Palais Royal, which stocked his eponymous fragrance line (it was nearly 20 years before his scents were available anywhere else). Then in 2004, after four decades of industry trailblazing, the Serge Lutens makeup line was born - a small capsule collection of truly fantastic products, many of which I have in my kit. Serge now lives in Marrakesh and is still very much at the forefront of his brand, creating fragrances and products. He's often cited as an enigmatic and mysterious personality, so I was elated when I was given the opportunity to interview him. Read on for a glimpse into his visionary world...
L.E. Growing up, what turned you on visually?
S.L. There was no sudden realisation. It happened by osmosis. I am a person who absorbs external influences so I played no active part in it. I invented a woman, My Woman. Of course it all began with a gap in my life (the absence of my mother) which shook me to the core and initially manifested itself in psychosomatic illnesses. In order to survive I had to find a way to cushion the blow by somehow replacing her. I tried to conjure her up in the same way that prehistoric man conjured up animals on the cave walls. So you could say she was a precursor of the moving image created to satisfy a yearning and a hunger! Next I entered a more mystical phase which involved religion and had a very definite spiritual focus. In order to feel alive, man has always had a need to elevate himself. For me it is clear that God has always been a woman. So for my main influences I looked to stars like Garbo who, despite being the least made up, was depicted in a series of shadows and light. Marlene Dietrich made greater use of embellishments such as makeup, hairstyles and costumes… Today, this girl has changed within me; she has taken on another dimension, she has returned to words; it is a whole new process.
L.E. Can you name one of your favourite shoots, or a favourite look you've created?
S.L. The 'femme dentelle' series [see image 3, above]. Music was a vital element of the shoot. I chose the gypsy music of 1930s cabaret. There was smoke, lively violin playing and a proliferation of lace in the studio. The music was the woman! Pieces of black lace had been cut out and applied directly to the models' bodies. They were adorned in a seamless garment in its purest form. Makeup played an integral part, it was not just an addition. We were trying to create a unique intrauterine world where unity was the principal theme; we needed something seamless yet natural. This was the most difficult thing to create; makeup was only a means to an end. There were no longer any individual components. The models, makeup, music and Serge Lutens were all merged completely into one single entity. At the time, in 1995, I was working with the fashion editor of French Elle, Nicole Crassat, who had done a lot of work with Yves Saint Laurent. She had style in her blood. At the end of the series, she told me that it had been an incredible experience for her: 'I have worked with all the fashion photographers but I have never experienced anything quite like his! The makeup and shoot were no longer the focal points. We were elevated to a completely new level.' I have never created looks. I have created women who are timeless, independent of a particular fashion. Such creations cannot age. When you work with makeup, women are your ally and stimulus. They are your guiding light and you are left no option but to follow that light. That is the very essence of creation; and like any passion, it is passive but it spurs you into action.
L.E. What is your favourite item of makeup and why?
S.L. Beauté Spectral Foundation is the perfect solution for a unified, matt complexion which, to my mind, is the cornerstone of all beauty.
L.E. When I visited the Dior archives a couple of years ago, I was intrigued as to why you had launched a classic block style mascara in your first complete range for them in 1969. Wand formats were more popular by that time, why did you choose to launch with an older style?
S.L. My prevailing memory, from as far back as I can remember, was being guided by women, their gestures and their attitudes, an image which I incubated. When I was very young I remember a girl opening up her small mascara case, spitting in it and then rubbing the very hard little brush in her Rimmel (what everyone called mascara at the time) so she could apply it to her eyelashes. It would form a crust and the eyelashes ended up looking like small pebbles. You could no longer see the eyes. It really was Rimmel's take on the pantomime dame. What I found touching about this was that the woman was spitting on her own image (there was a little mirror in the box) and, surprisingly, I thought that was wonderful. Things like this imprint themselves on your memory and influence you, even if the woman I ended up creating was very different. My own method for applying mascara is influenced by this memory, this girl, whom I espoused. Each time I lift up a mascara I think about her and spit on my own image. This is what I call being at the frontiers of love.
L.E. You used Anjelica Huston as a model for Dior, the first time a cosmetic company had employed an actress/celebrity [see images 2 and 5 above]. Was this a conscious decision to use someone with an interesting backstory or were you simply in love with her look/attitude?
S.L. Anjelica Huston was not famous at the time. She had just filmed one of my favourite movies, A Walk With Love and Death, directed by her father. She was the ideal girl in every way. My girl! Anjelica is unquestionably one of the greatest actresses in the world. She has a feel for drama and really knows how to act. She can switch effortlessly from being Morticia Addams to a character in Dubliners and the Queen of Naples in Visconti's unmade film In Search of Lost Time, based on the novel by Marcel Proust. Like Greta Garbo - who was actually approached to take on the role - Anjelica is very much a woman of the shadows. I didn't use Anjelica because she was famous but simply because I thought she was fabulous. I was infatuated by her face and fascinated by the way she moved and expressed herself. You cannot admire a woman without inhabiting her completely. She was a revelation. Anjelica was not just a model (how I hate that word!), she put her body and soul into the shoot. Besides, at the time, nobody at Dior knew who she was. They hadn't recognised her. When I explained it all today they understood. Until now, girls were used to give the impression of fame but, personally, I avoid this. I find anonymity more fascinating.
L.E. If you could give women one piece of makeup or beauty advice, what would it be?
S.L. That's impossible. It is not something I can do. Above all, beauty is something you feel. It is all about context, situation, conveying the moment. It adapts according to our state of mind and what we need to do. Plus, the face is not the only place where you can find beauty. There are times when we just want to melt into the background, to disappear, but respectfully, and other times when we go through a phase or we need to make a certain impression, like applying a lot of makeup before asking for a raise. At this point we use makeup to protect us, like a shield. When a woman is about to apply her makeup, she is the person who decides what to do with it. Makeup is only a tool but it is the best at our disposition and it dutifully obeys all our wishes!
L.E. Which period of the 20th century do you find most inspirational for beauty?
S.L. They are all inspiring in their own way. Take for instance the early 20th century, women and their huge hats decorated with plumage and bird wings. They belong to the world of Proust. Did you know that he sought inspiration in no fewer than five women before creating the perfect Madame de Guermantes? And the 1930s woman - the muse of Chanel - is also very important. She wanted independence but refused to give up any of her femininity. She cut her hair… That little black dress had a certain enigma about it. It was all very interesting until the end of the 30s when there was something of a prevailing code, a style. After that it progressively fell into disarray in the name of 'freedom of expression', which has since lost its meaning because it has become a byword for today's fashion.
L.E. My all time favourite book is Virginia Woolf's Orlando. Is there a particular literary character or heroine who inspires you and your work?
I have read Orlando twice. The characters are incredible and remarkably-well written. Zelda Fitzgerald holds something of a fascination for me when she declares that she can get drunk by simply kissing Scott! Going to the frontiers of the impossible, destruction, living life on the edge - and they went there together - I think that's wonderful! This was not a character in a novel but an era in itself. Dorian Gray is another astounding character from literature. These very strong images can apply to both men and women, a little like Orlando who embraced both sexes.
L.E. The industry has changed so much since you began, especially in the cosmetic science and marketing/media arenas (particularly in past decade). How have these affected you?
S.L. I can easily work with science and am happy about the progress which is taking beauty back into the realms of the invisible. But I hate what is being referred to as 'progress' in marketing because, to paraphrase Nietzsche: we will be left with herds but no sheep or shepherds! Those who distance themselves will be dead, sectioned or famous!
L.E. Do you embrace the digital era?
S.L. I don't feel any need to. I read, I write, I evolve and I advance. All this requires introspection. You cannot be everywhere. I have never felt the need to seek exposure. I don't like parties or going out. I detest anything which fragments me; I can, on the other hand, love the people close to me who are compassionate and within reach.
L.E. Like you, I worked for Shiseido in Japan - years later, I'm still constantly inspired by Asian beauty and innovation. What do you think it is about their culture and beauty identity that makes them such clear leaders and drivers in the cosmetic industry?
S.L. Japanese women are the masters of makeup. They have astounding talent and precision in this domain. As a people, they embrace disguise in all its forms, be it makeup, costume, rituals and the love of a code. In Japan there is a discipline, a refusal to embrace the natural, and this is not possible without a certain control.
L.E. You are acknowledged as the ultimate maverick and visionary in our industry, do you think there are still boundaries left to push?
S.L. In my opinion there is a need for more boundaries! We live in a world where there are no boundaries and we are lost by the lack of frameworks and rules. People seem to be able to create the freedom they want, without restraint, but have become prisoners of this freedom. Now they must redefine their own emotional personal boundaries and work out what makes them tick. We are living in an illusion – this self-delusion is what we call beauty nowadays!
L.E. Which of the worlds you've conquered (makeup artistry, fragrance creation, photography, art direction, etc.) has been the hardest - commercially or creatively - and why?
S.L. Each has presented a very difficult hurdle to overcome. I never could take any of them for granted. They were all dreadful yet wonderful at the same time!
A huge thank you to Serge Lutens for being so generous with his time - I hope you enjoyed hearing his incredibly shrewd, insightful and perceptive answers as much as I did. You can read more about Serge, his work and his truly wonderful fragrances and makeup on his website here. X