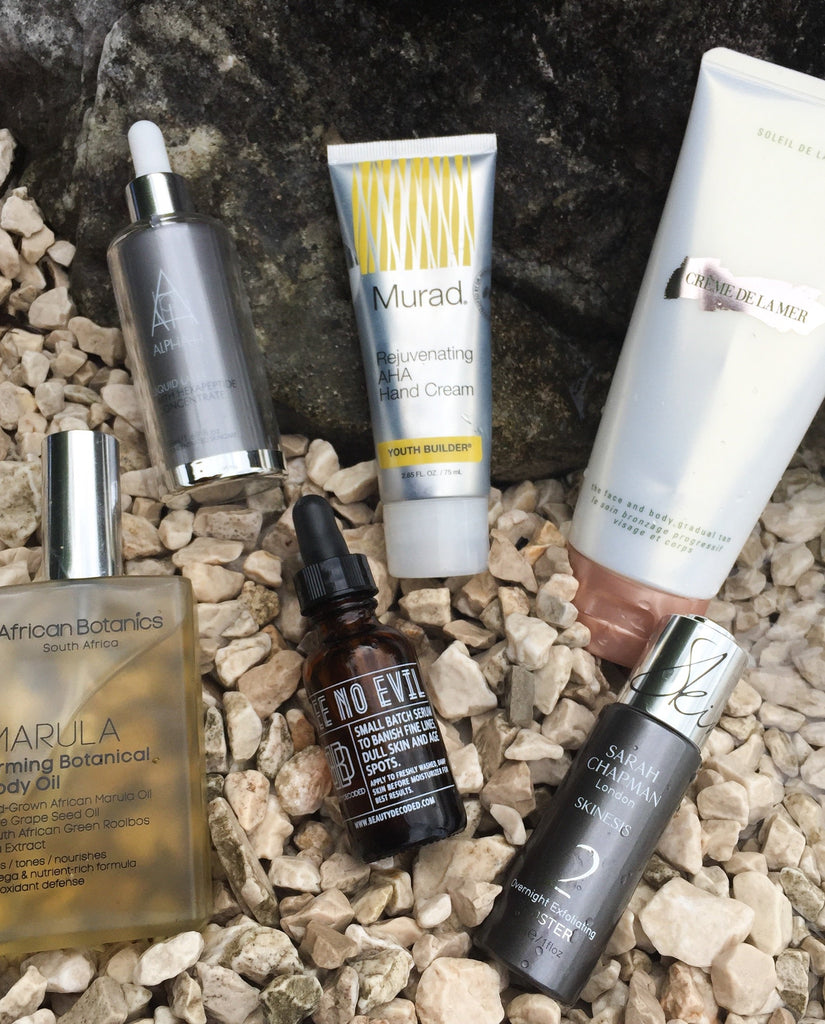 New Skincare I've tried & liked
Judging by the September weather in London, summer has definitely been and gone (we've already had the heating on at the #HouseofEldridge). But I can't complain as I had a lovely August, with a week in Italy, a week filming lots of new tutorials for the site (watch this space), and two weeks at home in London where I did lots of walking, pilates classes, cooking and, of course, makeup and skincare trialling ;) Here some of the products I've enjoyed using...
Sarah Chapman Overnight Exfoliating Booster
I picked up this serum after having a facial at Sarah Chapman's beautiful salon in Chelsea - I'd been meaning to visit for ages, so when I had time off it was the perfect excuse. Anyone who's watched my Favourite Skincare films will know that lactic acid is one of my most worshipped skincare ingredients so I had to pick up her overnight exfoliator, which uses lactic acid, salicylic acid (another of my favourite ingredients) and retinol, so it targets fine lines, clogged pores, dullness and blemishes in one (quite similar to the Kinara Lactic Acid Hydrating Serum that I've talked about before). I much prefer lightweight serums to heavy creams at night, so it seemed like a great product for me. Although it says you can apply nightly, I found that when I used it two evenings in a row my skin was quite pink in the morning, so I've cut down to twice a week which is perfect (always listen to your skin when it comes to trying out new potions). I love the after effects, my skin feels so dreamily smooth. I've also started using it on a couple of post-blemish pigmentation marks on my shoulders and it's working a treat. I often find that this type of product is best used over the autumn and winter months, when you know your skin is not going to be exposed to strong sun everyday, so can take extra exfoliation.
African Botanics Marula Firming Botanical Body Oil
I'm addicted to this firming body oil at the moment - it's rich in omegas and nutrients so my dry, post-summer skin has been drinking it up. I was initially drawn to it because one of the key ingredients is rooibos - I swear by rooibos tea as a general cure-all and drink tonnes of the stuff. I also love the simple, three ingredient formula - the main one is marula oil, an oil native to South Africa that's full of antioxidants, minerals and essential fatty acids that protect and hydrate skin, so along with the green rooibos extract and grape seed oil, it's a potent cocktail. It's got a fairly thick texture but doesn't leave skin sticky as long as you massage a small amount in well.
Alpha H Liquid Laser Concentrate
I started using this serum before the summer and it's become a new favourite. I was intrigued when I saw that it contains a hexapeptide called Juveleven that was developed to mimic the amazing regenerating abilities of the Hydra Jellyfish or the 'immortal jellyfish' - nicknamed as it's able to repair itself indefinitely, so has an infinite lifespan. This hexapeptide is handy at triggering collagen production to rebuild skin's 'scaffolding' (for plumper skin) and repair DNA damage from biological and/or sun-induced ageing. It also contains a red algae that mimics hyaluronic acid for a moisture boost, 5% glycolic acid for gentle exfoliation, and brightening plant extracts and antioxidants like niacinamide (or vitamin B3) - good for skin like mine that's prone to pigmentation. I've been using it three to four times a week at night after I've cleansed, and don't apply anything else on top - the light, gel-serum texture feels moisturising enough for my combination skin and, as I said above, I don't like to use heavy creams, so a lightweight serum (packed full of hardworking actives!) like this is much more my thing.
Caudalie Glycolic Peel
This product isn't in the photo above as I used it all up and forgot to save the empty tube to photograph... doh. It's a creamy peel that's super-gentle - it contains glycolic acid (derived from cane sugar), but at a very mild dosage of less than 5%. To put it into perspecitive, the glycolic peels dermatologists and estheticians use tend to start at around 20/30% (and can go up to 70+), so this mask is good for more delicate skin that could be sensitive to glycolic. Because the level is low, you get a nice bit of exfoliation without any tingling or redness (though of course if your skin is very reactive you should do a patch test first). The mask also contains papaya enzymes (for extra exfoliation) and Caudalie's patented brightening ingredient Vinierine - which they claim is 60 times more effective than vitamin C for lightening dark spots. I've been using it once a week for 15 minutes over the past couple of months and it always leaves my skin looking sqeaky clean and bright, without any redness - it's definitely a new addition to my 'face mask wardrobe'.

Creme de la Mer The Face and Body Gradual Tan
I generally don't use fake tan but sometimes my legs are enough to scare the neighbours, especially when I'm wearing shorts! My favourite instant sorter-outer is This Works Perfect Legs Skin Miracle, but as it washes off at the end of the day I fancied trying a longer lasting solution. One of my celebrity clients recommended this product when I admired her golden calves one day so I decided to give it a go. It's expensive, but a little goes a long way and I tend to only use it on my legs, so the bottle will last me forever. The colour is REALLY good for my skin tone - not a deep tan, but a super-natural, healthy golden glow, with no orange. It also doesn't leave behind any biscuity fake tan smell either (not even Jessie, the House of Eldridge fake tanning expert, could tell I'd used it).
Murad Rejuvenating AHA Hand Cream
Because I work with my hands every day, I try my best to look after them and always apply lots of hand cream each night before I get into bed. This is a new one that I've been trying recently - I really like the 100% non-greasy texture and fresh, citrus-y scent. It also contains glycolic acid to gently exfoliate and improve skin texture as well as glycerin and super-hydrator hyaluronic acid, so leaves my hands feeling super-soft.
Beauty Decoded See No Evil Anti-Ageing Serum
When I interviewed makeup artist Valli O'Reilly for my #MakeupMoments series she told me about her green, chemical free, botanical skin care line Beauty Decoded, which she stared with her friend and aromatherapist Leah Vautrot. All of their products are made locally in California, in small batches with 100% natural ingredients, sustainable packaging and no preservatives (although a natural preservative like chlodial silver is used if you want to buy a larger bottle of product). Valli was coming over to England (via a holiday in Italy) and offered to bring me a bottle of her See No Evil face serum - she kept it for me in her luggage the whole time... how nice is that! It's loaded with essential oils and smells incredible. The Beauty Decoded website ships to the USA, Canada and Europe, if you've tried anything from the range, let me know your thoughts.
I'd love to know about your current skincare regime - please let me know what youre using at the moment in the comments below X