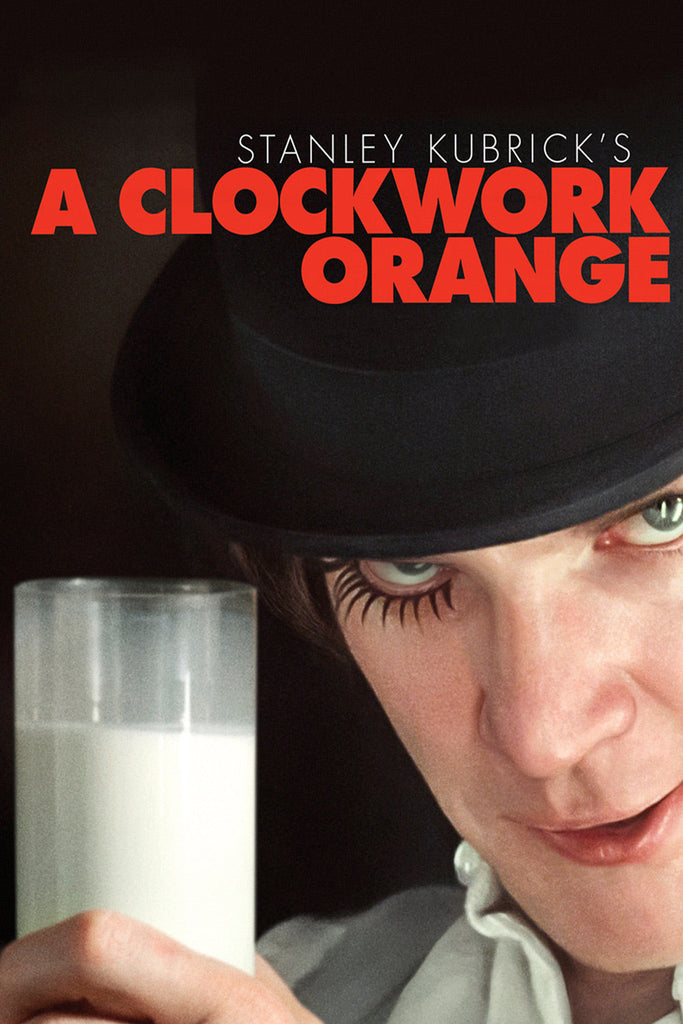 #MakeupMoments - The Story Behind A Clockwork Orange
There are certain 'Makeup Moments' in film, art and fashion history that stick in the memory. These iconic looks define eras and become key reference points for Make-up artists and creatives everywhere. I thought I'd choose a few to dissect and explore in the coming weeks, so we can really understand the inspiration behind some of the most discussed and reproduced moments in recent make-up history. Whenever possible, I'll speak to, or quote, the original creators.
For my first Makeup Moment I've chosen one of cinema's most iconic and controversial characters, Alex DeLarge from A Clockwork Orange.
Based on Anthony Burgess's 1962 dystopian novella, the movie was released in 1971 to mixed reviews although it has gone on to become a cult classic. It was written, produced and directed by the brilliantly meticulous Stanley Kubrick. The plot deals with gang culture and extreme juvenille violence. Kubrick himself decided to withdraw the movie from UK cinemas in an extraordinary move of self-censorship following a wave of violent attacks after the films release. 
A complex and challenging film, capable of dividing opinion (as the all the best art does), one could go on about it BUT what I really want to talk about is (of course) the make-up!
The film opens with protagonist Alex DeLarge, played by Malcolm McDowell, head down looking up with his chilling blue eyes and.... those eyelashes.
The look was created by the amazing and legendary Barbara Daly, whose iconic work graced the covers of Vogue during the 70s and 80s. Barbara was set on becoming a make-up artist from a very early age, she started writing to the BBC when she was just 11 years old! She eventually got a gig with them after leaving art school and spent 3 years working on TV productions before leaving to embark on a photographic fashion and beauty career. She was mentored by Grace Coddington and worked with renowned photographers such as Barry Lategan and David Bailey as well as famously making up Princess Diana for her wedding day.
I thought I would give Barbara a call to find out more about the inspiration behind the look, what it was like to work with Kubrick and how she made the crossover from fashion to film. Here's our chat…

L.E. "What lead to you working on the film?"
B.D. "I have a great friend who's a hugely talented and well known costume designer called Milena Canonero, I must have met her on one of the beauty and fashion shoots I'd been working on. She worked a lot with Stanley and did almost all of his films, so as the story goes, this is what she said..
'I've mentioned you to Stanley, he'd like to meet you and he'd like to talk to you about a film he's making... would you be interested?'
I was worried, I hadn't really done anything like that, I'd worked as an assistant, you know working at the BBC and skiving off on my days off to earn some extra money. I was young and a bit worried by his reputation, I didn't really know what he wanted… so of course I said... 'Yes!'."
L.E. "So what happened when you met him?"

B.D. "Well, we sort of got along, he's quite a quiet man and I'm sort of quiet too. We had a little chat and he asked me to read the script and asked if I had read the book, I hadn't. However, that didn't seem to bother him at all. He went on to say that he needed really inventive ideas, that we could work in a really experimental creative way and that he wanted completely original ideas for the characters.

I kind of didn't understand anything about it! I didn't really understand him or what he wanted. I think the great thing about not understanding something, is that you basically go ahead and do it… you're free!

I didn't think to myself, could I, or could I not do this. I thought, I've got an imagination, I CAN do this!"
L.E. "How did you work to create the idea and look for A Clockwork Orange?"
B.D. "I went up to St Albans, where Stanley's workplace, studio and his home was, I took my kit and he sort of set it all up.

He worked in the most unusual way, I discovered later that there weren't too many people who would let you work in his manner, which was completely free.

He had the actors, he had costumes, he had hair, he had cameras, he had makeup and he would just let you experiment… and that was how it happened. He would come in and you would say... 'What about this and that?' and he would say...Let's film it!'

L.E. "A bit like make-up trials for a runway show?"
B.D. "Yes. Then you would suggest another idea and we would all just be creative for ages. And so basically that's how he worked with me - free flowing. He would steer you but he wouldn't shut you down at any point, which was great."
L.E. "So when you had the idea to use false lashes, he was open to it?"
B.D. "Well, I was just thinking because of this extraordinary script - I never even read it all the way through, I just sort of got the hang of what was happening and discussed a lot with Milena about the costumes. She was doing these amazing costumes and I knew that it had to be something that could be done throughout the film.
It had to be something strangely extraordinary but something that this character would do. Something that he would really put on and that's where the eyelashes came from. I was thinking... 'you know, he's not going to do an awful lot of face makeup but he's going to do something weirdly dramatic and what is that?'
So I said to Stanley, what about trying false eyelashes and he said, 'Let's look and see, it sounds good.'

So I put them on and with a bit of costume we knew, we thought, 'Thats it!' It's sinister, it's strange, and it's possible.

I said to Stanley... 'You know sometimes when women take these off, they'll stick them on a mirror.' and Stanley said, 'We'll do that too, we'll have Malcolm do that.'

It was right, Malcolm felt comfortable in it and it was just something that worked and there it was!"
L.E. "So it was only ever one eye during the tests? Or did you experiment with both and then take one off?"
B.D. "I knew it was always only going to be one because I think two might have looked a bit contrived."
L.E. "It's so interesting to hear how freely you worked, did any other looks you tried stand out?" 
B.D. "We tried other things before, none of which I can remember now, I'm sure they were used on other characters. I mean blocks of face painting and things like that but we wanted something different because he was the leader, it was tricky. You realise with an idea like that, it could have been very wrong, it could have come across almost drag artist but with the eyelashes the character was so sinister, it was creepy."
I also interviewed Barbara (above, left) for another' Make-up Moment' post but more about that later....
Click here for the inspiration behind Clueless
What are your favourite 'Make-up Moments? Let me know
Lisa X