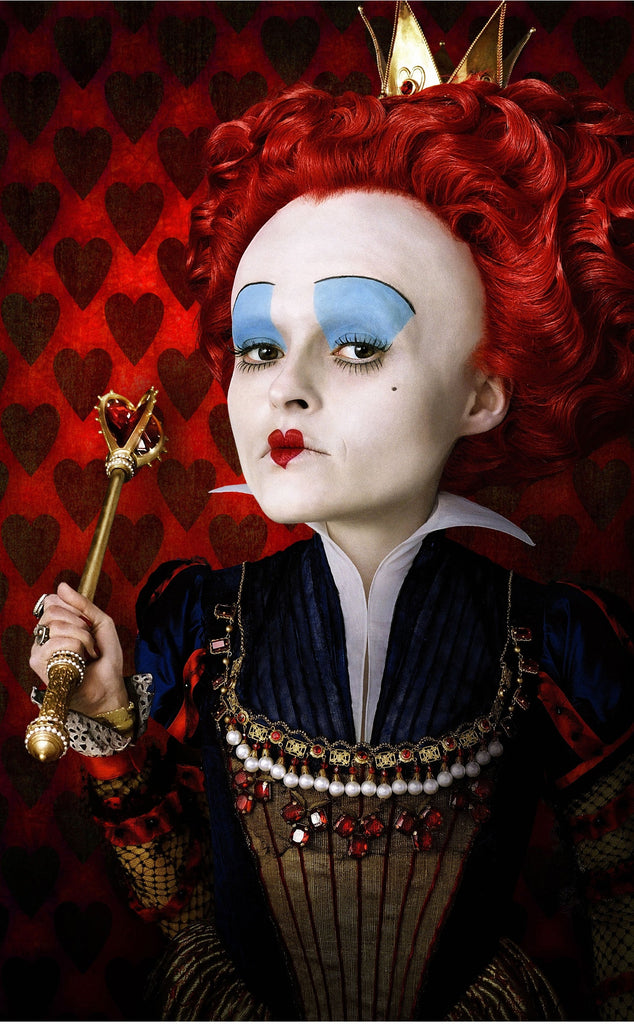 #MakeupMoments - Off With Her Head!
For the latest in my series of 'make-up moments' from history we are visiting the set of Tim Burton's epic, Alice in Wonderland. 
This fantastical film follows 19 year old Alice (played by Mia Wasikowska) on her journey to the strange and gloomy underworld of a truly Burtonesque, gothic wonderland.. Here she tries to restore the White Queen to her throne by slaying the Jabberwocky - a dragon-like creature controlled by the terrifying Red Queen.
And it's the cruel, irritable "Off with his head!" Red Queen played brilliantly by Helena Bonham Carter that I want to focus on. With her outrageous personality, tiny body and gigantic head, bright blue eye shadow and heart shaped lipstick pout – she's grotesque and larger than life in every way.
The makeup for the film, was designed by uber talented Valli O'Reilly, whose IMDB page is a testament to her incredible  body of work. Valli has deservedly received an academy award as well as a BAFTA (awarded for best hair and makeup in Alice in Wonderland.)
I loved chatting to Valli, she's fascinating and so full of energy, Here's an insight into her world and work on this extraordinary movie ...
L.E. How did you research and get the inspiration for the Red Queen?
V.O. I save a lot of photos, anything from national geographic to fashion magazines, I've had them since the beginning of my career. A lot of the time they have nothing to do with the makeup I'm going to do, things like a couch that I think is stunning, somebody's rose garden, a wall in someone's home or other make up that I think could be very weird…anything I find visually appealing that sort of gets the fire in me going.
For the film, there were lots of concept meetings with the costume designer Colleen Atwood, who does pretty much all of Tim Burton's movies, and a really short meeting with Tim where he basically told me to look at Bette Davis from the Queen Elizabeth movie that she did.
L.E. Oh I know the one, Perc Westmore did her make-up for that didn't he? It was quite ground breaking at the time.
V.O Yes that's right. I took inspiration from that as well as Helena Bonham Carters face, she has a very heart shaped face and I sort of incorporated that into everything.
L.E. Did you come up with the look straight away or did it change and evolve?
V.O. It progressed from different variations of Tim's idea.
We did makeup tests in London, for the first test the hairdresser had been building some wigs, he had built a giant heart shaped wig it was pretty amazing.
Then Tim decided he didn't want eyebrows on her. Helena has quite thick eyebrows so I couldn't take them away like you do for fashion, or the way drag queens do it because her eyebrows were too thick, that's when we had to make a decision to get prosthetics involved. A piece had to be made to cover her eyebrows.

L.E. So she had a fake forehead piece that sat over that whole area?
V.O. Right, it came all the way down past her eyebrows kind of into her eyes, it was quite difficult to do. The first time it was just going to be covering her eyebrows but because of the shape of her forehead it didn't really work because it made lots of bumps. Then when we got to LA and tried it out it didn't really work, Helena moves her face so much, she's a very animated actress.
It had to be something that gave Helena freedom, it couldn't be restraining, we couldn't say to her "don't move!" with Helena there's no way that would work! We then had a different prosthetic piece made.
L.E. So how did you start getting Helena ready?
V.O. The hairdresser would come in at 3 O'clock in the morning and wrap her hair; then the prosthetic guy and I would come in and put the bald cap on, I helped help him with the whole process, he would sort of get it started and I would just be an extra pair of hands.
L.E. What sort of time were you coming in? Still really early?
V.O Yes something like 4.30am, something ridiculous, not every movie is like that though it's just because that particular makeup took so much time. There was no other way of doing it, the looks were very specific and I couldn't get the people I was working with to incorporate my sense of style, so I ended up doing a lot of the work myself. I never really do that on most movies, it's too much work but I did Helena, Mia and Anne Hathaway pretty much everyday, there was a lot of makeup to do.
L.E. What else made the looks so specific?
V.O. Well because the film was CGI, HD and 3D everything had to be perfect, that's why I ended up doing a lot of the makeup. The way HD is now you can't have it where you can see the foundation. When you make people pale like that, it has to look like skin it can't look like kabuki makeup and a lot of makeup artists don't understand that technique.
L.E. What makeup did you use for the skin?
V.O. Most of the time I used Le Maquillage, I think they sell it in London but you can also get it in Paris, if you mix it with a bit of moisturiser or with a mixer you can make it so thin but it still gives you coverage. I chose something that had a little bit of yellow in it, not blue white or white white, that way the skin looked pale but it didn't look ghostly.
L.E. And how did you do the eyebrows, did you draw them on?
V.O. I started hand drawing her eyebrows on and I did that for the first, maybe four days. Then I thought 'the more the movie goes, the more tired I'm gong to get and these aren't going to match,' so I made myself a stencil and drew them on, I could just mark it and trace through the plastic!
L.E. Such a great idea! And what product did you use for the blue eyes?
V.O. For the test I used YSL
L.E. Oh I think I know exactly the one, it was a Limited edition palette?
V.O Yes! it was one of their seasonal palettes with different blues in. It was quite hard to find an electric blue. I wanted it to be a little fashion-ey, that was the concept for all the makeup. We didn't want them to be rubbery and cartoony like most of the effects movies are or where the makeup just looks airbrushed.
L.E. So you started with powder and then did you move on to another product?
V.O. I actually stuck with powder; there were a couple of times when I used a crème, one day Helena had a cold and the powder didn't really stick. It was a crème pallet by makeup forever, they don't make it anymore, it was lots of crème colours, white, black and bright yellows, it was probably from the 90s… So I mixed a couple of colours in that, to kind of get the turquoise but I pretty much stayed with the YSL powder.
L.E. And what about the lashes? It looks like a fake full set top and bottom.
V.O. Yes, I did top lashes, they were Wonderlashes, and then I cut out every other lash, so I made it kind of a twiggy lash kind of thing. I also used a Lancôme mascara, they're pretty much the best mascara.
L.E. What did you drawer the lips on with?
V.O. Like with the eyebrows, I made a stencil for the lips too. I drew the heart and then I made a stencil for it all, it sped the job up so much.
I tried everything for the lips but I ended up using Stila, it was a red in a pen format just like a sharpie.
What else did I do? I also drew a beauty mark on her in the shape of a heart but it was miniscule, I used tattoo makeup so that way it wouldn't come off.
L.E. How did you become a makeup artist?
V.O. I wasn't trained as a makeup artist, I was an artist. I just tried to pick up things from working. I learnt as I went. I think you either have a talent for it or you don't. I have my own kind of style.
After talking about the movie we continued chatting about the industry and life in general for ages! I quizzed her on her favourite products to use on herself and on set and on her new chemical free skincare range beautydecoded It was all so interesting I've turned it into another post, click here to read it. 

To follow Valli on Facebook click here. and on Twitter here.
What other makeup moments would you like to hear about?