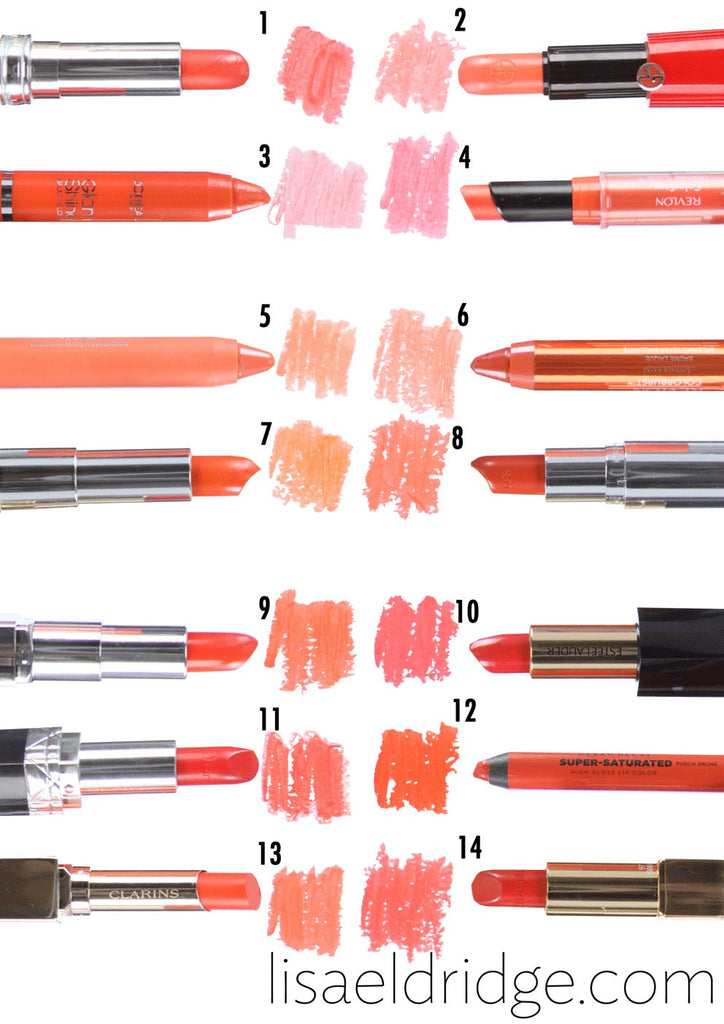 Lisa Loves - Summer Orange
Orange is such a great lip colour. From sheer apricot to hot tomato, it's fresher and more summer-y than red and works on every skintone - it looks incredible contrasting vibrantly against fair and dark skins and brings out the golden undertones of olive skin.
I got so much great feedback from my Keira Knightley Orange Lip Red Carpet look that I thought I'd share a few more of my favourite orange shades for all skintones. Of course you don't have to stick to the 'rules', they're just guidelines from which you can find the colour that's absolutely right for you and for your personality. It's time to embrace this zingy colour!
Light Pink-Based Oranges
These shades look great on pale skin and also work on darker skin if you're after a pastel effect.
1. One of my current favourites is Lancôme Rouge In Love in Miss Coquelicot - a really pretty pinky orange (that will suit so many people) with a glossy finish.
2. Armani Rouge Ecstasy in 300 Pop is a similar soft coral that looks great on a lot of complexions – it's been dubbed a 'CC' (Care and Colour) lipstick, but really it's just got the the added bonus of a few skincare benefits to keep lips soft and hydrated.
3. L'Oréal Glam Shine Balmy Gloss in Bite the Maracuja - discontinued, try Bourjois Colour Boost Lip Crayon in Peach on the Beach - a super-pretty, peachy pink shade that's really easy to apply and has a lovely sheeny finish.
4. If bright orange is a bit out of your comfort zone, Revlon Colorstay Ultimate Suede Lipstick in Designer is almost more pink than orange, so it's perfect for testing the water. 
Yellow-Based and True Oranges
These colours look amazing on olive skintones and yellow-based skin. Avoid them if you're worried about your teeth (they can make stained teeth appear more yellow) or if you're very fair with predominantly pink undertones.
5. For a pretty, soft peach try Revlon Colourburst Matte Balm in Mischievous - it's highly pigmented and is housed in a balm-like formula to keep lips moisturised.
6. While Revlon Colourburst Lacquer Balm in Tease leaves an apricot stain with a glossy finish.
7. If you prefer a softer look, I love Maybelline Color Sensational Vivids Lipstick in Electric Orange - it looks super-bold in the bullet (a real yellow-based true orange) but the sheeny finish makes it easy to achieve a subtler effect.
8. Clarins Joli Rouge lipstick in Orange Fizz is another great yellow-based orange with a buildable texture. 
Vibrant Red-Oranges
Bright, red-based oranges suit pretty much all skin tones. They look especially striking against fair skin (conceal any redness first) and the strong colour also works well with mid to dark skin. If you're uncomfortable with too much 'pop', try to match the undertone of the lipstick to your complexion for a more harmonious fit.
9. Rimmel Moisture Renew Lipstick in In Love With Ginger is highly pigmented but, as the name suggests, the formula is lovely and hydrating thanks to added hyaluronic acid, which plumps out lips and keeps them feeling moisturised (you can read more about the benefits of hyaluronic acid in my blog post here).
10. I've been using Estée Lauder Pure Color Envy Lipstick in Impassioned a lot recently - the hint of coral makes it universally flattering.
11. Dior Rouge Dior lipstick in Trafalgar has fantastic, full coverage and a satiny finish.
12. If you really want to push out all the stops, try Urban Decay Revolution High Colour Gloss in Punch Drunk - amazing, full-voltage colour with plenty of shine (the formula has changed since I took the picture above - it's now a gloss with a sponge applicator). It gives an almost 'plastic' effect finish to lips that will really get you noticed at a party!
13. A good staple is Clarins Rouge Eclat in Juicy Clementine - a classic orange-red with a beautiful satiny finish.
14. If you're a fan of the hot orange-red lip I created for Kiera, the shade I used was Chanel Rouge Allure Intense in Incandescente, a brilliant hot tomato that pops against fair skin like Kiera's (though it'll work just as well on darker skins, too).
And finally, if you don't want to commit, there are lots of good balmy options that leave lips with a subtle hint of colour. Try Revlon Lip Butter in Juicy Papaya, a subtle peach, or Clinique Chubby Stick in Oversized Orange - soft, pretty and sheer... perfect for summer and daytime looks.
Watch my How to Wear an Orange Lip film below - it's got loads of tips on how to wear orange lipstick, whether you like your finish subtle and sheer or bold and eye-catching. There's also some ideas about how to tailor the rest of your makeup to keep the focus on your popping pout.