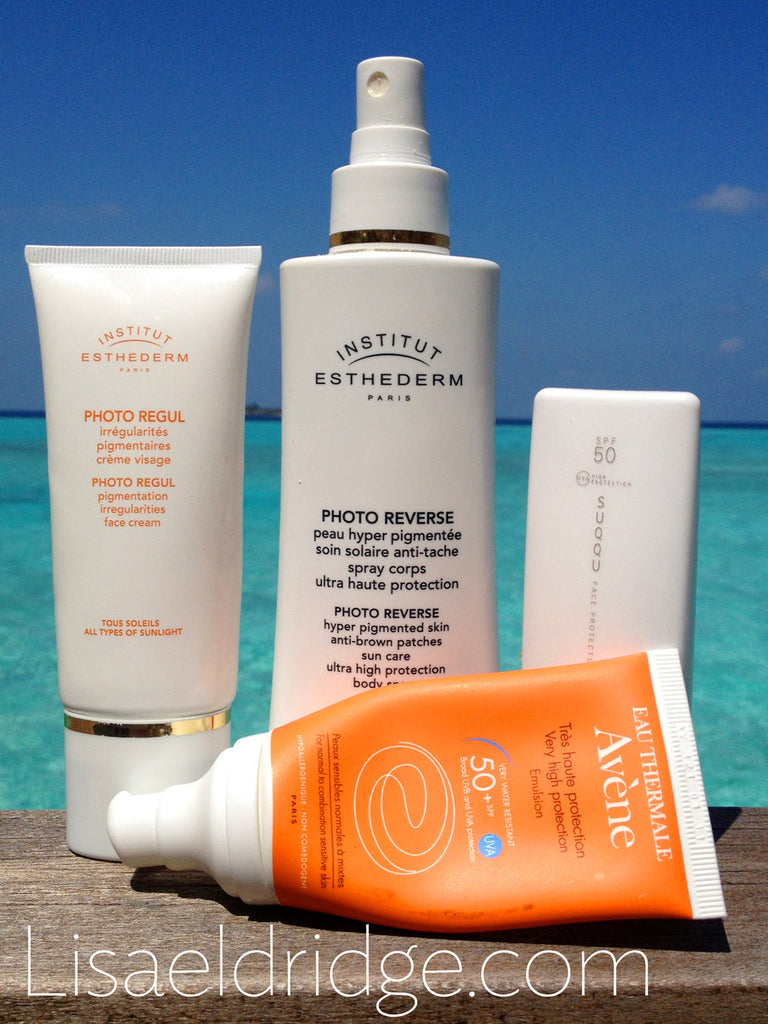 Lisa Loves - Holiday Things
Fresh back from my holiday in the Maldives (don't hate me), I thought I'd share with you some of the things I enjoyed using, reading and watching.
Suncare: For face I mainly used Suqqu's SPF 50 Oil Free Face Protector as it really works and is water resistant. I was also trying out Institut Esthederm's new Photo Regul for face, which claims to help regulate melanin production so you can get a glow without exacerbating patchy pigmentation. I usually use their Photo Reverse Anti-Pigmentation cream for my face, which I love, but thought I'd try out this, their newest edition for a change. I never lay or sit with my face in direct sunlight anyway but I did like this product a lot. The texture is lovely and I've returned with a light glowy tan on my face without any increase in pigmentation around my mouth and chin.
For body, I switched between the Institute Esthederm Photo Reverse Spray and Avene's High Protection Emulsion. When I knew I was going to be in the sea for a long time I used the Avene as I found it very, very water resistant. Its also non-comegenic so good for backs and chests if sun creams bring you out in spots in those areas. The less water resistant Institut Esthderm High Protection spray was great for walking around and easy to apply to legs, shoulders and arms etc throughout the day.
Watch my sunscreen film: Part 1 - Part 2
Skincare: To further guard against pigmentation and sun damage forming I used Murad's Essential C face wash. Packed with antioxidants vitamin C, E and A to help neutralize free radicals and environmental damage.
At the end of the day before dinner I washed my face with this and then applied Bioderma's Sebium Pore Refiner to the areas of my face that get horribly shiny in hot, humid weather. I then used 'This Works' Perfect Look Skin Miracle - a marvelous skin beautifier (more about that in forthcoming tutorials). Before bed I washed again with the C cleanser (I also had a small bottle of Bioderma Crealine with me to remove mascara on the couple of occasions I wore it in the evening) and then used Alpha H Gentle Daily microfoliant - a powder which transforms to a creamy smooth paste when mixed with water. A very gentle, non-abrasive exfoliator, it brightens skin and cleans the pores. I then used Murads Vitamin C serum which is marketed as a day product but worked well for me at night. It delivers a very high dose of Vitamin C for brightening, post sun collagen boosting and cell protection. No7's protect and perfect intense eye cream and a thick layer of Elizabeth Arden's 8 hour cream on my lips finished off the process.
I often get breakouts on holiday, a combination of the hot tropical heat and using so much sun cream so I took Alpha H's Purifying Clay Mask for twice weekly spot prevention treatments. This mask deals very well with blemishes, containing large doses of vitamin A (don't use when pregnant), Aloe Vera to soothe, Bentonite Clay to draw out impurities and Lavender Oil to hydrate and moisturise.
Watch my skincare film: Part 1 - Part 2
Haircare: I'd booked in to learn to scuba dive so predicted my hair was going to be a frazzled, frizzy, dry mess after all the sun and salt water. I took precautions packing my trusted Kerastase Soleil products - shampoo, masque and conditioner and used them all at least once a day. I brushed my hair gently with my tangle teaser (the worlds best brush for long hair that gets tangles) and every night applied a generous amount of Phyto's 'Secret De Nuit' night treatment to work its magic restoring my parched ends while I slept.
Nails: I didn't paint my nails until the second to last day of the holiday. I was scared the bright colour would attract big fish to nibble at my toes when I was scuba diving.... mistaking them for small brightly coloured fish! When I did, I took enormous pleasure in using Chanel's limited edition summer shade 'Holiday', the perfect hot tomato red/coral. A gorgeous shade, perfect for sunny climes and bronzed skin. 
What I read: I absolutely devoured 'Furious Love' a delicious book about Elizabeth Taylor and Richard Burton's great love affair and marriage(s). The authors had access to previously unseen love letters. A fascinating read that covers everything from how they met, their wild passion and all the details of their crazy, paparazzi pursued life together.
What I watched: I was very late to the party on this one but I finally watched all of series 1 & 2 of Sherlock and all I can say is wow! The writing, direction and actors performances are just flawless. Series 2 finished on one hell of a cliffhanger, so now we just have the agony of having to wait until the autumn to find out what happens!!!
Have you tried any of these products yourself? What are your favourite summer holiday skin and hair saviors?