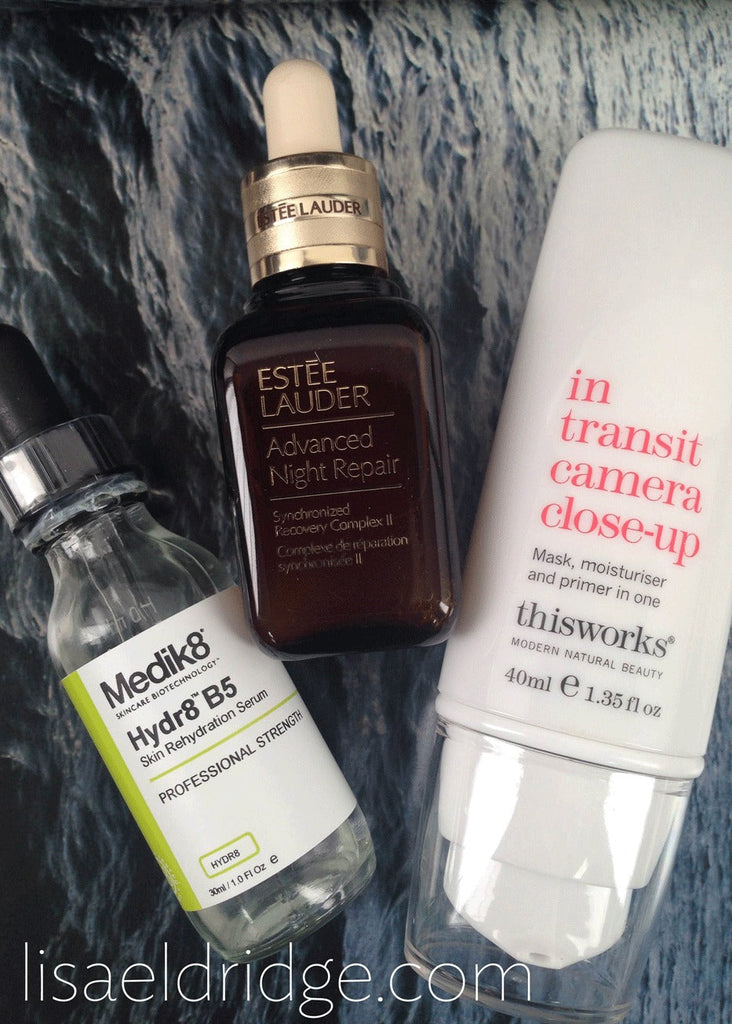 Lisa Loves: A Must-Have Beauty Molecule, Hyaluronic Acid
As a skincare junkie I'm always on the lookout for products which contain decent levels of actives and Hyaluronic Acid is definitely up there with my favourite skin enhancing ingredients. Also known as hyaluronan or hyaluronate, it's widely available in supplements creams and moisturisers. Hyaluronic acid occurs naturally in the body to help keep our joints and muscles healthy and mobile, skin plump and elastic and hair hydrated. It even keeps our eyes fluid, gums healthy and has antibacterial and anti-inflammatory benefits.
HA was originally discovered in 1934 by the scientist Karl Meyer but gained wider popularity around 2000 when the World Health Organisation in Japan found that the Japanese village of Yuzurihara had the greatest proportion of people living beyond 85 in the world (it quickly became known as the 'village of long life'). Many of the older men and women (in their 80s and 90s) had smooth, wrinkle-free skin, thick hair, flexible joints and near-perfect eyesight that defied their age. The town doctor attributed their youthfulness to a diet rich in soya, tofu and root vegetables that promote high HA levels in the body – cue a load of skin and healthcare companies wanting to use it in their products! Although HA occurs naturally in virtually every cell in our bodies, it depletes over time – by the time we reach our mid-40s, our body only creates about 50% of the HA that it needs (hence skin slackens and muscles and joints tighten as we get older). So helping to supplement it in our skin, body and haircare isn't a bad idea.
HA in Skincare

The most amazing thing about HA is that it has the ability to hold 1000 times its weight in water.  As almost half of our body's store is found in the skin, it therefore helps skin hold onto water and smooths out fine lines..  Hydrated skin has a fresh, plumped up look quite the opposite to your morning after the night before dehydrated face – think dull, with blemishes and fine lines emphasised. 
I'm a big fan of Medik8's Hydr8 B5 Serum which combines regenerating vitamin B5 with HA to rebalance skins hydration levels. It's non sticky/non oily and you only need to use a couple of drops under your usual moisturiser to keep your skin hydrated for longer. I think this serum is particularly good for anyone with acne prone skin that gets dehydrated. In my personal experience it hasnt caused any breakouts or aggrevated any existing blemishes, quite the contrary in fact.
Estee Lauder were the first big brand to really get behind HA launching their Advanced Night Repair in 1982. It's now something of a cult product, harnessing the power of HA alongside a cocktail of potent antioxidants that instantly hydrate and help to brighten and clarify skintone long-term by protecting against environmental damage.
You could also try a HA-rich moisturiser/mask – I like This Works In Transit Camera Close-Up, a 3-in-1 moisturiser, mask and primer that leaves skin with a matte, satiny finish (as the name suggests, it's a good one to take with you when travelling for a quick tired-skin-boost).
HA in Supplements and Drinks
As there are very few clinical trials to demonstrate the effectiveness of oral hyaluronic acid, several medical professionals/scientists opinions I've read have dismissed this concept as nonsense. Some believe that oral ingestion is ineffective as our bodies have a hard time absorbing it. Firstly because the molecules are so heavy (making them difficult to absorb) and secondly because it's possible that our stomach acids simply destroy the HA before it makes it into our bloodstreams. However, others in the pro ingestible corner believe that as the majority of HA molecules found in supplements have been chemically-enhanced to have a lower molecular weight, they should have an easier time being absorbed and could be as effective as topical serums and creams.
In case the doubters are wrong, I've been trying out Fountain's The Hyaluronic Molecule – a bit like a moisturiser in a drink! It contains a high concentration of HA. The makers claim that because it's in liquid form the HA is able to absorb better and the added ginger speeds up absorption. I'm quite enjoying the gel-like texture which admittedly is a bit strange but not unpleasant, though you can mix your daily dose into water/juice if you prefer.
HA in Body Care
Lots of great body lotions harness HA for moisture-boosting. A new product that I've been trying is Hand Chemistry's Hyaluronic Concentrate – it contains 99.5% pure Hyaluronic Acid and a mushroom-derived complex that supercharges HA's hydrating power 400 times – as if it wasn't moisturising enough already! It looks a bit like a giant hand sanitiser and the gel texture does feel slightly tacky when you first apply it but give it a minute and you'll see it completely disappears into  your skin (you can mix it with a body moisturiser if you prefer traditional creamy textures).
HA in Haircare
If you've got dry hair that's prone to damage or split ends (or a dry scalp), you could find HA-rich hair products beneficial. I like Phyto's Phyto Keratine Reparative Serum – it contains a pretty potent mix of keratin and hyaluronic acid that help to hydrate hair. Although nothing will actually glue a split end back together, it certainly helps to make my often frizzy hair look smoother!
HA in Make-up
Like skincare, there's a load of amazing make-up products that use HA for a multitude of benefits –  it's something I am thinking of going into further in another blog post. In the meantime, a couple of quick favourites – I love By Terry's Hyaluronic Face Glow (think of it somewhere in between a very light foundation and a BB cream – it's mousse-like in texture, super-lightweight and smoothes over imperfections, while the HA quickly plumps-out tired skin and helps it to feel hydrated all day. I also like their Hyaluronic Blush it's light, airy and ridiculously easy to apply and blend. The shades in the image are, 1 Peach Posh (Left) and 3 Bubble Glow (Right) 
Rimmel's Moisture Renew Lipsticks are also great  – the formulas are rich and glossy and even the brightest, most heavily pigmented shades don't feel drying thanks to the added HA. (Shades in the image below from left to right are 360, 099, 705.)