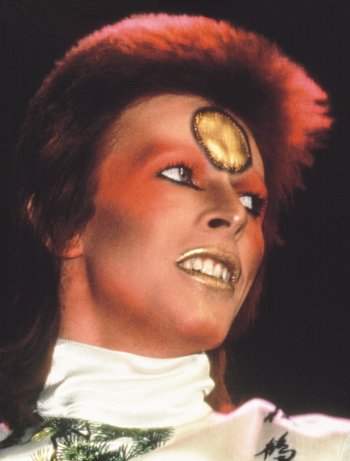 Inspiration - Happy Birthday David Bowie
The one and only David Bowie turns 65 tomorrow - hard to believe I know. In honour of the great man I thought I'd post my favourite of his legendary make-up looks. Not only a music god but a make-up icon!! I came across this fantastic interview from November 1973 of David discussing his looks, favourite products and make-up techniques with Music Scene Magazine (below). We salute you David …. Enjoy!
Music Scene - November 1973
David Bowie's Makeup Dos and Don'ts
David tells us that mostly all of his makeup comes from a little shop in Rome, Italy, that imports fantastic coloured powders and creams from India. (He's not telling the name of the store, however!!!) Basic essentials also include a white rice powder from Tokyo's Woolworth's equivalent- Indian kohl usually in black - for his eyes, which he smudges right along the lash line and some, times a little bit on the outside...
He also uses a very light liquid base, sometimes white - sometimes pink or yellow - and applies it with a damp sponge. For stage, David will often use an iridescent base, usually pure white. When he paints that gold circle on his forehead that's such a hit with his fans he uses a German gold base in cake form bought at New York's Makeup Centre. (He also told us that the little Japanese brushes that the Makeup Centre has for applying powders and paints are much better than anything you can find in Japan!)
Eight hour cream by Elizabeth Arden is what you'll see shining up David's lips and eyelids in photographs, it gives that extra-gloss effect. And a must is that old-fashioned black mascara, (sometimes blue) - you know the kind that you spit on the little brush and it's in cream/cake form... David will often paint waves of colour all the way across his eyes and eyebrows, rather than on the lids only usually in a pink or mauve tone.
In his last few English concerts, Bowie painted tiny lightning streaks on his cheek and upper leg. Once in a while he uses pearlised gloss on his lips in a tan/pink that comes across like a white-silver highlight. And - a warning! He doesn't use glitter too much, because it falls into his eyes when he's performing and it just isn't soft looking enough, he feels. Sometimes he will outline that gold circle in tiny gold rhinestones, stuck on with eyelash glue.
As far as off-stage makeup is concerned, David doesn't wear any base - he uses a light natural moisturiser with rice powder dusted on top - but most often he prefers to show his very light, bare, clear English skin.