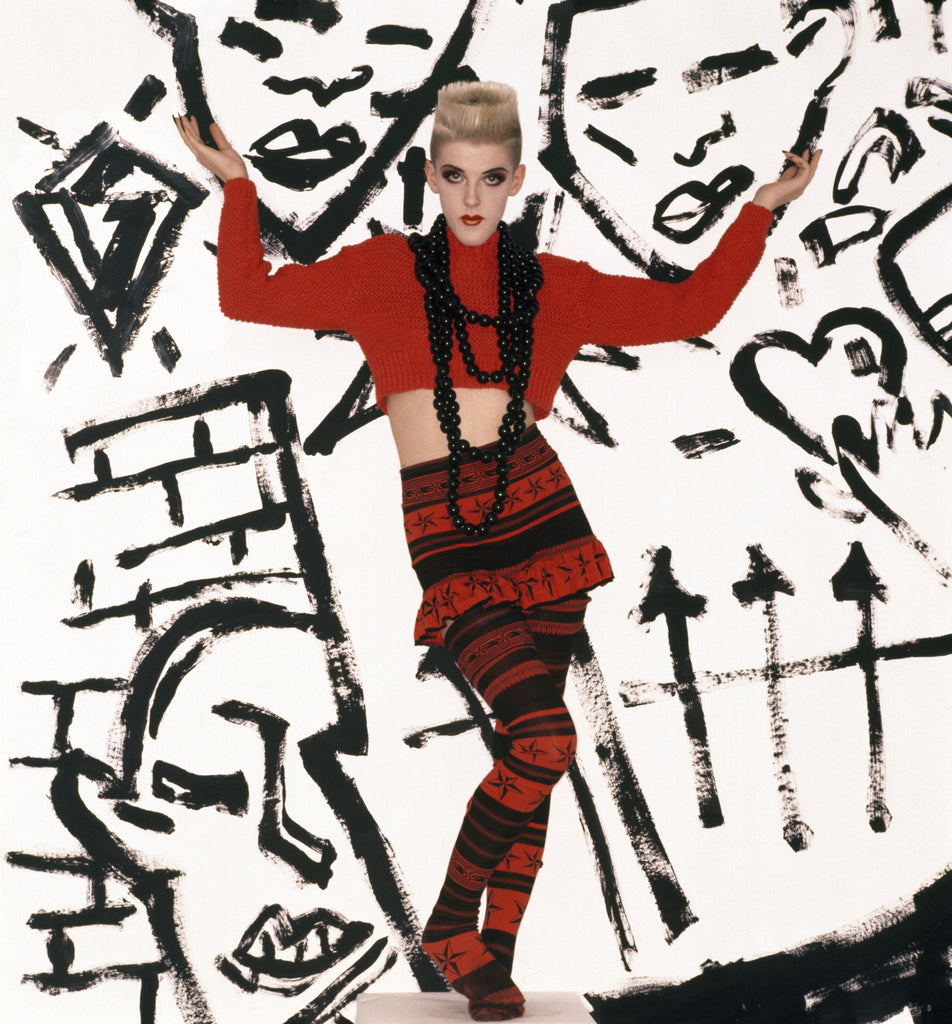 From Club to Catwalk - 80's Exhibition
Rewind to the Eighties...
Whatever your age or experience with the decade of decadence, if you live in London or are visiting anytime before the 16th Feb 2014 you must check out the V&A Museum's latest exhibition, From Club to Catwalk. Centered around the London club scene of the time, it's a brilliantly curated collection of the faces and figures that made the early 80s one of the most creative eras in 20th century fashion, graphic design, music, hair and make-up.
There was nothing subtle about the 80s. It was all about power, passion and politics, sprinkled with heaps of inventiveness and rule-breaking – and of course, the obligatory big hair! Even if you're not a fan of the styles or sounds, you can't deny the impact that British designers such as John Galliano, Vivienne Westwood, Paul Smith, Pam Hogg, Stephen Jones, Bodymap and Katherine Hamnett have had. The exhibition includes some rare photographs, sketches and designs, as well as dressed mannequins, that give a real behind-the-scenes look at the influences and inspirations of some of the most recognisable and iconic looks.
As well as key fashion designers, the exhibition features bands like Spandau Ballet, Duran Duran and figures such as Boy George – who all had a massive influence on make-up and fashion at the time – through film footage and video clips. It also pays hommage to the graphic designers and photographers who created ground breaking imagery and publications including The Face, Blitz and i-D magazine which have become cultural icons. 
Street style and its various guises, including New Romantic, Fetish and Pirate, is also a huge part of this exhibition, with 85 outfits belonging to musicians, designers and personalities including Adam Ant and the inimitable Leigh Bowery (a performance artist and designer well-known in London 80s fashion and clubbing circuits). As a make-up artist, the club personalities of the 80's have provided me and many others with masses of inspiration, particularly Leigh Bowery, Trojan, Mark Vaultier, Steve Strange, Princess Julia and Boy George. All have been the starting reference of many an editorial shoot  I've worked on over the years. The exhibition includes a club room with film footage on multiple screens from the coolest clubs of the time – Billy's, Heaven, Blitz and Taboo.
This was all before my time but my husband Robin Derrick, was very much in the thick of it all and often regales me with amazing tales  - " From 1981 to 1987 I was working on i-D and The Face magazine where we covered and lived club culture - an exciting and giddy mix of almost nightly style changes. This was before rave culture and clubbing was a pretty underground activity. The clubs were mostly small with tight guest lists and door policies. How you looked or who you were got you in. We started shooting our night club friends and their looks for the magazines which made stars of some of the club people like Leigh Bowery. The looks were incredible particularly at Taboo, my personal nightclub epiphany - but these were not posing parties I remember the dancing as much as the looks - it would be incredible to be on the dance floor and look around at this amazing cast of characters all going crazy to a Madonna track!"
I think what inspires me most about this time (apart from the make-up of course) was the DIY element of it all. It wasnt about wearing designer clothes and getting your make-up done it was about making your own outrageous costume and designing your own flamboyant make-up. There is a great quote from fashion designer John Galliano (who was in the same year as my husband at St Martins art school) saying "on Thursdays and Fridays the college was almost deserted as everyone was at home working on their costumes for the weekend," A truly free and creative period in fashion history were the words 'anything goes' genuinely meant just that.
If you fancy trying out an 80's Makeup Look try my 'Retro 80's Makeup Look' Tutorial. 
If you can't make the show, you should definitely check out the book, From Club to Catwalk: 80s Fashion, edited by Sonnet Stanfill, V & A Publishing. The exhibition runs until 16 February (020 7907 7073, vam.ac.uk).
Another book about 80's London club culture (by someone who was there) is Dylan Jones - The Eighties, One Day, One Decade.