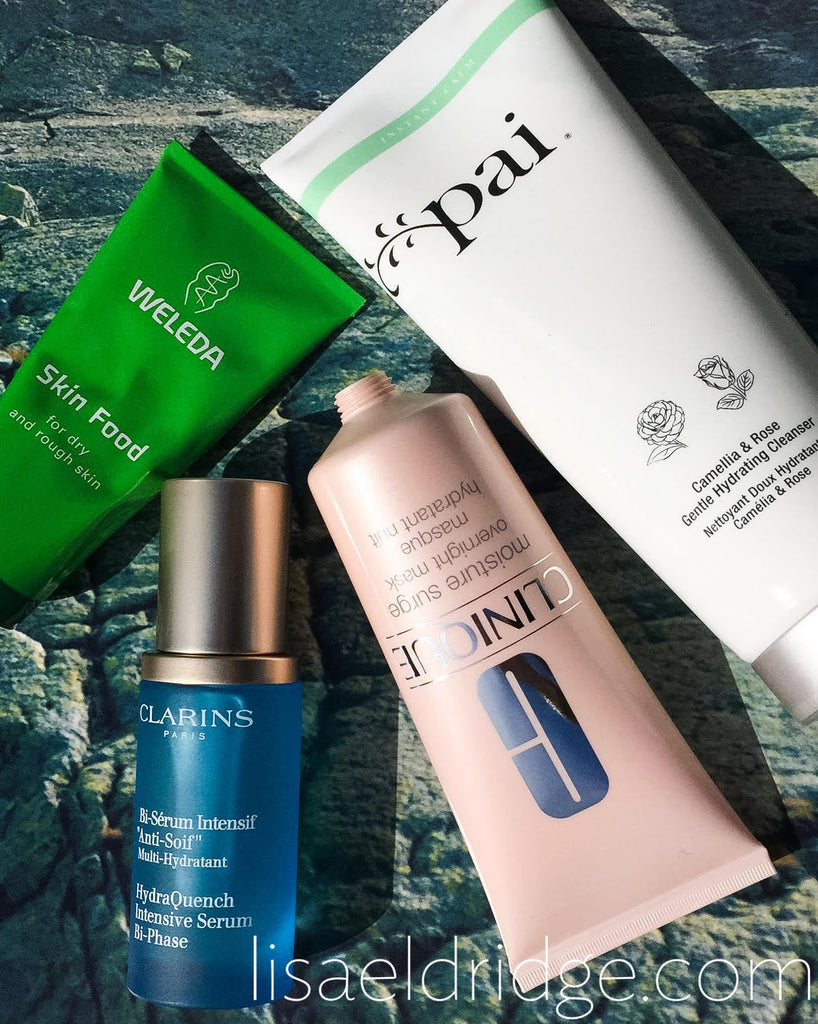 Four Tried-and-Tested Hydrators (That Suit Most Skin Types)
I'm normally a combination skinned gal, but a temporary move to an apartment four months ago (which we hadn't realised has terrible ventilation), while our house is being refurbished, has left my skin feeling more parched than usual. There's a real lack of fresh air in the bedrooms which is playing havoc with my face and body, and my family's skin has been noticeably drier, too - it's made me realise how important a healthy environment is, particularly in the room you're sleeping in. I'm counting down the days until I'm back in my lovely, well-ventilated house (one week to go!).
In the meantime, I've been trying to combat this unfortunate scenario by drinking more water and reaching for some of my favourite fast-acting moisture boosters. Although these have been formulated with dry skin in mind, I find they work on lots of different skin types - and no matter what category you fall into, all skin can be prone to dehydration from time to time. The four products below have been thoroughly tried and tested, and I know they're popular with my dry-skinned #houseofeldridge girls too.
The Cleanser - Pai Camellia & Rose Gentle Hydrating Cleanser
An organic, vegan cleanser with a light cream texture. It cuts through makeup, dirt and grime without stripping and you can use it to remove eye makeup too (although waterproof mascara will need something a touch more heavy duty). Despite the lightweight formula, it's full of hydrating oils like camellia, rose and sweet almond, as well as shea butter and vitamin E and there's also a tiny bit of my favourite exfoliator, lactic acid. Massage in and remove with a cleansing cloth - Pai's muslin cloths are made from a pleasingly rustic unbleached organic cotton, but lots of brands have their own versions. Available here.
The Serum - Clarins HydraQuench Intensive Serum Bi-Phase
My skin looks fresher, plumper and less tired when I've used this. The texture is water-thin and sinks in super-quickly (practically instantly), so it's the perfect serum for people like me who don't like heavy products or for dry skin as a pre-moisturiser base layer. It's also great for spring/summer months when you want to move towards lighter skincare textures. The moisture-oomphing formula contains hydrators like hyaluronic acid, Arctic cloudberry, Madagascan Katafray bark extract (which is meant to encourage your skin's natural hydration process) and Inca peanut oil (rich in omegas 3 and 6). You can apply moisturiser on top, but for me it has enough hydration to go straight to SPF. Available here.
The Balm - Weleda Skin Food
In addition to feeling like my face has been more parched since moving house, I've developed dry, scaly elbows and knuckles (attractive), so have been reaching for this dense, balm-like moisturiser/skin salve. It's been around for years and I always forget how good it is until I try it again. The formula is very thick and oily, so it's not something I would use all over my face, however I know lots of people who do like to use it this way - because the ingredients list is all-natural and non-comedogenic, it shouldn't block pores. I find it's best used at night, emulsified in hands and gently patted onto any dry areas (you could also 'dilute' it with another, lighter moisturiser). It's definitely a good one for dry hands/feet/elbows/lips etc. - I've been alternating between this and La Roche Posay's B5 Baume to use on my hands before bed. I slather it on then put gloves on over the top while I sleep, and my hands seem much better now. It's also helped to clear up the dry patches on my elbows and I've heard it works wonders on dry heels. Available here.

The Mask - Clinique Moisture Surge Overnight Mask
I like this creamy mask as, again, it moisturises well without feeling heavy on skin. It's got a day cream-like consistency - not too thick and not too thin - and contains good emollients like glycerin, shea and mango seed butters and aloe vera. Although it's designed to be left on overnight, I prefer to tissue off any excess before bed - I've also used it in the morning, removing after 15 minutes or so (especially if I'm going to apply makeup on top to prevent 'pilling'). However, one of my drier skinned testers says it completely soaks into her skin after about 20 minutes, so as always it's a case of testing and seeing how it works best for your skin. Available here.
Watch my Face Mask Philosophy film below for more of my skincare favourites, and let me know about your best hydration hitters in the comments. X