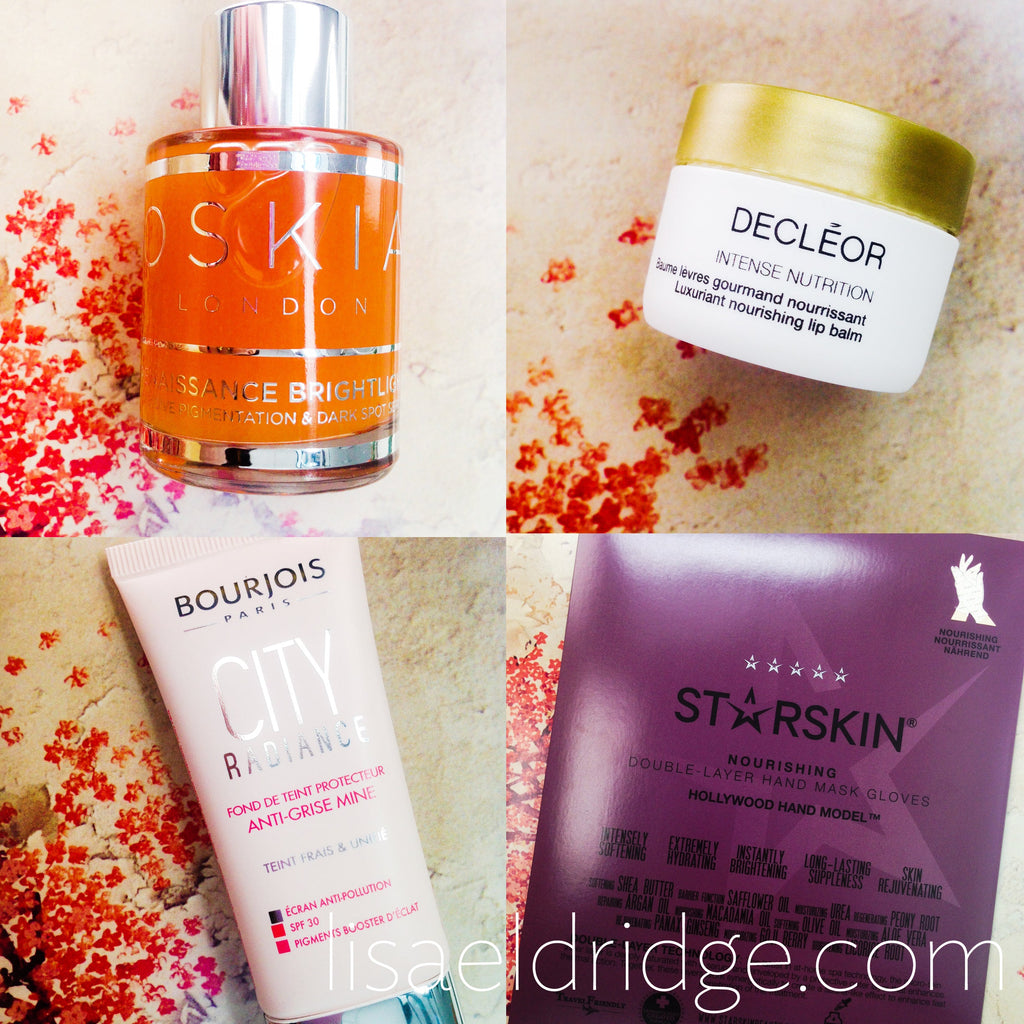 Four New Finds at the #HouseofEldridge
A lot of new products pass through the doors of the #HouseofEldridge, and we always try to test as much as possible to find out what's hot and what's not for my kit. Here are four new finds that have turned our heads recently...
Bourjois City Radiance Foundation
This is the new favourite base amongst the girls at the #HouseofEldridge. I wasn't sure I would like it at first as the texture is quick thick - it feels balm-like and 'grippy' on skin but it's actually very workable and can be buffed and blended out to look really natural with either fingers or a brush. It has a lovely, dewy finish and feels moisturising, so a good foundation option for colder months - the SPF30 also makes it good for winter sun, if anyone's going skiing over the next few weeks. Available (in 6 shades) here.
Starskin Hollywood Nourishing Hand Mask Gloves
I love hand creams and I love sheet masks - so naturally I had to try these 'hand mask gloves' which bring together two of my beauty loves ; ) If you've watched my In-Flight Beauty Regime film you'll know that I use travel time as an excuse for major skincare, so I packed these in my handbag to try out on a recent Eurostar trip - initially for the novelty factor more than anything else. I did get a funny look from a fellow passenger as I was wrapping my hands - but when has that ever stopped me! After keeping them on for about 30 minutes my hands felt dreamily smooth and looked a decade younger. The added bonus was that it stopped me from doing anything else *reading emails* so I properly relaxed for once. The no-mess, no-fuss application is great and I might try sleeping in them next - if I can manage to keep them on all night (which I doubt), I'll expect to wake up with hands like a baby! Each individual glove is saturated in a nourishing serum that contains hydrators like shea butter, macadamia and olive oils as well as brightening licorice and antioxidant peony root - when I removed them there was a bit of product left on my hands that I massaged into my arms. A fun high street treat. Available here.
Oskia Renaissance Brightlight Serum
Before the holidays I worked on a shoot for Vogue USA in the Caribbean and got an accidental face tan, which I hate! I applied SPF each morning and reapplied throughout the day but, as I was working and worrying more about the model's makeup than my face, forgot to pack my hat (quelle horreur) and kept changing location... let's just say I wasn't as 'on it' as usual. Because I have previous history when it comes to facial pigmentation marks, I find that even a tiny tan on my face re-activates old damage. I was interested in trying this product on my return as I'd heard that the founder had developed it to help with her own post-pregnancy pigmentation (sometimes called melasma or 'pregnancy mask'), and I always feel like the best product development comes via things that are developed for personal need - the best products I've created all started out as things I wanted for my own makeup bag. This serum contains a mix of naturally-derived exfoliators (papaya and pumpkin enzymes), AHAs from passionfruit and grape, bearberry leaf extract (another skin lightener, often referred to as a 'natural arbutin'), super-hydrator hyaluronic acid and minerals like sulphur and zinc. It has enough moisture for my combination skin, so I can apply SPF (extra important when you're using brightening ingredients which can make your skin more susceptible to the sun) straight over the top - my current favourite sunscreen is Lancôme Absolue UV Precious Cells SPF50 (Asia only at the moment, so I stockpile each time I visit!). I don't know if it was the product or the fact that the damage was minimal but I did manage to avoid any lasting brown spots and I loved the texture. Available here.
Decleor Intense Nutrition Lip Balm
I often have a couple of balms on-the-go at any time, but recently this is the only one I reach for. The texture is like a dense balm/cream and feels gorgeously luxe (it's made up of moisturising power houses like shea butter and macadamia oil) and leaves a nice layer of comforting moisture on top of the lips making them look instantly more hydrated. The finish is a quiet sheen, so it's a great one if you prefer heavy duty lip balms that don't leave your lips really glossy. It also smells divine. Available here.
Let me know if you've discovered any fantastic new products in the comments. X