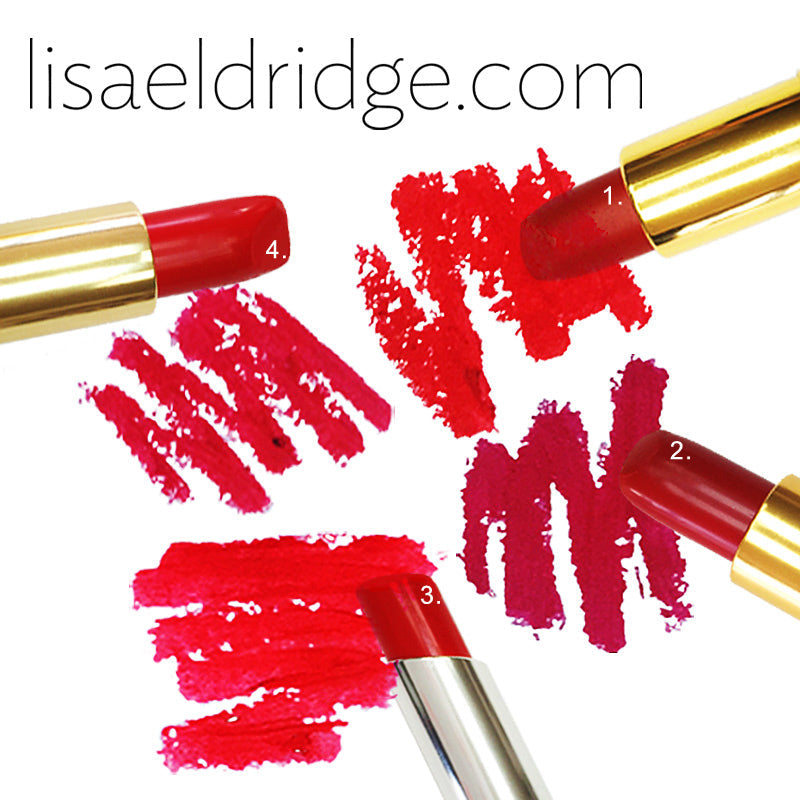 #FlawlessFriday! 6 confidence boosting red lipsticks
Earlier this week I travelled to Paris for the big L'Oréal Luxe International conference. I had to talk on stage about building my website and YouTube channel, as well as all the new products and innovations I'm working on for Lancôme. It went really well which was great, but the huge crowd made me feel quite nervous - if you saw my Periscope you'll know how relieved I was once it was over!
I decided to wear a bright red Prada dress teamed with an equally bright red lip. I love red - though its meaning differs from culture to culture, red is invariably associated with desirability, love, passion, youth and health (FACEPaint - The story of makeup). For me, wearing red always gives me confidence - and I needed lots of strength and power that day!
I believe that everyone can look amazing in red lipstick - it's all about choosing the colour and the texture that suits you. Here are six red lipsticks I reach for whenever I need a confidence boost…
Tom Ford Lip Colour in Cherry Lush (2) - blue-toned reds, like this Tom Ford lipstick, traditionally suit cool skintones, but I also love them on olive or yellow toned skins as they pop out for real wow factor. An added bonus is that blue-y reds make your teeth look amazingly white (another good confidence booster!). This one has a lovely creamy texture and a subtle sheen.
Maybelline Super Stay 14Hr Lipstick in Ravishing Rouge - this is the lipstick I put on in my Ultimate Guide to Red Lips tutorial. It's a beautiful classic, neutral red and one of the longest-lasting lipsticks I've tried, so very low maintenance - but not drying at all. 
Revlon Matte Lipstick in Really Red (1) - one of my favourite drugstore reds, this is a really rich, beautiful shade that dries matte and looks great on darker skintones (but fair skin can wear it too).
MAC Lipstick in Ruby Woo - this classic matte red shade suits lots and lots of different skintones - it pops on dark skin, looks beautiful on pale skin and brightens yellow skintones (fans of this lipstick might also like to know that MAC recently launched a matching Ruby Woo lip pencil, perfect for creating a really clean shape).
Lancôme L'Absolu Rouge in 160 Rouge Amour (4) - this is the lipstick I wore at the conference, and it's also the red I use on Kate Winslet for the red carpet. It's a slightly pink, erring on neutral, red with a luxe, satiny finish. I applied it with a lip brush, blotted and added another coat for extra staying power.
Dior Addict Extreme in Fireworks (3) - this red lipstick has a lightweight texture that's great for dry lips as matte pigments can often be a bit drying. The sheer finish is perfect for red lip novices, but there's enough colour to leave a pretty wash of red on lips and provide that important confidence boost X
For more of my favourite red lipsticks, with info on the skintones they flatter and application tips, watch my Ultimate Guide to Red Lips tutorial below...
And if you haven't already, have a look at my Quick Modern Glam film - it's a cool, undone way to wear red lipstick, perfect for day or night...