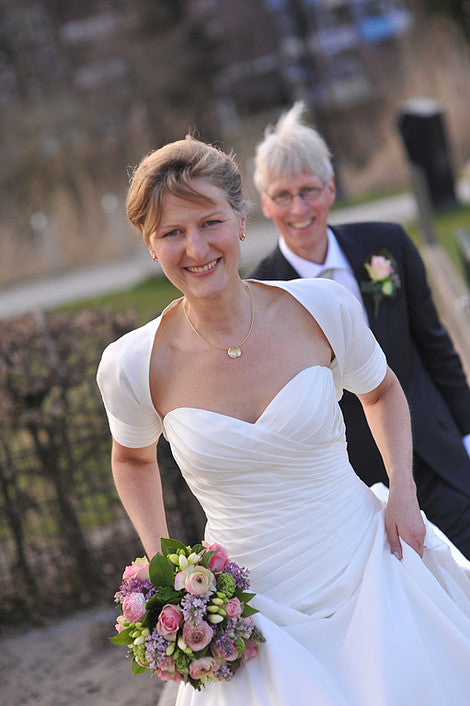 Dear Lisa - A Wedding Story
I feel very privileged to receive many lovely photos and messages from fans of my make-up tutorials.  Women of all ages from teens to 65+ with great stories of their make-up successes after watching my videos. Triumhant prom, first date, graduation and birthday party makeups along with engagment, wedding and simple, everyday winning looks. Women discovering and enjoying make-up! Often moving me to tears, the messages always make me feel proud and genuinely happy.
I received such a story a couple of weeks ago which had me in floods of (happy) tears so much so wanted to share it with you. So after getting permission from the sender, here is it is. A lovely story of how make-up helps to bond us gals together and can even save the day!
"Dear Lisa,
This is a letter from a huge fan from the Netherlands. I hope you allow me to write quite an email. I want to tell you a little 'bridal beauty story' in which you play a key role, so to speak… here it is.
My lovely younger sister Andrea married a month and a half ago on April 13 in Amsterdam to the love of her life, Albert. It was a grand, warm, glamorous wedding.
Firstly you need to know that my sister is 54. It was her first marriage - and Albert's second. As her only sister, I was – with my two grown up daughters - very much involved in how she would look that day. Months earlier we started thinking about it.
At first, Andrea thought she should wear an elegant evening gown in a golden colour. She thought that would be age appropriate. But, while shopping for a wedding dress, she tried on an ivory one. In front of the huge mirror we were all moved to tears. A bride! My sister was worried: what would people think? Wasn't she too old for white? But my 23 year old won her over: "It is your first wedding, you will be the centre of attention, it looks stunning on you, Albert will be swept off his feet, please go for the white dress!!" Andrea bought an ivory dress of simple silk splendour, without bling, with a huge train, and a nice feathery ornament for her hair. And after that … beautiful shoes, lingerie, she grew her hair longer and had a hanger made from the gold of our late mum's bracelet, with one pearl symbolising Albert.
In the mean time, Lisa, I had discovered your make-up tutorials: the bridal ones, and all the others and I was delighted. Always fascinated by make up, but with no girlfriend sharing this passion, I 'devoured' your tutorials, started buying new quality make-up and trying different things than the usual. It felt like getting a real make-up academic education. What I liked the most is that you approach the face like a portrait artist. Because I've been a devoted amateur portrait painter for years, I could very well relate to that approach, in which you let small touches do 'more', just because they are placed well and the colour is just right. I love your way of working with the features and the personality, and your calm explanation. So I was very inspired to make my sister (who seldom wears any make-up) as beautiful and natural as possible on her big day.
After Andrea had shown me photo's of the try out make-up her hairdresser did on her, with a blue eye shadow that overwhelmed her green-grey eyes, and a pink blush that had nothing to do with her skin tone and made her look like a stranger, Andrea appointed me her 'visagiste': I was in charge of her bridal look, ha! We went shopping for several important items like foundation, waterproof mascara, blusher etcetera. Of course we could use my things and brushes too. Everything had to be super, warm rosy/golden beige. I did two tryouts on her: two weeks and one week before the wedding. She was amazed how many items were involved to look naturally beautiful. But she liked it a lot. With the make-up kit and we were all set.
A couple of days later Albert called: Andrea was in tears. She had just had an appointment with a beautifician to remove a couple of tiny stray hairs on her chin and the girl then offered to wax her eyebrows for free, just to have them 'nice and neat for the wedding'. After the waxing, Andrea had red spots above her eyebrows. 'Don't worry, they'll go away in a couple of days', the girl had said. But the next day they were worse. She sent me a picture, the spots looked more like abrasion to me than irritation. It was devastating. Being a Lisa Eldridge student I found it barbaric anyway to clean up the brow area with wax and I was upset about a young professional who obviously didn't know the 50+ skin and took such a risk with someone's face right before her wedding!
Andrea was depressed: she had put so much effort into looking gorgeous, and now 'for free', her appearance seemed ruined. She had three more days to go. I reassured her that it would get better, and that I would be able to hide the last blemishes with the skills I learned from Lisa Eldridge!
And so the big day April 13 came. The night before, my daughters and I went over to stay at the brides house, (and yes, when she opened the door we could still see the red marks), to keep her company in the evening and pamper her in the morning. My daughters made a bridal breakfast and off she went to the hairdresser's. After she returned, I did her make up and managed to conceal the red spots … and they didn't show all day. We dressed the bride and the groom arrived. Albert couldn't hold his tears when he first saw his bride. Andrea looked radiant and was showered with compliments all day. Of course it was due to the Love they celebrated. But I like to think that it also was the beauty of the dress, hair and make-up that made Andrea a magnet people couldn't take their eyes off from! Thanks to your education Lisa, nobody saw any blemish.
So … I just want to THANK you very much for sharing your knowledge, experience and kindness with us, sisters, all over the world. And for the joy I feel being well-informed about beauty products, colours and techniques.
Enclosed you find some (mostly simple I-phone) photos of Andrea on her wedding day, at breakfast and later on that day in Amsterdam. And one of me, 'Lisa style'!
Well, this was the little bridal beauty story I wanted to share with you. Thank you for reading it – I hope.
Lots of success and happiness in work and family life wishes youyour biggest fan and student
Marjet de Jong"
I want to say a huge thanks to Marjet for sending me such an inspiring letter and for allowing me to share it.
If you have any good examples of make-up saving the day, please share below .... I'm sure we can all relate!