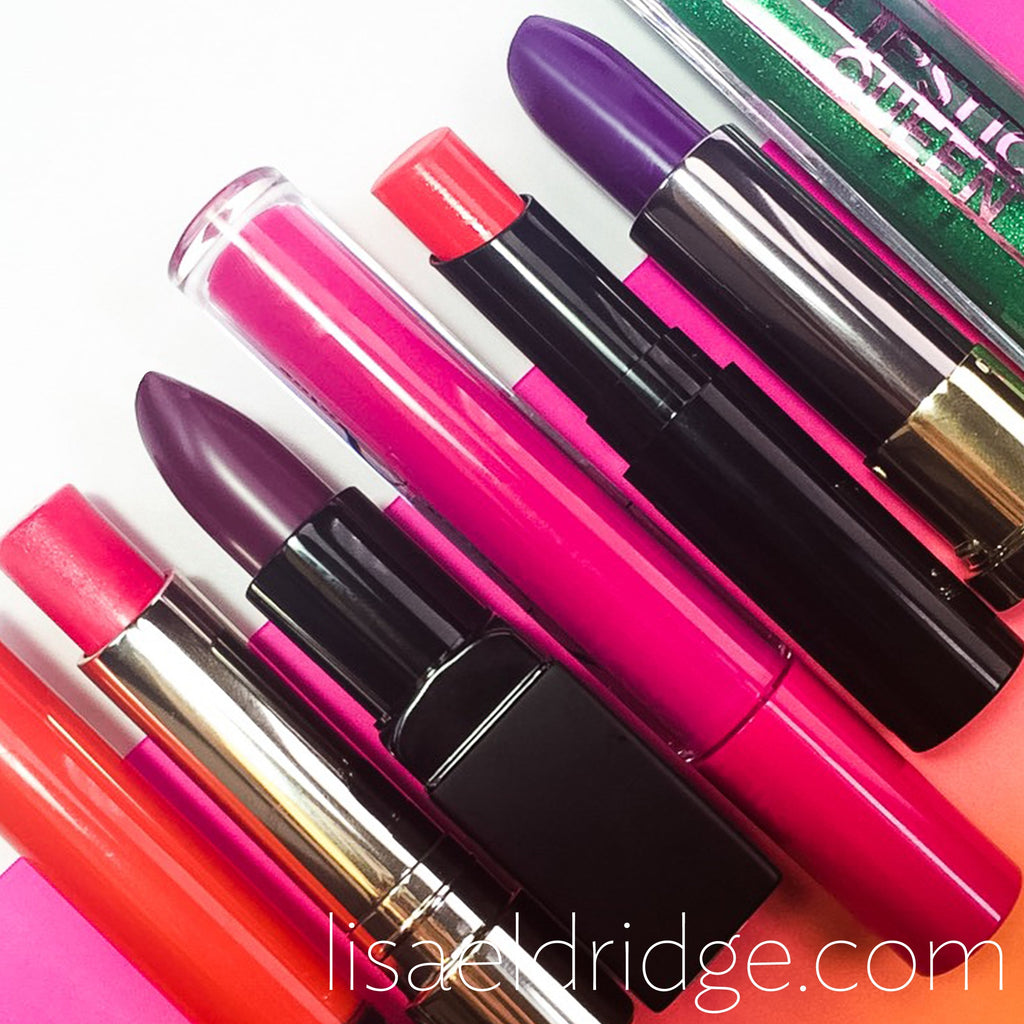 Be Bold - Seven Power Pout Lipsticks
I love bold lips and it feels like there's never been a better time to rock a power pout - there are so many yummy shades around at the moment.  A vibrant lip colour is also a quick and easy way to lift your mood and make you feel sparkling and awake. Here are seven interesting-but-wearable shades we're currently loving at the #HouseofEldridge...
1. THE BALMY BRIGHT
By Terry Hyaluronic Sheer Rouge in Rose Boom Boom
A great 'beginners bold', pigmented (despite being called 'sheer'), with a creamy, balmy formula and a juicy sheen that gives a really fresh finish - once the shine wears off you're left with a subtle stain. This shade is a cool-toned fuchsia which would work on lots of skintones. It's also great for dry lips as it contains hydrating hyaluronic acid (plus titanium dioxide for UV protection). Available here in 17 shades, ranging from nude to orange, pink and berry.
2. LUXE SATIN
Sonia Kashuk Satin Luxe Lip Colour in Fig
A beautifully wearable, cyclamen shade, again good for lots of different skintones, with a luxe creamy texture that applies super-smoothly. The staying power is pretty good for a high street brand, but you might find you need to top up after eating a big lunch etc. It also has an SPF16, great for summer months. Available here in 14 shades, including some great reds and berries.
3. MAKE IT MATTE
Urban Decay Vice Lipstick Pandemonium Mega Matte
This supercharged purple with blue pearl would look especially amazing on olive and darker skintones, or fair skin for a real statement. The matte finish is very long-lasting - the downside being that, as with a lot of matte lipsticks, it can feel drying. It's also definitely not a forgiving texture for dry/flaky lips, so make sure you prep well (a hydrating balm + gentle exfoliation) before applying. Available here in 9 'Mega Matte' shades.
4. L.A. Girl Matte Flat Velvet Lipstick in Frisky
Although this formula contains hydrators like shea butter, my tester with dry lips still found the matte finish slightly drying (though not as much as the Urban Decay lipstick above, or Sephora liquid below), so again prep is key. This bright coral has fantastic pigment payoff and the hint-of-pink makes it really wearable - a classic-but-cool summer shade. Available here in 26 shades - from pale pink to deep fuchsia, grey, blue and black.
5. THE LIQUID OF CHOICE
Sephora Cream Lip Stain in Mandarin Muse
After my liquid lipsticks blog post, lots of you recommended these long-lasting, kiss-proof - so you told me ;) - creams. The staying power is fantastic but again... prep well! I adore this fiery, full-blast orange - definitely a bold statement and great for a summer party or event if you want to try something a little different from red or pink. It would look incredible contrasty vibrantly against fair and dark skins and will bring out the golden undertones of olive skin. I use a slightly more pink/coral shade in my bright lips film which which you can watch here. Available here in 14 shades, from peach to pink and a super-bright purple.
6. GO FOR GLOSS
Coloured Raine Lip Lacquer in Kinky Pink
Another 'grown up gloss' to land at the #HouseofEldridge - the shiny texture doesn't feel gloopy or sticky, and the colours are densely pigmented so when the shine wears off you're left with a pretty stain on lips. This super-bright, neon pink colour is somewhere in between MAC Candy Yum Yum and Nars Schiap (watch my Ultimate Guide to Pink Lips film here to see these in action) - brighter than Schiap with a touch more red/less white than Candy Yum Yum, and of course a glossy finish. Available here in 10 shades, including some dark nudes, lilac and blue.
7. Lipstick Queen Frog Prince Lip Gloss
Green in the tube… pink on lips! This gloss is designed to give you your perfect pink pout - my team and I found it was a 'your lips but better', flushed pink shade. Not as bold as the others above, but a fun party trick and the high-gloss finish feels ultra modern and cherubic. The glitter flecks in the tube are fairly imperceivable on lips (unless you really layer it up) and, again, it leaves a subtle stain once the gloss wears off. We did however find that this is a touch stickier than other modern gloss formulas like Coloured Raine - so try the Frog Prince sheer lipstick (it has the same green-to-pink formula) if you're not keen on gloss. Available here in one suits-all shade.
For tips and tricks when wearing a bold lip colour, watch my Wear a Power Pout and Smile film below. You can also have a look at my Bold Lips Pinterest board here.
Remember to send me your #MyLisaLook pictures - I love seeing your makeup creations! X