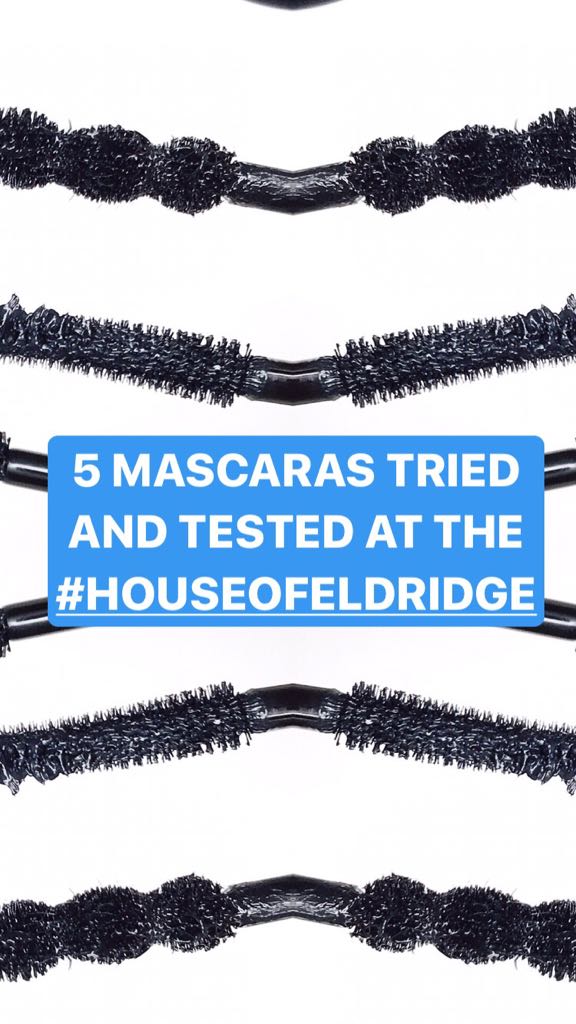 5 Mascaras Tried and Tested at the #HouseofEldridge
At the HouseofEldridge we're vigorous mascara testers. Myself and the team take each product through endless scenarios...to a sweaty gym class, fast walks on the heath, or long days and late nights out, you name it, we try it.
With that said, there are very few mascaras that make the cut. However lately we've found ourselves reaching for some new HG's.
First up FairyDrops - Scandal Queen Waterproof Mascara (available here) - a jet black, budge proof, lash-nourishing, Japanese drugstore mascara. You'll instantly notice the bizarre curved bobble wand and might want to give up but persevere as it has the ability to separate, lift and dramatically lengthen lashes (watch how I use it in this tutorial). It also contains lash-boosting ingredients such as jojoba oil, hydrolysed collagen, squalene and hyaluronic acid. I found it really held the curl and didn't drop down or transfer onto my oily eyelids. One major downside is removing it (it's tough!!!). Don't be temped to manically rub your eyes in frustration - watch my tutorial here for tips on how to 'soak' it off.
When Mary Greenwell came to the HouseofEldridge to film 'THE Princess Diana Makeup Look' she introduced me to another Japanese smudge proof gem Sensai's 38C Mascara (available here) . I like the volumising version, which has a curved tapered brush that gives a natural yet pumped up effect. The formula includes treatment extracts like Ginseng, Swertia Japonica, as well as Koishimaru Silk to protect and moisturise. It's the perfect mascara in my kit for sensitive eyes due to it's ability to be majorly smudge proof ...but very easy to remove.
For a budget budge proof option, Jessie is loving Maybelline's Colossal Big Shot Volum' Express Waterproof (available here). This girl doesn't leave the house without major mascara and if she says it's good, I listen. She described it as a 'great mascara that separates, plumps and lengthens' and she's also taken it through rigorous waterproof testing at the gym. Her parting shot was that it's not leaving her handbag, so I shouldn't ask for it back!
Lancôme mascara's are up there with the HouseofEldridge holy grails and their latest launch Monsieur Big (available here) is no exception. Last year I asked my Facebook followers to comment on what they would like from their dream mascara and had 3000+ comments. I passed all of them straight to the head scientist and asked her to make sure every concern was addressed. This is the result. Intensely volumising, pitch black pigment coats in one stroke and the chunky, bristle brush grips lashes for instant oomph. Keep building up the coats to see it in all its volume boosting glory!  I apply one coat in my  'Bronze and Glow' Tutorial here.
My latest find is IT Cosmetics Superhero Mascara (available here)  my reaction when I tried it the first time was 'WOW, girls look at my lashes!'. You'll like this if you prefer mascara that really separates and defines each individual lash. It also contains lash loving ingredients such as collagen and biotin, as well as proteins and peptides to protect and strengthen lashes overtime.
Let me know on instagram which mascara's you're loving lately...I'd love to know : )