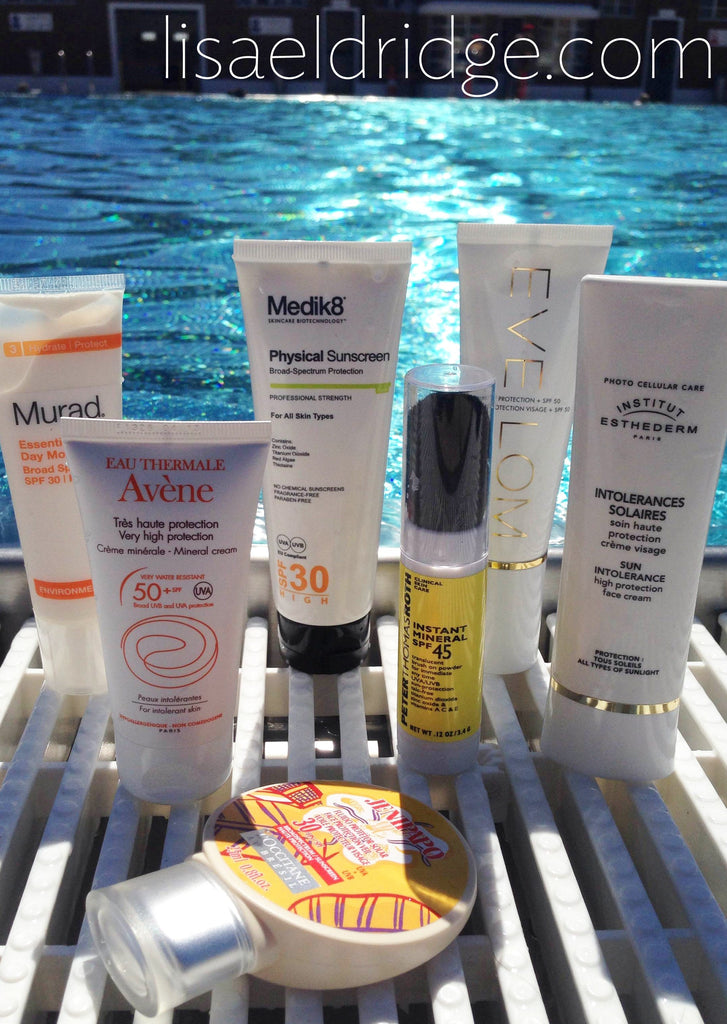 Youth in a Tube
I have been working in Ibiza this week and while packing my personal bags and kit, I was thinking about how much choice we have now when it comes to facial suncreams. When I was in my teens, a very well-preserved Norwegian lady I knew told me off for getting a facial tan by warning that "A tan lasts a week but the damage lasts forever" Admittedly this was years ago before the advent of lasers, retinol creams and peels etc but it stayed with me. As an acne sufferer I had a love/hate relationship with suncream back then and wearing creamy, pore blocking SPF creams made me very nervous. I understood (although there was a lot less information available about what the changes actually were) that the UVA rays could potentially damage and age my skin and the UVB could cause skin cancer but I hated the breakouts that followed suncream use even more. My focus back then was definitely on controlling the spots and living in the moment and the lack of non- greasy products meant I usually went bare faced. 
The first time I got excited about SPF was when I went travelling in the US and found that there were a lot more dermatologist brands creating oil-free formulations with high protection aimed at acnegenic skin - it was a revelation! Although I have the acne under control now I'm still always on the look out for the best facial blocks that really work with, not against, my skin type. Today it's a lot easier as there are so many textures, finishes (oh how I used to dream of an oil free, matte finish sunscreen in my teens) and price points to suit everyone. So combine protection with a texture that makes your skin look and feel great.
Here are a few facial creams I like for different skin types....
For a Glowy Complexion - Eve Lom Daily Protection SPF50
If you have dry to combination skin and like a dewy finish, you'll love this - it's as far away from the cakey, chalky face SPFs of the 'bad old days' as you can get. The light texture disappears into skin without leaving any residue so you can apply make-up straight over the top.
For All-round Protection & Perfection - Murad Essential C Moisture SPF30
Think of this like a moisturiser that does more - it's got UVA and UVB protection plus skin-brightening vitamin C (good for pigmented skin) and pollution-fighting antioxidants, so if you live or work in the city it's a great day-to-day option.
For Sun Preparation - Institut Esthederm High Protection Face Cream 
This is probably my all-time favourite holiday suncare brand. It's very expensive but their sun intolerance range (the ones in the white bottles) are the only I've found that truly block the sun. They work on the idea of adapting skin to the sun instead of the usual SPF numbering system so require a leap of faith initially. I've used their Photo Reverse (pigmentation prevention) suncream for years. It doesn't have a matte finish but for trips and holidays to hot countries I always use it. For normal to dry, extra sensitive skin, their High Protection face cream is a good one for prepping skin and can take you from everyday summer sun at home to the more intense holiday heat without burning. They also do a tanning range (in orange bottles) that enable you to get a safe, age minimizing tan.
For a Matte Finish - Medik8 Physical Sunscreen SPF30 
I've been using this suncream a lot recently - it's great for oily or blemish-prone skin as it has a completely matte finish. It's chemical-free, using only UV-absorbing minerals to keep skin protected and added antioxidants to repair. Note: this has a whitish finish which looks pure white in flash photography.
For Fair & Sensitive Skin - Avene Very High Protection SPF50 
If you're very fair or have skin that burns easily, try this. It's quite rich and creamy but sinks in well and is also pretty water resistant, so if you're off on a beach or pool holiday (or just somewhere hot where you're likely to get a bit sweaty!) I really recommend it. Available for face and body, take care and remember to reapply after swimming).
For Midday Touch-Ups - Peter Thomas Roth Instant Mineral Sunscreen SPF45 
This translucent powder is perfect for touch-ups and if you're prone to an oily t-zone you can use it to quickly de-grease when you're on the go. Just remember to use an SPF moisturiser beforehand as it's tricky to ensure you've got absolute full coverage - think of it more like a finishing powder with added protection. There's also an oil-free SPF30 version with salicylic acid that's perfect for acne-prone skin.
For a Lightweight Feeling - L'Occitane Face Veil SPF 30 
I've been trying this am happy to say that it's more than just a pretty bottle - although the dinky packaging is great for throwing into handbags (and the formula is just as lightweight). Don't be put off by the super-white consistency, it sinks into skin and leaves a soft, matte finish. Interestingly, it contains jenipapo extract from the jenipapo fruit tree of Cerrado in Brazil - a tree that grows extremely fast to soak up as much sun as it can, so when used in suncream helps to absorb UVA and UVB rays before they hit your collagen and elastin.
For a Dry Touch - Neutrogena Ultra Sheer Dry Touch SPF 55
A good drugstore product for anyone who doesn't like thick greasy creams, this product originally featured in one of my sunscreen films. It contains the patented ingredient helioplex and has a weightless, velvety finish that doesn't block your pores.
Below are a couple of videos I made about 4 years ago. Several of the suncreams mentioned are not available anymore but I discuss a couple from this list in depth.
Tell me all your suncream stories, the good, the bad and the ghostly : )