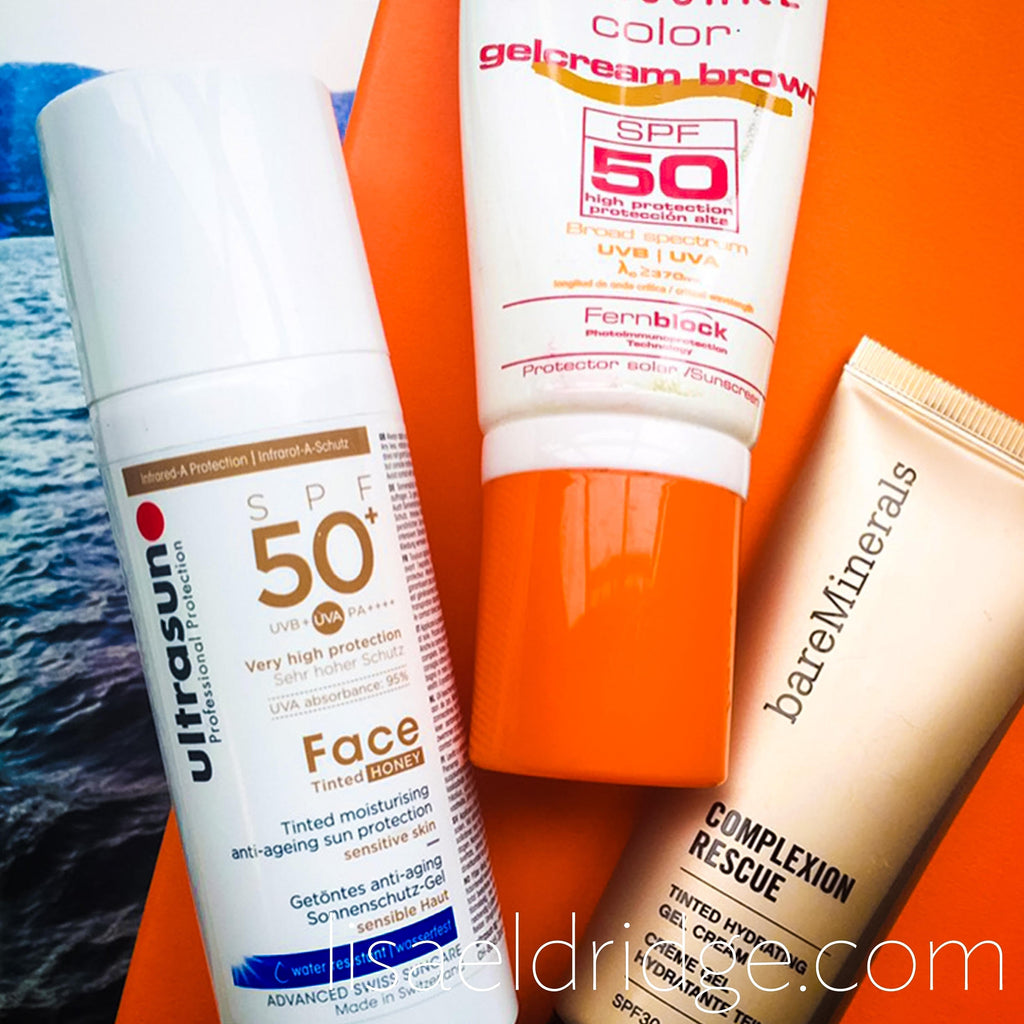 When Sunscreen Meets Makeup - 6 Tinted SPFs
Coverage + Hydration + Protection in one - great for busy mornings, perfect for minimal makeup and even better for streamlining your summer suitcase! Here are five tinted SPFs that we've been using at the #houseofeldridge...
Heliocare Gelcream Color SPF50
I discovered this last year and have used and recommended it a lot since then. It's got a nice level of coverage - subtly perfecting and enough to cover small blemishes. The gel-like texture is good for all skin types but I find the finish a little too dewy for my oily/combo skin so I'll often use powder on top to cut any unwanted shine. As well as UV protection from triazones and triazines (I talk more about these highly rated sunscreen ingredients in my film here) the formula contains antioxidants to help stop free radicals reaping havoc. Available here in 2 shades (as a guide, the Light shade matches my skin tone and Brown works well on olive skintones).
Bare Minerals Complexion Rescue SPF30
This gives very light, dewy coverage and contains good skin emollients such as glycerin, coconut alkanes and squalane, so it's a great option for normal-to-dry skin who like light colour and coverage (you can team with some pinpoint concealing on any obvious spots or blemishes). The protection here is mineral based from titanium dioxide. It also comes in a good range of shades to suit all skin tones. Available here in 16 shades.
Sisley Tinted Sun Care Youth Protector SPF30
This mineral SPF has more of a medium coverage (one of my testers with redness around her cheeks found it covered that well) and a very luminous, glowy finish. This, plus the fact that the slightly dense, almost balm-like formula contains nourishing ingredients like camellia and shea butter oils, makes it great for drier skin types. It's definitely more of an investment skincare buy... but if it's any consolation a little really does go a long way! Available here in 4 shades ranging from light to medium skintones.
Bioderma Photoderm Tinted Protective Cream SPF50
This hybrid sunscreen (titanium dioxide alongside triazines) also contains glabridin from licorice root. Over the years I've spoken to a lot of dermatologists who rate licorice's lightening power and ability to inhibit the production of tyrosinase (an enzyme that accelerates melanin) - so as well as being able to lighten dark spots it can also help to prevent future pigmentation. A good one to try if your skin is prone to sun-induced pigmentation, like mine. The downside of this product is that it is only available in one light/light-medium shade (what's with that?!). Available here.
Ultrasun Tinted Moisturising Sun Protection SPF50
This sunscreen range is made up of preservative, emulsifier and perfume-free formulas, good for anyone with sun sensitive or skin that's prone to prickly heat and heat rash. The protection comes from a hybrid of titanium dioxide and triazines and while the finish is glowy it's not too luminous, so a sweep of powder should help appease oily skin types. Although the brand claim that once a day application is enough, if you're wearing it in very hot weather or swimming I'd suggest topping up every couple of hours as normal. Available here in 2 shades - the lighter shade is great for very fair skintones.
Alpha H Protection Plus Hand Cream SPF50+
Remember that your hands are another area its crucial to protect daily - they're exposed to UV rays all year round and are often cited as the place most likely to give away your real age ;) My team and I have been using this hand cream a lot recently - alongside broad-spectrum chemical sunscreens (avobenzone, octocrylene and oxybenzone) it contains free-radical fighting antioxidants like vitamin C (which also provides brightening benefits), vitamin E and pine bark. A good one to use on-the-go as it's non-greasy and absorbs quickly. It also has a sheer tint that very subtly perfects and works on all skintones (though not pigmented enough to cover dark areas of pigmentation). Available here.
For more information about the latest SPF rules, regulations and ingredients to know, watch my Youth in a Tube video below. It was filmed last year but all of the information is still up to date - I recently went back to the experts I spoke to see if there had been any changes in terms of the disparity between America and the rest of the world when it comes to sunscreen.
Jeff Murad, Vice President Product Development at Murad Skincare, told me that, 'While the FDA has been talking a lot lately about fast-tracking the approval of some sunscreen actives, we have not seen any activity yet.' Nathan Rivas, Senior Researcher at Paula's Choice also said that, unfortunately, 'because the Sunscreen Innovation Act didn't allow for changes to the FDA testing requirements (nor provide funding for additional resources in managing this process), the result is that no new sunscreen ingredients are expected to meet FDA approval anytime in the next few years. L'Oréal came the closest with Mexoryl SX at the end of last summer, but still failed to meet the FDA's requirements.' However, he did point out that many skincare companies are focusing their efforts on improving and innovating the ways in which they are able to use the FDA's current, approved sunscreen actives - with 'improved aesthetics and reduced skin sensitivity' among the intended results of these advancements... watch this space. X