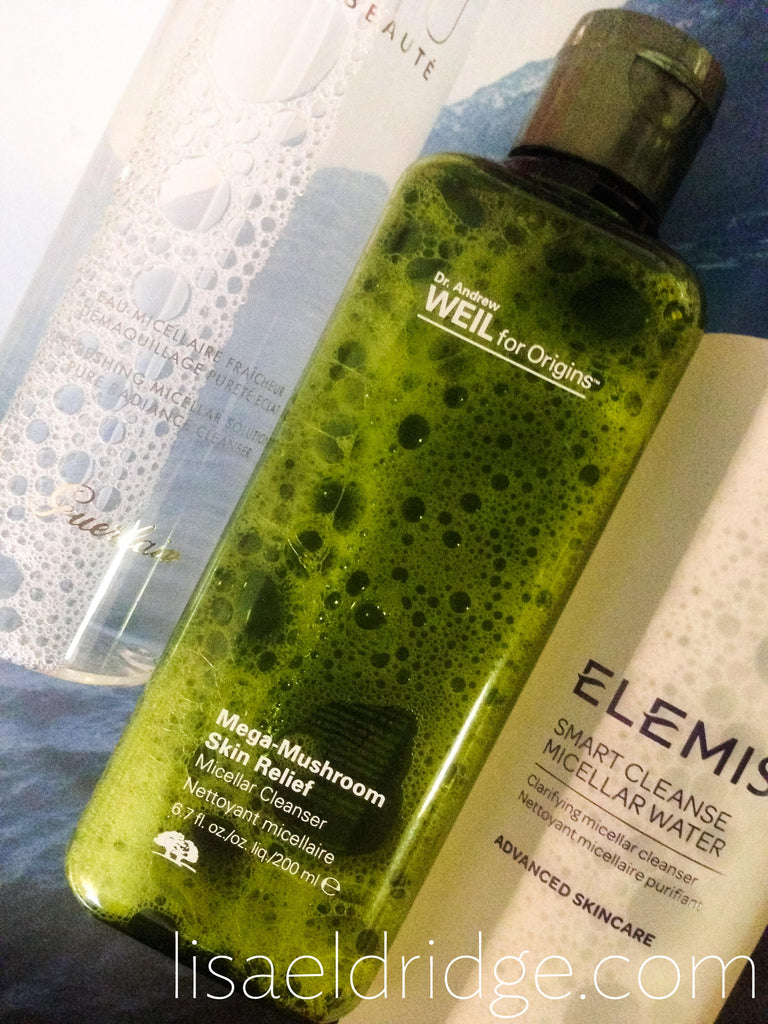 When a Trend Trickles Up... Testing the (Luxury) Waters
When it comes to makeup and skincare trends, like fashion, trends that start with the premium houses often trickle down to the high street (think sheet masks, cleansing oils etc). But recently I've noticed a skincare trend that's moving in the other direction - a product that began its life decades ago in the humble French pharmacy is making its way up and up to the most luxury of brands (even Crème de la Mer is launching one this July)… micellar water.
I've been using micellar water in my kit for years. Although it's massively grown in popularity, until recently it was fairly unheard of and definitely more of a pro makeup artist buy - there wasn't an editorial shoot or fashion week show that didn't have bottles of micellar water lined up on the backstage makeup tables. I remember frantically stocking up on Bioderma whenever I was in Paris because it was so difficult to find outside of France (it's now readily available, and a bottle is sold every three seconds around the globe).
If you haven't used one before, micellar formulas are made up of micelles - tiny oil molecules suspended in water - that act like magnets to catch, break down and dissolve impurities (makeup, dirt and grime) on your skin. To use, soak a cotton pad with the water, wipe it over your face and you're done - no rinsing required. Despite being vigilantly effective, micellar waters are also super-gentle, so they're great for all skin types (including sensitive and acne prone) and can be used to remove eye makeup. They're also much loved because, traditionally, they're so inexpensive.
A few weeks ago I tried Dr Weil for Origins Mega-Mushroom Skin Relief Micellar Cleanser (available here) at my studio after some filming, and loved it immediately - it cut through my makeup quickly and left my skin feeling uber-clean and fresh... I just wish it cost less than the £27.50 price tag! It claims to be the perfect micellar water for city dwellers - the formula contains rice bran extract, an antioxidant-rich emollient which supposedly helps to neutralise the effects of hard water; yeast berry ferment, a potent antioxidant which is thought to have even more antioxidant benefits (and better absorption) in its fermented state; and reishi, a mushroom which contains a high content of polysaccharides - responsible for aiding skin's natural ability to hydrate and retain water, and imperative for skin repair and renewal. Arguably, these ingredients have more benefits in a micellar water as opposed to another cleansing texture, as micellars aren't rinsed off. I have had a deep respect for Dr Weil for many years and his uncompromising search for the best and most natural ingredients is undisputed.  I've found myself reaching for this more often than my Bioderma now.
Another high-end micellar that we've been trying at the #houseofeldridge is Elemis Smart Cleanse Micellar Water (available here from 1st June), which comes in with a slightly cheaper price tag of £24. Again this feels super-fresh and gorgeous on skin. It's infused with rose water which is fantastically soothing and hydrating on all skin types - apparently the roses Elemis use are only picked between June and August, when they're at their most aromatic... either way it does smell delicious! The formula also contains antioxidant and anti-inflammatory chamomile, rosehip seed oil and Indian soapnut, a natural cleansing agent - I've heard that some people buy and soak soapnuts at home, then use the liquid to wash their hair and skin (or even as a non-toxic household and clothing cleaner).
If you have £35 to spend on a micellar water… Guerlain Eau de Beauté Cleansing Water (available here) is for you. It contains a high level of glycerin as well as a couple of hydrating oils - castor and nigella sativa (also known as black seed) oil, which is high in vitamins, omegas and thought to be an effective anti-inflammatory. These give the formula a slightly richer consistency, with a bit more 'slip' than other micellar waters (think a very light serum as opposed to water-thin), that feels deliciously luxe. It removes makeup beautifully and there's no residue or filmy feeling left afterwards. And of course anyone who appreciates a beautiful bottle will no doubt covet this…
At the end of the day, no one needs to spend £35 (or £65 if you're waiting for Crème de la Mer's version) on a micellar water. Essentially, they all do the same thing - they remove makeup quickly, effectively and conveniently, without stripping or irritating. It's just a case of choosing the brand with a level of quality ingredients that work for you.
What do you think of this unusual 'backwards' trend? If you use micellar water, tell me about your go-to in the comments. X