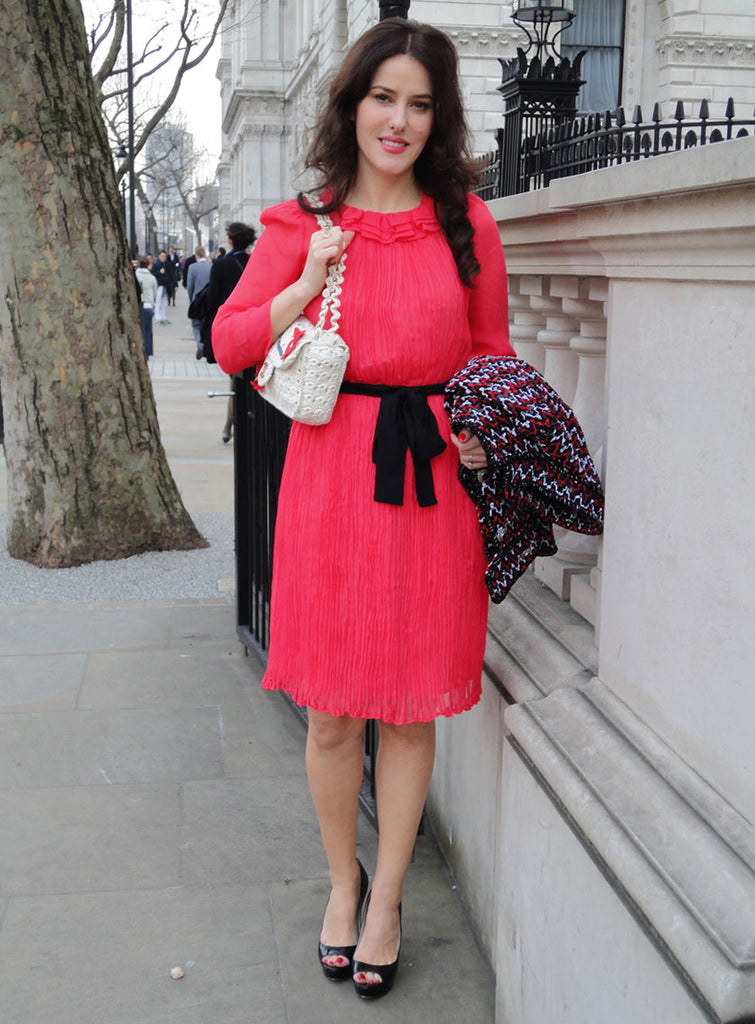 What I wore to No.10
I dont usually post about clothes and what I'm wearing but I had so many requests to post a picture of what I wore to visit 10 Downing Street last night that I thought I would.
I was invited to Downing Street by Samantha Cameron for a function in aid of the sparkle appeal. There were lots of really interesting people there. I especially enjoyed hanging out with uber talented photographer Tim Walker, writer of the moment David Nicholls (author of the highly acclaimed 'One Day') and fashion designer Osman (who dresses Sam Cam).
We all had a really good nose around the famous dining, drawing and cabinet rooms (all so familiar from news reports and documentaries I've seen over the years) and the grand staircase who's walls carry the portraits of every prime minister who has lived there. We got chatting to one of the staff who's been working there for 25 years who told us lots of extra interesting bits of gossip and pointed out some of the changes the various PM's have made to the house - all very interesting but I don't thing I can say anything about that!
As the name of the charity was sparkle I thought I'd shun the more traditional attire for a visit to such a serious address by choosing something very bright and British high street. I chose this French Connection neon coral/pink dress, chiffon with a vintage feel. The quality of these pics isnt great and the true brightness is a little lost. Everyone was in black or navy so i did stand out like a sore thumb it has to be said!
I calmed things down with a pair of black Miu Miu patent leather peep toe shoes and a black chiffon belt by Vionnet tied in a simple bow. To give the whole thing a twist I teamed it with my current favourite bag, the Chanel crocheted cream number which is decorated with bright red poppies and blue forget-me-nots (this bag appears to be a favourite of Sarah Jessica Parkers at the moment too!).
I also took a Chanel jacket to wear afterwards, a classic black and red tweed with a twist...black sequins all over the black knit which you only notice when they catch the light.
Three of the pupils Jamie, Lauren and a little girl called Sophie who attend the charity's school for disabled children were also there and did a brilliant job of inspiring everyone with their achievements. Little Sophie was obviously taking her fashion (especially on the bag front) very seriously as she was working a fierce, red patent, quilted number with gilt chain shoulder strap which we bonded over immediately!
Beauty-wise I went easy on the hair and make-up (there was already an awful lot going on with the dress colour and fancy bag!). On my lips I did a smidgen of Revlons Matte Lipstick in Strawberry Suede as a stain with lip balm on top, which did a good job of picking up the tone of the dress. The lashes, once mascara was on and since my lash lift, were already 'all singing & dancing' so I skipped the shadow and just groomed my brows. I had to apply a fake tan tint to my legs, not so much to make them look tanned (not really my thing) but to take the luminous bright white down a notch and ensure no-one was blinded! I used my current favourite product  for this purpose, Xen-Tans wash off gel. I finished things off with my favourite bright orangey/red nail polish..Mistress by Ciate.
When we came out I asked my best friend Sophia to take a picture of me with her phone outside the front door (below). Laughing away we failed to notice in the darkness that the worlds press were filming the door from across the street as they waited for the outcome of the Libyan crises talks. So hopefully I'm not going to see myself poncing around in the background of a CNN report anytime soon - highly embarrassing!
All in all a fantastic night was had by all!
Please check out the sparkle appeal and if you can give anything please do - every donation, no matter how small, helps.
Lisa x