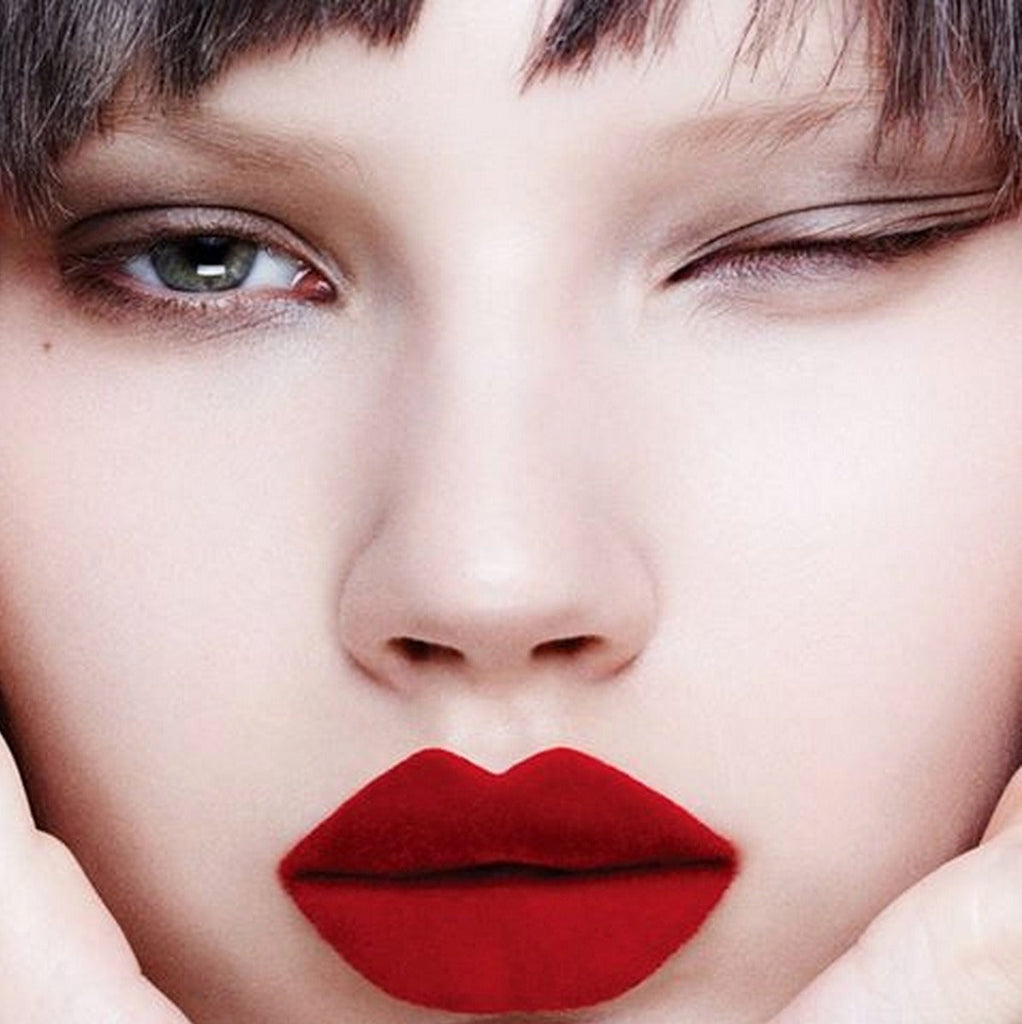 Velvet, Fishnet and Pearls - Lips Reimagined
Of all the shoots I did last season, this 'Lips Reimagined' story that I shot for the September issue of Teen Vogue was one that I was especially excited to see in print. It was so much fun and really allowed me to stretch my imagination and creativity - and I was SO happy with how the images turned out.
I shot it in June when I was in New York. I was staying for five days and had a lot to squeeze in (including a personal appearance at Sephora with Lancôme, a masterclass with the Sephora pro team, and a red carpet event with Kate Winslet), but when Teen Vogue heard that I was going to be in town and asked if I could shoot a beauty story while I was there, I had to say yes. Elaine, Teen Vogue's Beauty Director, told me that she was keen to do a lips and bangs story, and welcomed any suggestions I had for concept. I really liked the idea of playing with lipstick textures, mattes, velvets, suedes, shimmers and pearls etc., but wanted to push this idea to the limit… so I thought, why not use the actual fabrics to create the looks? 
I had such a busy few weeks leading up to the shoot that I didn't have time to do any research or shopping before I got to NYC, and when I arrived I was crazy busy, each day felt like a whirlwind five minutes! By the weekend I still hadn't had time to prep, and the shoot was on Monday, so Jessie and I spent all of Saturday visiting the city's fabric stores buying every type of fabric and accessory. On Sunday I turned my hotel room in to a very messy workshop as I tried out lots of different ideas using Jessie as my model. I also had to test different tapes and glues so that I knew how to remove each of the fabrics quickly - and painlessly! I only needed six looks for the story, but had 10 ready to go, to give me more freedom on the day.
There was a wonderful buzz in the studio on the day of the shoot - the team seemed to love the concept which was brilliant, as I always find that when everyone is excited it makes a shoot so much fun and really collaborative. I love working with photographer Ben Hassett and our hairstylist, Tamara McNaughton, had created some amazing wigs with cool, futuristic bangs that really framed the lips. For me, it was a bit like going back to kindergarten - I had a whole 'arts and crafts' tool kit with me and spent most of the day cutting out shapes, using the templates we had drawn the day before, glueing and trimming.
The only problem was that I had to leave by 3pm to catch my flight back to London for a shoot the next day, which didn't leave me with much time to do six looks, never mind six complicated looks. So it was a real race against the clock and quite intense - my adrenaline was definitely pumping! It also didn't make it particularly nice for my two gorgeous models, who had to sit very still while I hand cut fabric and stuck things to their lips - I had to make sure that they'd had enough to drink before each photo was taken so that the fabrics didn't move once they when on (I think it's important to add that none of the fabric covered the models mouths shut - it was cut into two sections and applied to top and lower lip). Luckily they seemed to enjoy it and were taking lots of their own photos and videos (Hyun Ji Shin made a really cool video of the pearlised look that you can watch on my Instagram). Once all of the six looks had been shot Jessie and I raced to the airport - when we arrived at the gate we were told that we'd made it with two minutes to spare!
The four images in this post were my favourites from the day. I absolutely adore the red velvet (literally) lips - they turned out super-luxe and opulent which is exactly what I was after. I also wanted to create a nude lip as it's such a modern classic but decided to push it adding delicate fishnet to bring the colour to life and contrasted the softness with fierce black liner. I was also really pleased with how striking the black 'rubberized' lip turned out. And the last one below, with the black criss-cross material, was meant to represent an imperfect but graphic lip. You can see me working on the other two looks in my behind-the-scenes shots above, and on the Teen Vogue website here - one is a pink lip with neon metal studs, and the other a kind of industrial, futuristic take on pearlised lipstick, using dark silver beads.
It was a very conceptual story, and the point wasn't to create lipstick looks that people would copy - my aim was simply to show lips in a unique and quirky way, and to inspire people to play with textures within lipstick. Cosmetic technology is so exciting right now, especially in the lip arena - working in product development I know that we're able to create everything from dusty mattes that look like rubber to high pigment, high gloss stains and everything else in between. To me it doesn't really matter what colour you have on your lips, it's all about the texture!
I'd love to know what you think of the images, please let me know in the comments. What lipsticks are you loving right now?
Images from top:
- Plush red velvet
Eyes: Revlon ColorStay Eyeshadow Quad in Siren
- Modern nude fishnet
Liner: Maybelline Eyestudio Lasting Drama Gel Eyeliner
Lipstick: Tom Ford Lip Color in Nude Vanille
- Black rubberised lips
Lips: MAC Fluidline and Urban Decay Eyeshaow in Blackout
Contour: Kevyn Aucoin The Sculpting Powder
- Behind-the-scenes (prepping Anabel's gorgeous skin; applying more pearls to Hyun Ji Shin; experimenting with exaggerated lip shapes, different velvets and fishnet nudes with Jessie in the hotel room; my 'industrial pearlised lipstick' look; adding pink neon studs to Anabel's lips)
- An imperfect raw lip
Eyes: Nars Soft Touch Shadow Pencil in Hollywoodland, MAC Pro Face Gloss (or try any clear gloss, like Elizabeth Arden Crystal Clear Lip Gloss), Lancôme Grandiôse Mascara
Credits:
Photographer: Ben Hassett
Editor: Elaine Welteroth
Fashion: Zara Zachrisson
Hair: Tamara McNaughton
Nails: Madeline Poole
Models: Anabel K and Hyun Ji Shin