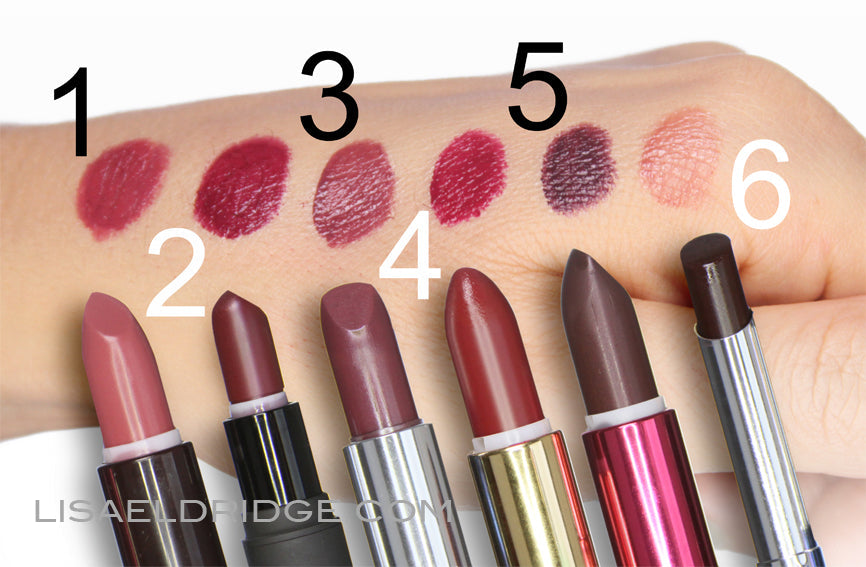 Trend - Dark Lipsticks
It's no secret that the key lipstick trend for this season is the strong, dramatic dark lip, a look that was seen all over the catwalks, from shimmering deep reds at Givenchy to rich plums at Dolce and Gabbana and bruised purples at Proenza Schouler.
While these dark lips looked effortlessly gorgeous on the models, in everyday life it can be a difficult look to nail, especially for those of us who wouldn't normally make much of a statement with our lip colour or those with thinner lips– the prospect of donning such a bold shade can be slightly daunting!
I've filmed a tutorial which will hopefully show you the easiest and most wearable way to achieve this statement look which I'll be posting shortly, but for now I wanted to showcase a few of my current favourite dark lipsticks.You can see in the photo above I've swatched 6 of my favs, from L-R,
Rimmel Lasting Finish in 123 True Vintage,
Jemma Kidd Make-Up School Ultimate Lipstick Duo in 01 Cleopatra,
Dior Addict Lipcolour in 989 Pinstripe Plum,
YSL Rouge Pur Couture in 08 Belle de Rose,
17 Lasting Fix Lipstick in New Black
Clinique Almost Lipstick in 06 Black Honey.
Links to all of these are at the end of the post.
With so much choice out there, it's really important to choose the right shade for your skin tone in order to get the most out of the colour. The rose-wine Rimmel shade is perfect for pale skin and a great introduction to colour as the formula isn't too heavy – so while it gives a gorgeous finish, the end result doesn't make too much of a massive statement.
Jemma Kidd and the YSL shade are good all-rounders, suiting the majority of skin tones but especially those with olive-dark skin as the red base gives the colour a real vibrancy which looks amazing against darker skin. The Jemma Kidd lipstick has the added bonus of a double-ended stick with a balm on one end to prepare your lips for colour.
The Dior would look great on those with light-medium skin tones. This is a great colour as while it does contain red its not too red, likewise purple so its not overly dramatic. The sheerer texture makes it really easy to apply and allows you to build up the colour to suit.
The 17 colour works really well on pale-light medium skin as a dramatic stain, great if you want to make a bold statement on a night out. For the price the colour really delivers.
Finally the Clinique shade is great for any of you who are scared of colour – its sheer formula gives great colour without looking over-the-top, and the glossy finish is perfect for anyone with small, thin lips.
If your lips are a bit on the thin side use a matching lip pencil to cheat the shape. Make sure you choose one which exactly matches the tone of the lipstick and soften the edges so it's not too harsh. I use Clinique 'Plummy'  in the video which I think worked really well. You can either apply the pencil after the lip colour OR as a correcting base all over before.
A really important thing to remember when trying out this dark lips look is blush – essential unless you want to channel the gothic look! Choose your blusher wisely – using one with the same base tones as your lipstick will not only stop you from looking washed out but also helps to tie the whole look together. So a berry-coloured blush will look great against red-based lipsticks, while one with pinky violet undertones will work really well with more purpley lip colours.
Of course one of the easiest ways to ensure that you get the look right is to use your lipstick as a cheek stain (take a look at my "4 ways with lipstick" video tutorial to see the best way to do this) - just remember that you can only use this technique when you've used a liquid foundation for your base – using a lipstick as a blush over any powder formulations will make your base patchy.
Keep your eyes peeled for the video tutorial which I'll be posting over the next couple of days. In the film you'll find tips on applying dark colours to thinner lips, different application techniques and see me apply two of my favourite shades.
17 – Lasting Fix Lipstick – New Black
Clinique – Almost Lipstick – 06 Black Honey
Dior – Dior Addict Lipcolour – 989 Pinstripe Plum
Jemma Kidd Make-up School – Ultimate Lipstick Duo – 01 Cleopatra
Rimmel – Lasting Finish Vintage – 123 True Vintage
YSL – Rouge Pur Couture – 08 Belle de Rose