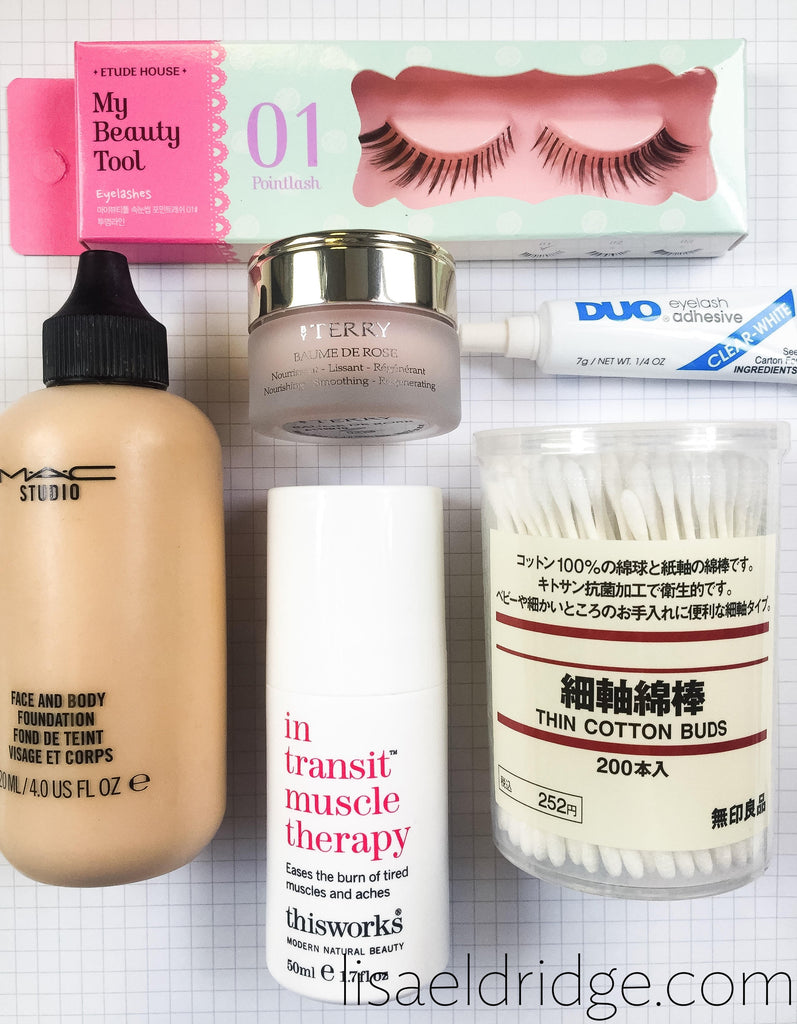 Topping Up for the New Season
After an indulgent summer break it's time to sharpen my pencils and replenish my kits ready for the new season! Although I'm always on the lookout for new products to trial to see if they pass the necessary 'Eldridge pro kit tests', there are lots of failsafe products and tools that I'm never without. Here are some essentials I've been stocking up on this week...
The Eye Openers - Japanese Lashes
As there's a huge demand for high quality false lashes in Japan, there's a lot more choice than you find in Europe or the US. Each drugstore has hundreds of sets piled high, everything from natural and subtle to full-on, crazy styles, with lots of variation in weight, length and featheriness. I buy enough to fill a suitcase (Dolly Wink and D.U.P are favourite brands) each time I visit - and always bring a case filled with just lashes to an editorial shoot. I've also picked up some great lashes in Korea, like the Etude House ones above. I always use Duo eyelash glue to apply - it's good for sensitive eyes and, because it's rubber-based, removes easily afterwards. It also comes in two shades, dark and clear. Read about some of my favourite Japanese lashes in my blog here and watch my guides to applying strip false lashes here and individual lashes here.
The Leg Beautifier - MAC Face & Body Foundation
In my job as a professional makeup artist I'm also responsible for making the body skin of my clients look amazing - this foundation is my failsafe for arms and legs to match everything up and give an even, seamless finish. It has a very strong film former so, once it's dry, it doesn't budge and won't come off on clothes. It's been in my kit for about 20 years and I go through mountains of it! (also great when I want a really light foundation - if you're not normally a foundation person or don't like lots of coverage, this is the base for you) Available here in an excellent range of 11 shades to suit most skintones. Watch my How to Make Your Legs Look Great tutorial here.
The Lipstick Prep - By Terry Baume de Rose
I'm definitely one of those people who has two or three lip balms in my makeup bag at any time and I always carry a selection in my kit - good lip prep is absolutely key to making your lipstick last, so before I start the makeup I slather on a good layer and let it get to work while I'm doing base etc. This is one of my favourite balms as the texture is luxe without feeling sticky and it contains good emollients like shea butter, vitamin E and rose flower wax. It also has a lovely low-level sheen, so it's nice to use on top of matte lipstick to help counteract dryness. Available here. Read my guide to making your lipstick last here.
The Shoulder Soother - This Works In Transit Muscle Therapy
This is a genius product - a roll-on therapeutic relaxant that can be used on backs, shoulders and temples to help soothe tight muscles. The formula contains black cracked pepper and clove, good for relieving pain. I tend to use it before I start the makeup if my client is tired, jet-lagged or stressed - you can press hard to do a good, firm massage all around the shoulders and neck. Once I start the makeup, the product really gets to work. I find that I have to repurchase this on a constant basis as it has a tendency to go AWOL at the end of a job...! Available here.
The Essentials - Q-Tips and Cotton Wool!
Not very glamorous.. but definitely essential! Tissues, cotton wool and Q-tips are things that you'll find in every single makeup artist kit and I go through tons on every job. I particularly like smaller, thinner Q-tips like these Muji Thin Cotton Buds as they're great for blending and touching up eye makeup. Available here.
For more pro kit favourites watch my films below and on my YouTube playlist here. Let me know which Pro Kit video you'd like to see next in the comments! X