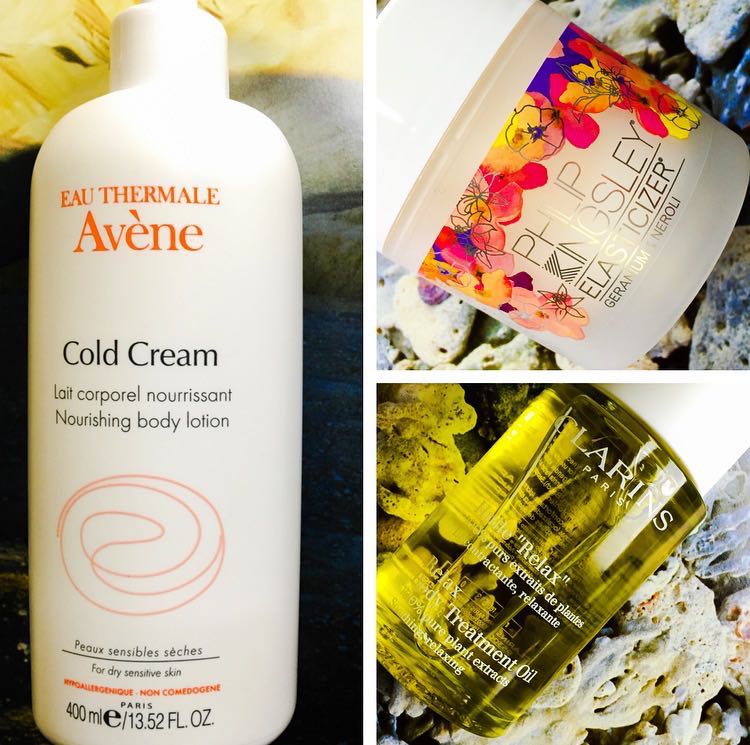 Three Old Loves...
If you follow me on Instagram you might have seen that I've had to move into a new place while my house is being completely redecorated (the cats are not impressed!). I used the move as an excuse for a beauty spring clean, and while I was clearing out my products I rediscovered a few old favourites. I had to pack light for the temporary move and take things that would see me through the rest of the winter (I won't be moving back home until early May) - these 'old loves' have made the cut and come with me...
Philip Kingsley Elasticizer
I love hair masks but hate the 'faff' - when I'm in the shower the last thing I want to do after I've shampooed is get out, apply a mask and stand around in a towel while it works before jumping back in again - so I've always been drawn to pre-shampoo treatments that I can apply before I wash. I'd been using Michael van Clarke's 3 More Inches for a while and when it ran out I found a half-full tub of Elasticizer - when I tried it again I remembered how great it makes my hair feel. I smooth it through dry hair in the morning, leave it for about half an hour while I'm making breakfast then shampoo and condition as normal. It's got a gorgeous thick texture, a bit like a rich face cream, but can be used on fine hair - the story goes that the mask was created by Philip Kingsley specifically for his client and friend Audrey Hepburn, who wanted a nourishing treatment that would condition her fine hair without weighing it down. And if it's good enough for Audrey... ;) The original formula is unscented but I've just discovered the Geranium & Neroli fragranced version in colourful packaging. Available here.
Avène Cold Cream
I apply body lotion everyday, it's a habit that I started in my late teens - my thinking goes that it only takes five minutes, feels really good and if you keep it up there's no need for any pre-summer panic when your legs and arms come out of hiding! You don't need to use anything fancy or expensive - I found a huge bottle of Avène Cold Cream at the back of my cupboard and when I put it on that night I thought, 'why have I bothered using anything else when this is so good?!' Variations of cold cream (a simple emulsion of mineral oil and wax, such as ceresin or beeswax, in water) have been around for decades - the first product that Helena Rubinstein brought to the market in 1902, Crème Valaze, was said to contain herbs from the Carpathian Mountains in Eastern Europe, but in reality it was a simple mix of mineral oil, vegetable oil and wax (lanolin), aka cold cream! It's one of the oldest beauty formulations around, your grandmother and great-grandmother probably used it as a cleanser! This type of cold cream formula would not work as a facial moisturiser for me and my combination/oily skin (as it would most likely block my pores and break me out) but as body lotion on dry knees and elbows it's great. Avène's Cold Cream Body Lotion contains lots of hydrating oils (coconut, jojoba, sesame and safflower) and has a particularly light formula that sinks in immediately without having to work at it, so I can even apply at night and pop my PJs on right after. Available here.
Clarins Relax Body Treatment Oil
The nature of my job means I spend a lot of time contorted in odd positions and I often get a lot of tension around my neck and shoulders. Consequently my biggest luxuries in life are going for regular massages and pilates equipment sessions to prevent my 'makeup artist shoulders' from completely seizing up. Whenever I go for a massage I like to take my own oil with me and for this I've used Clarins Relax Treatment Oil on and off for years. It's made up of 100% pure plant essential oils like geranium, camomile and basil (all thought to have calming abilities) alongside super-nourishing hazelnut oil. Massages aside, it's also great to use at home post- hot bath or shower at the end of a stressful day. The high quality formula means that it's not the cheapest body oil out there, but a little goes a long way so I find that the 100ml bottle lasts for ages. Available here.
Tell me about your all-time favourite beauty favourites in the comments. X