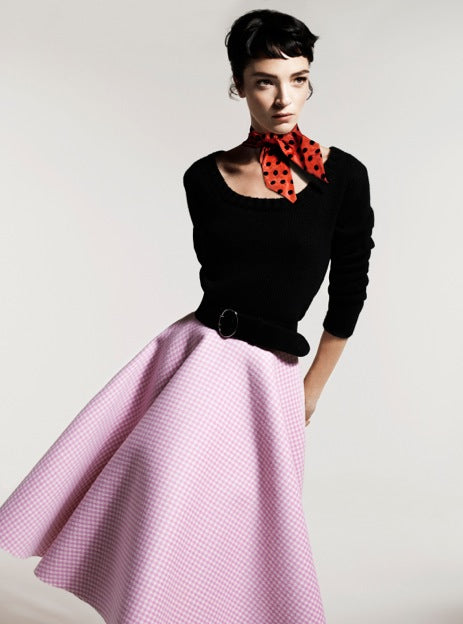 Think 'What Goes With' Pink!
Was there a memo sent to all the designers saying don't forgot to make at least one outfit in pretty baby pink for A/W 13/14? I think so!  As a result of said memo, Autumn will be significantly brighter thanks to the new on-trend colour. Every magazine shoot I've worked on recently has had several beauteous pink ensembles hanging on the rails -  like this shoot I did for Turkish Vogue with Italian supermodel Mariacarla Boscono. The abundant use of this ultra feminie shade will gently ease us into the winter months casting a helpful, gentlly reflective blush onto our faces . I'm particularly noticing lots of rather fine designer and high street coats in this hue, making a welcome change from the black and camel offerings usually seen at this time of year. My favourite from the shows was the ultra chic oversized coat by Carven - which I also noticed sold out in my size within hours on Net-A-Porter.
If you do decide to embrace this sugary confection, it is worth being mindful of your make-up choices. I think wearing pink needs to be approached with a certain level of caution as it works amazingly on some skin tones and less so on others. Next to the skin, certain shades of pink can drain the skin of colour leaving you looking like havent slept in weeks!
Here are a few of my make-up tips for rocking this trend:
• Avoid really orangey make-up as this can clash horribly (especially orangey fake tan or bronzer!) and make the look appear cheap. Instead keep things neutral adding a small amount of pink or plum in your make-up - but not too much. Intensely bright fuschsia lips and pinkish eyeshadow will turn you from a chic fashionista into Barbie instantly. Ditto too much sparkley shimmer.
• Pale pink can leave you looking drained of face particularly if you are sallow skinned so add a hint of colour to the cheeks. A gentle flush of a pretty creme blusher like  Chanel's Le Blush Crème De Chanel in Inspiration 64 or Mac's Powder Blush in Well Dressed will lift your skin immediately and balance things out nicely.
* Alternatively, If you have a lot of natural redness in your skin, reflected pink tones will increase its intensity, so neutralise any areas of exteme redness around the nose, mouth and jawline using concealer. 
• For the lips try a sheer wash of a transparent healthy looking, ' your lips but better' pink. Clinique Chubby Sticks have some really good shades to suit all skin colours  (Mighty Mimosa is really pretty on pale skins whilst Pudgy Peony gives a fresh, sheer wash of vibrancy to dark skintones). I also really love how a simple plum toned lip stain looks with a pink outfit. Makes it immediately modern and grown up. My absolute favourite this season is YSL's Glossy Stain in No3.
• Brown eyeshadows can be great to balance pink, giving a sophisticated polish that will help negate looking too girly. Brown shadows such as Dior's 5 Couleurs Eyeshadow in Earth Reflection which includes a great mix of wearable tones. Similar shades are available on the high street.
• If you feel wearing pink could make you look too saccharinely sweet,  inject a bit of a twist in the guise of a gamine eyeliner flick (asI did on this shoot) - giving the model a modern day Audrey Hepburn make-up look. It adds an edge and also brings great definition to the face. Audrey wore pink with ease in her own unique way, in part assisted by a good strong upper eyelid flick. See my video on how to master an Audrey eyeliner flick here. A well defined, polished brow also adds weight and modernity to flightly pink. I used Suqqu's Felt Brow pen in Brown on Mariacarla for the shoot.
Liquid and gel eyeliner colours which I think really compliment the pink trend are would be Black, Plums, Greys and Browns. Bobbi Brown's Long-Wear Gel Eyeliner in Black Mauve Shimmer or Stila Stay All Day Waterproof Liquid Eye Liner in Dark Brown are both great.
I'm looking forward to wearing pink to brighten up the impending dark wintery days. If anything, pink always brings a smile to a girls face and psychologists say it encourages friendliness and discourages aggression  -  lets hope the whole world embraces it!
Will you be wearing pink this year?
Photos of Mariacarla Boscono appear in the current issue of Vogue Turkey
Photos by Cuneyt Akergoglu