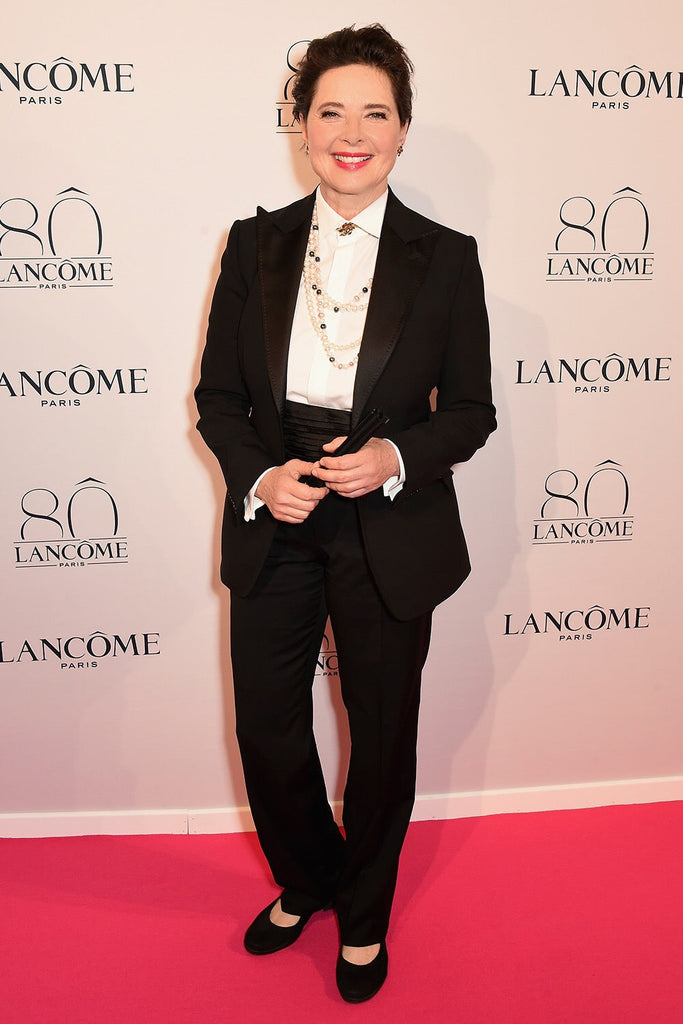 The one where you meet an idol... and they are everything you hoped and more
Throughout the years I've worked as a makeup artist I've made up some incredible people, but a couple of months ago I had a real 'pinch myself' moment when I was asked to do Isabella Rossellini's makeup for Lancôme's 80th birthday party in Paris. I had to stop myself from screaming 'YES!' down the phone. I knew I already had a shoot with Mert & Marcus and Daria Werbowy that day, was booked to do Kate Winslet's makeup late afternoon and had to get myself ready, but I was absolutely determined to make it work.
I've had a major crush on Isabella for a long time. As a teenager and young woman I was so inspired by her beauty, her personality and everything she stood for. Daughter of Hollywood royalty Ingrid Bergman and Roberto Rossellini, Isabella didn't begin acting until she was 31, quite late from an industry point of view, but has played some iconic roles. Who could forget the seductive, twisted world of mesmerizing lounge singer Dorothy Vallens played by Rossellini in David Lynch's dark masterpiece 'Blue Velvet' - not to mention her incredible look, to this day I'm still inspired by her electric blue eyeshadow and glossy red lips. I was also obsessed with her incredible Lancôme ads from the 80s and 90's (she was their 'face' for 14 years).
The night before the party I hardly slept a wink as the following days hectic schedule was racing through my mind. At 7am I headed to the outskirts of Paris to the shoot with Daria then jumped into a car to Isabella's hotel. I actually bumped into her in the hotel reception and, as soon as she saw me, she came up and gave me hug. She has such a lovely, warm and gracious personality - you can't help but fall in love with her. Added to that her wonderful voice and charming European accent which 40 years of living in the US has not dampened (watch the video of the party highlights below to hear what I mean).
Isabella and I had started emailing a few weeks before the party so that I could get an idea of what she liked and didn't like makeup-wise, and I also did lots of research, looking at red carpet and editorial photos of her past and present. Collaborating on the look, we decided to keep her makeup similar to her classic style - glowy skin, rosy blush and a bright lip, with extra liner and mascara to define her gorgeous eyes.
After base, I swept on Blush Subtil Palette in Rose Flush - this pallette contains a subtle blush, powder contour and highlighter all in one. Isabella told me she loves bright lipstick and after showing me some of the colours she had in her makeup bag we chose L'Absolu Rouge in 1951 Rose Désir. This lipstick is part of a three-piece collection, inspired by Lancôme's vintage colours to celebrate their anniversary, so it felt very fitting for the party. The vibrant shade also suited Isabella's warm personality and looked gorgeous against her fresh, dewy skin.
While I was doing Isabella's makeup we talked constantly about all kinds of things, from her work to her family (she introduced me to her equally gorgeous daughter Elettra who was staying with her). I also told her all about my book and she talked about Lancôme in the 80s and 90's. We chatted about the beauty industry as a whole and found we had a similar take on things - as you can imagine, I could have talked to her for hours. She really is such a genuine, intelligent and completely charming and approachable person - everything I wanted her to be and so much more. If you saw my Periscope you'll know that I was on a bit of a high after I left.
After finishing Isabella's makeup it was onto make up my third gorgeous girl (and another icon) of the day, Kate Winslet. Kate had a stunning black Alaïa dress to wear and was planning to tie her hair up in a slick, high pony. For her makeup, we decided to go with flawless skin, a nude lip and seriously smokey eyes. I layered Hypnôse Drama Eyes Palette in Mon Smoky on Kate's lids and under the lash line, blending really well. As the eyeshadow shades were cool-toned greys I contrasted with a warm bronze eyeliner (from the forthcoming fall collection) along Kates lower lash line to accentuate her blue eyes. I then used Khôl Hypnôse Waterproof in Noir to define the upper lash line, followed by lashings of Grandiose mascara. Finally, I applied Shine Lover lipstick in 212, a really great nude. After one coat I blotted, applied a second coat and gently blotted again for staying power.
There was a fun, pre-party atmosphere in Kate's room - the music was on and we all had a glass of champagne. I was meant to travel to the party with Kate but, when her car arrived, I'd hardly had a second to get myself ready (although I had stolen a couple of minutes to do my mascara while Kate's hairstylist George Northwood was working his magic), so I let her go on without me and dashed to my room to get ready in - literally! - 15 minutes. I quickly cleansed (leaving my mascara on), jumped in the shower (which felt lovely after no sleep and a hot, outdoor shoot) then applied foundation while George tonged my hair as I sat in my bathrobe! I quickly slipped into my Saloni dress and am-a-zing diamond and emerald earrings that I borrowed from Jessica McCormack before finishing the rest of my makeup in the car on the way to the venue. Talk about a mad dash, but after a great day my adrenaline was really pumping.
The heat at the party was intense, it felt like 40 degrees. Luckily, elegant fans were being handed around... and they were essential! Seeing all the Lancôme ambassadors on the red carpet was an iconic moment - I felt very proud to be involved with a brand that represents truly talented (nearly all of these women are Oscar winners!), intelligent women of all ages. It was the first time I had met Julia Roberts and Lupita Nyong'o - both of them were, naturally, completely stunning and Lupita was the first person to hit the dancefloor! I also chatted to Penélope and Lily ...and finally got to meet Lily's mum who is just divine.
I have so many favourite moments from the night - the first was when I had to walk the red carpet and pose for some photos. I felt self conscious - as a makeup artist I'm much happier making people up for it behind the scenes! - until Kate came running up to me and gave me a massive, spontaneous red carpet cuddle and I lost all my nerves. I also spoke to Isabella before she went on stage to deliver her guest of honour speech and was really surprised when I saw that she was nervous and worried that noone would know who she was. I gave her a bit of a pep talk and told her how, earlier in the day, I had told my Facebook fans that I just made up one of my all time icons, and lots of people had guessed that it was her. She was so happy! How did you feel about seeing Isabella back with the rest of the Lancôme girls? X
Lancôme have made a video of party highlights that you can watch below - it really gives a feel for the high energy and excitement there was in the room, especially at the moment Isabella stepped out on stage.
These are all the makeup products I used on Isabella and Kate… 
On both
Foundation: Teint Visionnaire
Concealer: Effacernes Longue Tenue
Under-eye concelaer: Teint Miracle Corrector
Brows: Le Crayon Sourcils
Liner: Khôl Hypnôse Waterproof in Noir
Mascara: Grandiose in Noir Mirifique
On Isabella
Eyes: Hypnôse Doll Eyes Palette in Taupe au Naturel
Blush: Blush Subtil Palette in Rose Flush
Lips: L'Absolu Rouge in 1951 Rose Désir
On Kate
Eyes: Hypnôse Drama Eyes Palette in Mon Smoky
Blush: Blush Subtil Palette in Rose Sable
Lips: Shine Lover in 212 Twisted Beige
Isabella Rossellini hair by Alessandro Rebecchi.
Kate Winslet hair by George Northwood.
Julia Roberts makeup by Genevieve Herr, hair by Serge Normant.
Lupita Nyong'o makeup by Nick Barose, hair Vernon François.
Penélope Cruz hair and makeup by Pablo Iglesias.
Lily Collins makeup by Germain Moyano, hair by Ken O'Rourke.
Daria Werbowy makeup by Alex Babsky, hair by Alessandro Rebecchi.
Alma Jodorowsky makeup by Kay Montano.