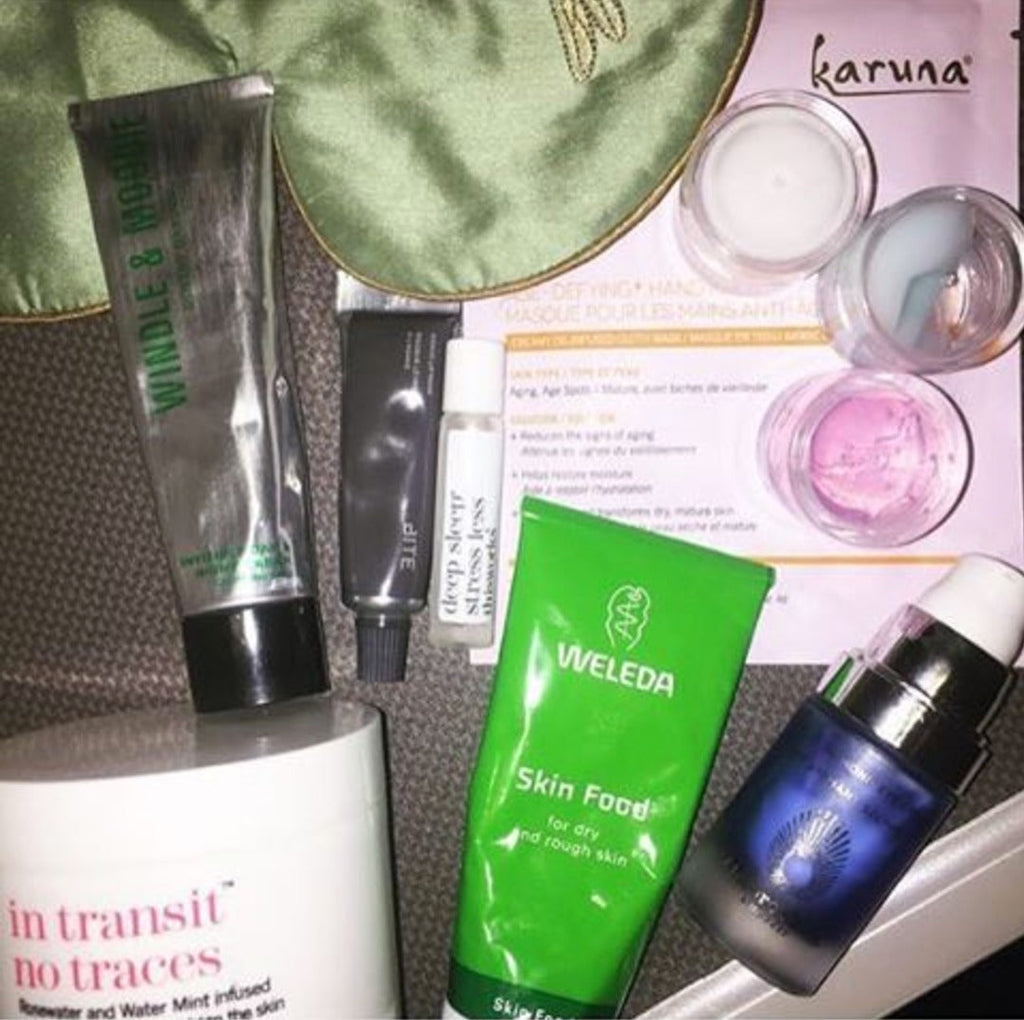 The new additions to my in-flight beauty routine!
This week I've been in Hong Kong looking at future trends, formulas and packaging in the Asian cosmetic world. I attended lots of meetings and talks with industry insiders and made some new friends! Of course this trip has involved long haul travel, so I needed to bring out the big guns and make sure my in-flight beauty routine was up to scratch.
If you missed it on instagram, here are some of the new additions keeping me hydrated.
As soon as we took of, I used This Works In Transit No Traces cleansing pads to remove make up and cleanse my skin - I usually leave my eyebrow makeup and mascara on (solely for vanity purposes!) (Available here)
I had two 'clear' face masks with me in mini Muji travel pots: Peter Thomas Roth's Rose Stem Cell Bio Repair Gel Mask with a blend of rose extracts to tone and hydrate (Avaliable here) and Laneige's Water Sleeping Mask, a gel, cream textured night mask. I put the sleeping mask on immediately and it absorbed into my skin straight away - so no scaring the other passengers. (Available here)
For eyes, I applied Blue Diamond Eye cream by Omorovicza, tapping lightly around the eye every few hours. (Available here)
For fun I decided to try out Karuna's Age Defying Hand Sheet Masks (hey it was a 13 hour flight and I needed all the entertainment I could get!). They're very odd at first but such a great idea - you place your hands into the plastic gloves, massage the contents into hands and then seal around your wrists. I applied these just before I went to sleep so my 'plastic paws' were hidden under the blanket. When I removed them a few hours later my hands were obscenely soft and felt 10 years younger. (Available here) The rest of time I applied Weleda Skin Food on my hands – it's very rich so also good for dry patches, cuticles and elbows.(Available here)
Since I had a mask on my hands and face I went one step further and applied Bite Beauty's Agave Lip Mask while I was sleeping. This can be used throughout the day or overnight. It contains heavy-duty nourishers like agave nectar, jojoba oil, lanolin and antioxidant resveratrol. The texture is quite thick and dense, so great for very dry lips or as an in-flight treatment. (Available here)
For hair, I slathered on Windle and Moodie's Invisible Day and Night Cream, it moisturises dry ends and soothes frizz with sugar beet extra and aloe vera. (Available here)
Throughout the flight I appliedThis Works Deep Sleep Stress Roll on - an aromatherapy oil blend that gives an instant hit of eucalyptus, lavender and frankincense to wrists, neck and behind my ears (Avaliable here). I also had my trusty classic Lavender Eye Mask from Holistic Silk - so much nicer than the airline sleep masks. (Available here)
An hour before arrival I cleansed again, applied the toning rose gel mask for 10 minutes to refresh my face and after removing that I used the wonderfully light Erborian Ginseng Milk Moisturiser - I can't recommend this moisturiser highly enough for anyone who dislikes heavy creams, this lotion feels almost watery on application but hydrates skin so well. (Available here)
All in all, an epic spa experience that helped pass the time and ensured I arrived looking good! Do you have any new 'inflight' beauty favourites?