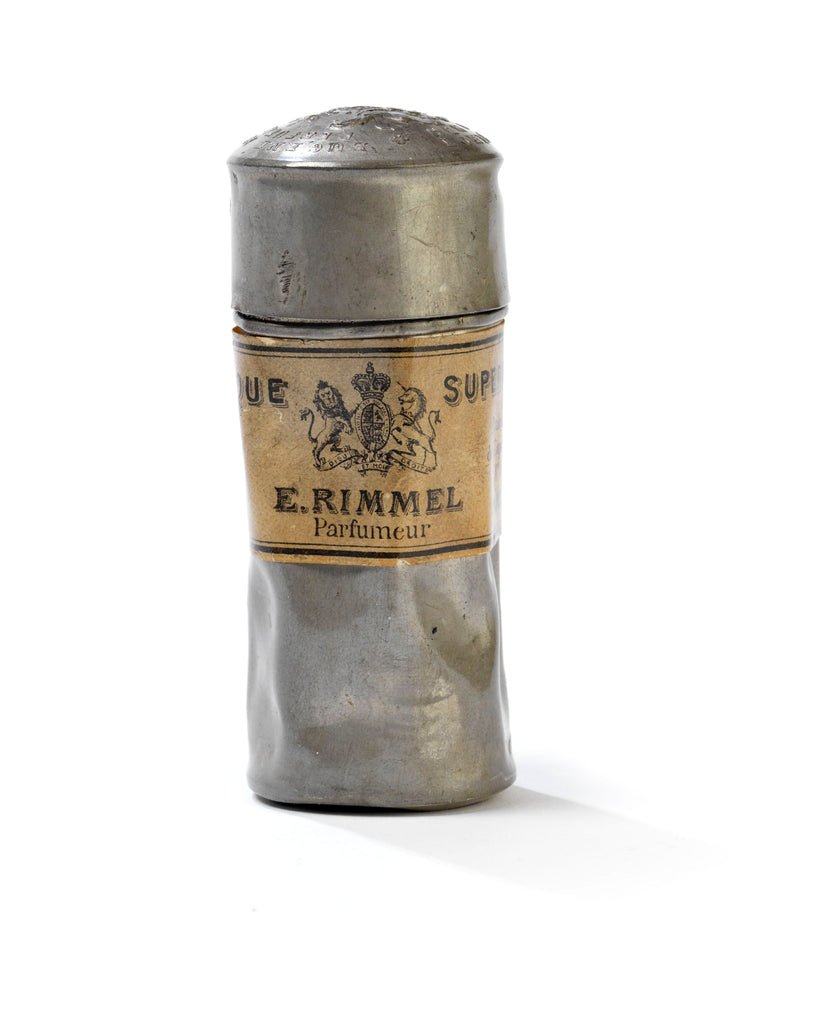 The Beauty Pioneers - The History of Rimmel
As you know from previous posts, I love to delve into the history of make-up. Be it discovering original formulations, fabulous packaging, pioneering founders (my 'Biba and Beyond' post) and how this all relates to social history, I never tire of exploring the world of beauty, past and present.
Following on from my Helena Rubinstein post, I'm going even further back in time to take a look at another industry pioneer and the origins of a beauty brand who are celebrating their 180th birthday this year – none other than Rimmel, London. We all know Rimmel as the brand that symbolises "cool Britannia", represented by London's fashion glitterati - Kate Moss, Lily Cole and Georgia May Jagger, so it maybe a bit of a suprise, to find out  that the originators of "The London Look" were actually from across the English Channel! It's hard to believe that the founder of one of the world's most iconic "British" make-up brands, was the flamboyantly named Hyacinthe Mars Rimmel, later joined by his son, Eugene and that the pair came from Paris, not London.  Rimmel was a highly celebrated French perfumer, trained under the legendary Pierre-Francois Lubin, the personal "nose" to the Empress Josephine.  But in 1834, he left his Parisian life behind and set up shop in London's exclusive Albermarle Street, with his wife and teenage son, Eugene, in tow.
His exclusive perfumery and cosmetic boutique in London's gentrified West End became the "in" destination for London ladies looking for luxury and innovation in skin care preparations and fragrance.  And judging by early images, he was much admired for his good looks, as well as his perfumery skills and Baccarat crystal bottles into which his fragrance were decanted!  There's no doubt that Hyacinthe was a bit of a maestro of fragrance, but the Rimmel that we know and love today doesn't owe its huge success solely to him.  It was his dashing young son, Eugene, then just 14, who turned out to be the real genius, and even more of a perfume pioneer than his father.  With his father's charm and looks, Eugene was not only a natural when it came to fragrance, he was a determined and innovative entrepreneur.  After just a few years under his father's wing, he opened his own business, The House of Rimmel, at 96 Strand Street, in Westminster, and in 1842, he took over the family business, lock, stock and barrel.  This bold move launched him internationally and helped build his reputation for being a creator of unique beauty products and fine fragrance.
The young Rimmel was unstoppable, chalking up a hefty list of beauty breakthroughs, before he had even turned 30. From the introduction of mail order catalogues, a brand new idea in the world of perfume and cosmetics, to scented fans for ladies to use at the opera, theatre and ballet and perfumed Valentine's cards, his piece de resistance was a fragrance fountain created for the Great Exhibition in 1851. Perfumed jets of eau de cologne were dispensed by the fountain which could be used to scent the handkerchiefs of delighted visitors. Even by today's standards, this was a fairly audacious publicity stunt and it certainly didn't fail. His fragrance fountain brought him to the attention of Queen Victoria who not only became Rimmel's patron, but she appointed him her official Royal perfumer, an accolade that spread his name and fame across the globe. In his lifetime, he collected 10 Royal Warrants, not just from Victoria, but from heads of state throughout Europe.
A true pioneer, Rimmel wasn't content with formulating and marketing his perfumes and beautifiers.  He was also passionate about becoming the "King of cosmetics and fragrance" to such a degree that he wrote and published a Book of Perfumes, one of the first "modern" beauty bibles to document the allure of fragrance and the etiquette of beauty. Here's an extract from his book, warning ladies to beware of overly-potent perfumes!
"Above all, avoid strong, course perfumes and remember that if a woman's temper can be told from her handwriting, her good taste and breeding may easily be ascertained by the perfume she wears."
He didn't stop at one publication, following his first book with Rimmel's Perfumed Almanac, Recollections of the Paris Exhibition of 1867, and a Victorian best-seller, Scented Valentines.
What really earned Eugene Rimmel his place in beauty history was his 1860 cosmetic creation 'Superfin', the first commercial non-toxic mascara.  Whilst women had been using various potions and pomades to darken their lashes for centuries, Rimmel's blend of coal dust and petroleum jelly was revolutionary. Although quite messy and unstable, its popularity spread like wildfire throughout Europe. The word "rimmel" or "rimel" became synonomous with mascara and still means mascara in several languages, proof of Rimmel's far-reaching influence on the world of cosmetics.
The House of Rimmel continued to work on mascara innovation, tweaking and improving Superfin and eventually launched its Water Cosmetique. Suprisingly this product didn't start out as a product for ladies lashes. Rimmel's original Cosmetique was created much earlier as a moustache colourant and was a mixture of soap and pigment in solid stick form which was mixed with water, and applied with a brush to moustaches and beards to cover greys and add colour. It was also popular amongst theatre character actors of the day. Eventually, the formulation was adapted and in 1917 launched as one of the first block mascaras intended for use solely on the eyelashes and brows. Around the same time, New York Chemist T.L. Williams (founder of Maybelline) also launched a block mascara called 'Lash Brow-Ine'. Who was first? I dont know exactly. My feeling is that they were probably around the same time. The demand was already there so it was only a matter of time.
Eugene Rimmel continued to extend his reach and expand his empire, opening stores in both Paris and New York, and a flower garden and essential oil distillery in Nice. He was one of the first pioneers of aromatherapy, discovering the oils extracted from plants and flowers has therapeutic properties.  Rimmel created vaporisers which were used in hospitals to disperse beneficial oil vapours into the air, in the same way that we used aromatherapy diffusers today. He also pioneered the use of the first mouth washes as well as "Toilet Vinegars".  These unattractively named fragrances were one step up from Eau de Colognes and were sold as personal disinfectants and refreshing between-bath time fresheners.  Probably early forms of deodorant!
In 1875, the original House of Rimmel building on Strand Street was destroyed by a fire but Eugene's enthusiasm and passion wasn't dampened.  He rebuilt his perfumery on the site that is now the location of one of London's most historic and glamorous hotels – The Savoy.
He continued to reign at The House of Rimmel, until his death at the age of 67 on the 15th March 1887 where his obituary in the New York Times described him as "The Prince of Perfumers". The company continued to be owned and run by the Rimmel family until 1949 when it was bought by a London company and later sold to Coty in 1996.
Have you ever bought anything from Rimmel? What are your favourite products?
If you want to learn more about the history of makeup, have a look at my FacePaint page here X
Products I have used in this video:
Click below for more info and buying options on the products I have used in this film. Some of the links provided are affiliate links for which I will receive a small percentage payment for any purchases made.
Lisa Eldridge - Face Paint - The Story of Makeup (Amazon)