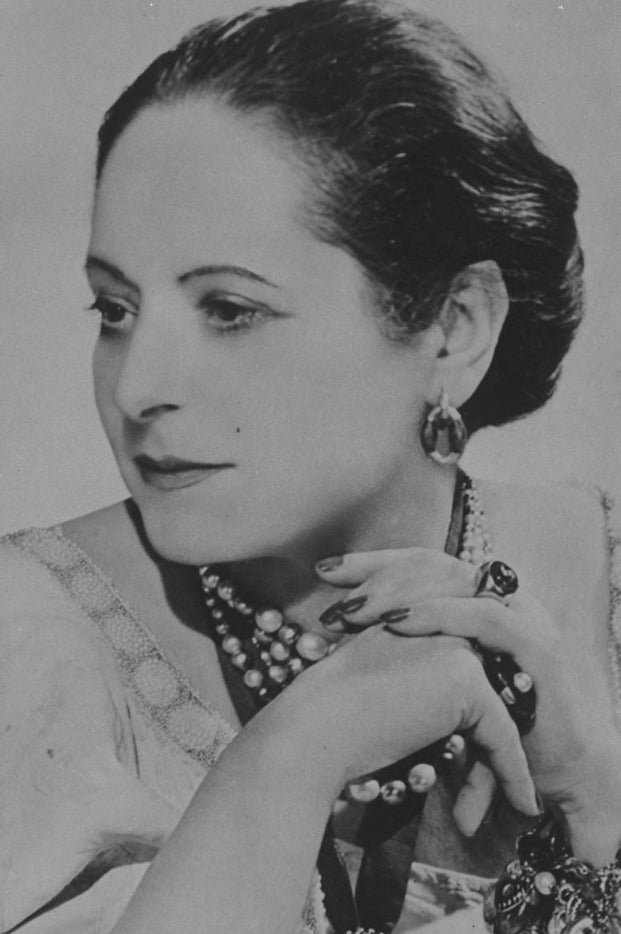 The Beauty Pioneers - Helena Rubinstein
As you all know, I have a huge love and passion for the history of beauty and make-up. From the potions and pastes favoured by ancient civilizations to the birth of the cosmetic industry as we know it today. I'm particularly drawn to the originators, innovators and marketeers so today I'm starting a series of posts on this subject with the true queen and founding 'mother' of the business of beauty.
The beginning of the 20th century saw the emergence of one of the masters of the modern cosmetics industry, Helena Rubinstein. She was one of the original self made women of the last century due to her astute skills in the production and marketing of beauty products. An insighful maverick, she was the first to create modern day mascara and made it acceptable for all women to wear make-up, not just the lowly prostitutes and actresses of the day.
Her brand may appear to be less prominent in many parts of the globe today, so you'd be be forgiven for overlooking her but the remarkable Ms Rubenstein should not be locked away in the tomes of time. According to the New York Times she was 'probably the greatest female American entrepreneur of all time'   ̶  quite an accolade. An impressive, fiercy intelligent woman, she's an inpiration for women in business today not only for her savvy business sense but for the fascinating and often cunning tactics she employed to get ahead.
A classic rags to riches journey, Chaya Rubinstein (as she was originally named), was born in Poland in 1870 in modest circumstances. In 1902 she left Poland to live with her uncle in a small town near Melbourne.
Coming from Europe she was reported to have wonderfully creamy and soft looking skin, something the sun ravaged ladies of Australia were keen to emulate. So she started to sell the pots of her mothers basic face cream she had brought over from Europe, promoting it as the basis of her flawless skin.
She realised she was on to a good thing, so rather than have it shipped over from Poland, decided to make her own. After falling out with her Uncle she took a job with a pharmacist and persuaded him to help her work on recreating her mothers cream in the lab after hours. As the key moisturising ingredient, she used lanolin, a waxy substance from sheep which was in abundance in Australia. She sold this 'secret' mixture in jars perfumed with the more charming aromas of pine bark, water lilies and lavender. They were a roaring success which allowed her to create her own face cream brand named Crème de Valaze.
Early on Rubinstein showed a shrewd talent for marketing by branding and pricing products to make them appear more alluring. The cream supposedly contained herbs from the rather venerable sounding 'Carpathian Mountains' and was sold at a hugely marked up price. Allegedly, when her financial backer suggested she sold the cream for 1 shilling a pot (it cost 10 pence to make) she balked at his suggestion replying:  "are you crazy, women wont buy anything that cheap! When it comes to improving their appearance they need to have the impression they're treating themselves to something exceptional ... let's sell it for seven shillings and seven pence!" Helena justified the extortionate price by claiming it had been formulated in Vienna and shipped to Australia. These days we are all very well versed in the 'spin' and (often crazy) marketing surrounding the beauty industry but Helena was the true pioneer.
Again, with the ability to spot a trend, the Crème de Valaze (she purportedly chose the name as it sounded like European Aristocracy and would further jusify the hefty price tag) was a big hit and she raised enough money to open the first of her beauty salons in Melbourne and then shortly after in Sydney. But Australia was a limited market, so the ever entrepreneurial Helena headed to London and opened her next salon named Salon de Beauté Valaze. It was also at this time that she launched her first make-up range, persuading her high class clients to be seen in public in rouge and lipstick! Helena was the first to introduce the concept of 'problem' skin types and promotion of the pseudo-science of skincare within the salons. During her career, as marketing material, she would often have images of herself in a lab coat and even claim to have a medical degree from Vienna (a winning story...but, according to biographies written since her death, not true).
Her products and salons in London and later Paris thrived, but with the onset of World War I she moved to New York and in 1915 opened the first of many salons in the US. The well heeled ladies of New York loved her range of products and impeccably marketed treatments. In 1928 she sold the business for then a eye watering $7.3million (about £60million in today's prices) but after mishandling and the ravages of the Great Depression, the company was worth a fraction of the original price. Picking up a bargain, she bought the company back at a much reduced rate, growing it to an even bigger and more successful company.
Helena stood less than 5ft tall but what she lacked in stature she made up for in chutzpah. She was never without her high heels and her most famous and enduring quote  "With the right pair of shoes a woman can conquer the world" 
Throughout her busines career Helena had a well documented feud with Elizabeth Arden. They were the Joan Crawford and Bette Davis of the beauty world. Although they lived and worked only blocks apart in New York for over 50 years, the two women, by design, never actually met. Both were masters at persuading wealthy women to pay a lot for beauty products and turning the rather mundane world of face cream and make-up into something glamorous, alluring and respectable. These two ladies were ruthless business woman who were workaholics, running their firms with a tyrannical iron fist. If someone was out of favour with Helena, she was known to have had their desks removed if they hadn't quite got the message.
The relationship with Arden was surely the catalyst that drove them to their outstanding creativity and success. So by the time of Rubenstein's death in 1965 in New York, she had built a cosmetics empire that spanned the world. Her company was left to her son Roy, who after eight years sold it to Colgate Palmolive which is now owned by L'Oreal.
According to Michele Fitoussie who wrote a biography of Helena  'The woman who invented Beauty' - shortly before her death in 1965 Helena handed her secretary an old piece of yellowing paper that she had rediscovered in her files saying: "This is a piece of history, its the famous 'magic' formula for my original cream". The secretary expected to see a list of the exotic ingredients she had alluded to over the past 70 years: Carpathanian herbs, oriental almond oil and mysterious European herbs etc, instead, in her careful handwriting it simply said: Mineral oil, Vegetable oil, Wax. 
She was the ultimate entrepreneur and her legacy can still be seen in the methods used to market and make cosmetics today. One of her mantras was: "There are no ugly women, only lazy ones." Based on that, she must have been a great beauty as a lazy woman she clearly was not.   'Sharp as a tack' Helena was the first person to realize that effective marketing, luxurious packaging, celebrity endorsements, the percieved value of overpricing and the promotion of psuedo science translated to big bucks when it comes to women and beauty ... but as Helena herself said "if I hadnt done it someone else would have"
Sadly the HR brand is no longer available in the UK, I do miss the mascaras as they were excellant.
In current times of the highly educated consummer and the internet I personally doubt women are quite so easily led. Whilst we all love a bit of extravagant packing and genuinely good formulas, I think these days we hand our money over with our eyes wide open. Am I wrong? What do you think?
I've only touched the tip of the iceberg on the intriguing and facinating subject of Helena Rubenstein, there is so much more to cover... from her incredible art collection to her colourful and, at times, tragic personal life. If you'd like to know more, I suggest these sources for further reading and watching:
Helena Rubinstein: The Woman Who Invented Beauty (2013) by Michèle Fitoussi
War Paint: Madame Helena Rubinstein and Miss Elizabeth Arden, Their Lives, Their Times, Their Rivalry (2005) by Lindy Woodhead
The Powder and the Glory (2009) by Ann Carol Grossman and Arnie Reisman
If you want to learn more about the history of makeup, have a look at my FacePaint page here X
Products I have used in this video:
Click below for more info and buying options on the products I have used in this film. Some of the links provided are affiliate links for which I will receive a small percentage payment for any purchases made.
Lisa Eldridge - Face Paint - The Story of Makeup (Amazon)