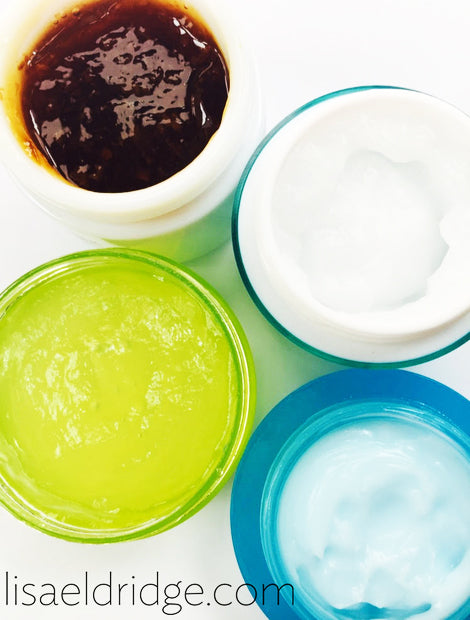 Texture Trend: Jelly Masks for a Hit of Hydration
Although I put myself in the combination/oily skin camp, I find that - especially at this time of year - my skin is in need of a mega dose of hydration and these past few weeks I've been reaching for fresh, jelly-textured masks. Think of them as an instant quenching tonic for dehydrated complexions - they nourish, refresh and give your skin a nice big glug of moisture without overloading it. Good for tired skin recovering from a late night, they are also the perfect masks to use on long haul flights as, once you apply them, they're undetectable. 
Here are four jelly masks my team and I are currently reaping the benefits of at the #HouseofEldridge...
1. Erborian Waterlock Mask
Like most of these hydrating gel masks, you can use this a couple of different ways - as a rinse-off mask (apply for 10 minutes then wash) or a leave-on overnight treatment. The formula contains bamboo sap - a supercharged humectant (often referred to as 'divine water' in Japanese beauty) that's rich in minerals and skin-strengthening amino acids - as well as bamboo fibre, which is thought to help skin retain its moisture levels. The texture is light and cool with no stickiness - one of my oily-skinned team members who normally steers clear of hydrating skincare loved using this on her post-holiday skin. Available here.
2. Bio-essence Hydra Tri-Action Sleeping Beauty Mask
A Singapore brand which harnesses Asian 'water droplet technology' in this mask - when you massage the gel onto your skin you'll see tiny beads of water droplets form. You then pat until fully absorbed - the idea being that the droplets help to optimise skin's ability to absorb and retain moisture. This mask contains two types of hyaluronic acid (one of skincare's most superior hydrating ingredients that's great for every skin type). Again, you can use it a couple of different ways - either overnight or as a regular mask (or in the morning apply a thinner layer as a lightweight moisturiser). The texture is gorgeous, like a jelly soufflé, and feels very quenching - again, perfect for flights or extra-parched skin days. Available here.
3. Bliss Fabulous Drench 'n' Quench
This super-fresh, blue-tinted gel also turns to water droplets when you massage in. It absorbs quickly and definitely gives a nice plumped-up look to skin. The formula here contains classic hydrators like glycerin, plant seed oils, vitamin E and algae extracts. While it works well as a good, lightweight, moisture-binding cream, you can again also use it as a mask - apply an extra thick layer and leave on overnight or wash off after around 10/15 minutes. Available here.
4. Fresh Rose Face Mask
An oldie but a goodie! It does look a bit like brown gloop in the pot, but feels like rose jelly on skin - instantly cooling and refreshing and (so long as you like rose) smells delicious. You can see in the image above it's infused with rose petals which seem to almost melt into skin, alongside rose water and antioxidant green tea. It also contains aloe vera and cucumber, so a great option to use post-holiday. The texture is more fluid and runny than the other masks above. Available here.
For more mask favourites, watch my Face Mask Philosophy film below and have a browse through my Pinterest board here. Tell me about your post-summer skin routine in the comments. X
Image Photography Chris Craymer, Makeup by Lisa Eldridge, Hair by Sam McKnight, Styling Charlotte-Anne Filder