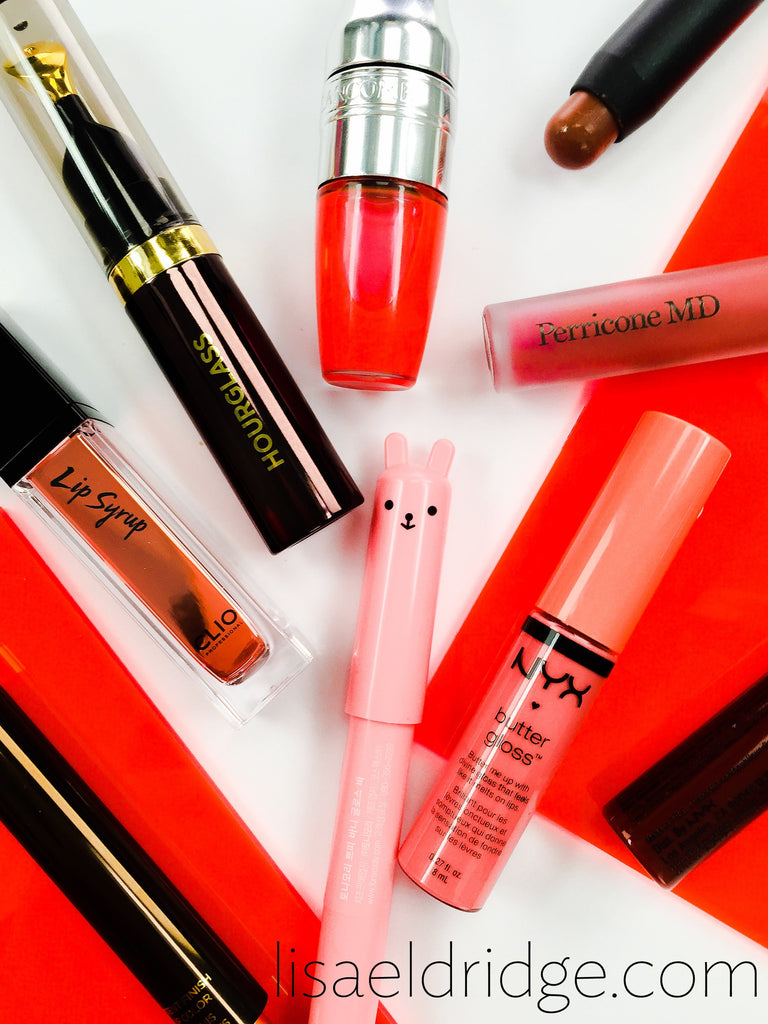 Texture Trend: Gloss Grows Up
I'm often asked about makeup trends - the ones I like, the ones I'm trying and the ones I wish would disappear. But I don't really believe that makeup trends exist anymore - it's more a case of the same looks and styles coming around again and again. The thing that makes a trend different each time is the technology - i.e. packaging, delivery and formula. A really good example is the cushion phenomenon from Asia, which is all about the delivery system of lightweight textures that give skin a luminous, dewy look - you could say that this is a trend, but it's come very much via technology. Another technology trend that's been bubbling to the surface over the past year is the return of gloss textures.
Lip gloss has always been an intrinsic part of my kit, for editorial shoots, fashion shows and campaigns, but in real life it's something that's been out of fashion for a while, especially after the overkill of gloss in the 80s and 90s (who didn't have a Juicy Tube or glitter-flecked gloss in their handbag back then?!). Heavy, sticky textures also gave gloss a bad rep but now, thanks to huge advances in technology, the new crop of glosses deliver shine, tint and moisture in a whole new way - no more gloopy formulas or tacky (literally and metaphorically) finishes.
NEW-GEN GLOSSES
A recent find at the #HouseofEldridge is Perricone No Lipgloss Lipgloss (available here), which I was excited to try as I used the No Lipstick Lipstick a lot last year. This gloss is a similar 'your-lips-but-better', rosy pink shade that leaves - as the name suggests - a healthy-looking lustre as opposed to a brilliantly shiny finish. The only downside of this subtle finish is that the shine wears off fairly quickly, but it's easy to apply on-the-go so you can top up throughout the day. Like the lipstick, it also contains emollient moisturisers like jojoba seed oil, and has SPF15 (using the mineral sunscreen active zinc oxide), so good for keeping pouts protected in the sunshine.
If you want more of an intense, lacquered look, I've been testing Tom Ford's Patent Finish Lip Colours (available here in 8 shades) - hybrid gloss-stains that leave an incredible vinyl-like, glassy finish on lips that wears down to a long-lasting stain. Each of the shades are intensely pigmented, perfect a real makeup 'look' (like these images from my editorial work above and below). The gloss is dispensed through a soft cushion via a click pen, which can be a little bit messy so be wary - you might also want to use lip liner first if you need to correct shape.
A great high street option is NYX Butter Gloss (available here in 22 shades). Again, it delivers what the name suggests - the texture feels creamy, buttery and nourishing on lips. The colour is medium-coverage (depending on which one you choose - the pastel shades are a little sheerer) and can be built up to an opaque, gorgeously glossy finish. They're also sweetly scented which I like - not quite a sugar hit, but almost ; )
GLOSSY STICKS
If you're not entirely sold on the idea of megawatt shine just yet, a more subtle introduction to gloss is a glossy lipstick/crayon - much more low maintenance and (arguably) easier to apply. MAC's chunky Patentpolish Lip Pencils (available here in 14 shades) leave lips with a dewy gloss and the semi-sheer colour can be built up - though the result is still much more subtle than a lipstick or the more heavily pigmented Tom Ford/NYX glosses above.
For an even more natural look - and if you like your beauty products with a side of kitsch - Korean brand Tony Moly's Bunny Gloss Bars (available here in 3 shades) are like extra cute, extra sheeny lip balms. They're super-sheer, but have just enough of a hint of colour to add a pretty tint to lips.
LIP OILS
One of the hottest new lip trends is lip oils - super-comfortable and easy-to-wear, they leave a gorgeous shine and sheer hit of colour. When I was out for lunch with some girlfriends last week I noticed that one of them was wearing the most beautiful pop of red gloss on her lips. Naturally, I had to know what it was - a tinted version of Hourglass N° 28 Lip Treatment Oil (USA only, available here). Like a 'treatment gloss', the formula includes 14 essential oils (such as lavender, rosemary and ylang ylang) and 10 plant oils (including hazelnut, rose hip and olive) and delivers a pretty, non-sticky sheen to lips. And if you want to add a bit of extravagance to your makeup bag, the applicator is made of 24 karat gold...! If you can't get hold of the tinted version, I've been trying the non-coloured original (available here), which has the same lip-loving ingredients list and doubles up as an overnight treatment when you apply before bed.
Another oil-based gloss is Lancôme Juicy Shaker (available in the UK here in 14 shades and from April elsewhere). Like a new-gen version of the iconic Juicy Tubes, it's got a nourishing, bi-phase formula (oil and pigment) and leaves a juicy wash of colour on lips (build up the layers to intensify). This is the kind of gloss that's as perfect for a dinner date as it is for a big meeting at work. I'm also crazy about the chubby, dome cushion applicator - it feels so soft and bouncy.
Finally, another great Korean offering is Clio Lip Syrup (available here in 6 shades) - oil-based, high-shine glosses with a similar texture to the NYX Butter Gloss (creamy and comforting) but a lower level of colour coverage, so again a great option for anyone who wants to get reacquainted with gloss in a low-key way.
Let me know if you've rekindled your love with gloss - and the products that do it for you - in the comments. X
Middle image photographed by Michael Baumgarten
Bottom image photographed by Cuneyt Akeroglu