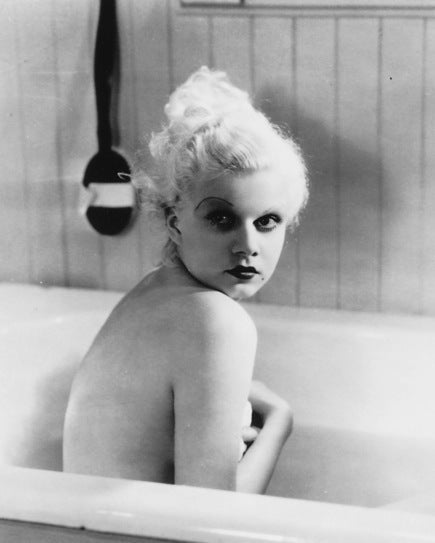 Stay In And Have A Bath - It's January!
"There must be quite a few things that a hot bath won't cure, but I don't know many of them." - Sylvia Plath, The Bell Jar
Depending on where in the world you are, it feels as though there's no better time of year to soak in a tub than post NewYear, when the holidays are over and we settle into the quiet, dark months of January and February. If you were lucky, you may have received some delicious bathing goodies over the holiday that can be put to good use now. Whatever the time of year I love nothing more than to sink into a hot bath - and relax. I rarely have time for pampering treats, like massages or days at the spa, so if I have any free time (night or day), and want to really switch off and de-stress, I light a candle, run the bath and unleash some of my favourite bath-time treats.
Being someone who really feels the cold easily, luxuriating in a hot bath after a day on location when I just can't seem to warm up, is my idea of heaven. It does the trick for total body warming in a way that a hot water bottle never could. I don't necessarily see taking a bath as a way of 'cleansing', for me it's much more about the delight of dimming the lights, putting music on and soaking up something deliciously scented.  If I want a refreshing, exfoliating, cleansing experience, I opt for a shower instead.
As a make-up artist I spend a lot of time contorted in odd positions with my right hand held up for extended periods and as a result get a lot of tension around my neck and shoulder area. When I'm in the bath I like to do some gentle stretching as the combination of having the time to do them slowly and the water makes it feel more effective. Nothing strenuous, just simple things like pushing my elbow gently across to the opposite shoulder with my opposite hand (always make a very satisfying loud crack) and pointing and stretching my feet to relieve calf ache from standing up all day. I also like to massage my neck and shoulders once the hot water has done its thing and softened the muscles an connective tissue. Lots of small, firm circular movements on relaxed muscles feels just great!
Take care you don't have the water too hot. Hot but not scorching is the way to go as research shows that an overly hot bath can actually have the opposite effect and cause insomnia. If you notice you start to look like a boiled lobster and your feeling light headed, reach for the cold tap! After a long, hot bath glug down a large glass of water to avoid dehydration.
You can use anything you have to hand to soften the water (or just go au natural) but here are some gloriously, blissed-out bath treats I think are great for different skintypes and tastes, including some of my personal favourites. Enjoy!
Warming Wonders 
Ren Moroccan Rose Bath Oil. I'm not keen on really heavy oils in the bath but Ren's Moroccan Rose Bath Oil is brilliant for oil-phobes like me. When it hits the water, it emulsifies into a milky liquid, scenting the bath and leaving skin lightly moisturised. Another light bath oil - and my all round, all time holy grail relaxing product - is Aromatherapy Associates Deep Relax Bath and Shower Oil This wonderful concoction contains sandalwood, camomile and vetivert which instantly relax. I have mentioned this oil many times on my blog so i wont bang on about it again, suffuce to say a little goes a long way and it genuinely relaxes and induces sleep effectively. Smells sublime.
Aveeno Soothing Bath Treatment. Anyone with a tendency for eczema, especially in the winter, or super-dry skin, will find bathing in Aveeno's Bath Treatment incredibly beneficial. It's made from 100% Colloidal Oatmeal, which may not sound glamorous, but when it's dispersed into the water, the finely milled powder creates a soothing milky, bath that softens and soothes irritated skin. It's also highly recommended by dermatologists. Aveeno's Bath and Shower Oil is also great for moisturising and conditioning dry, sensitive skin.  A-Derma,- another great brand for anyone with eczema (I used to use this on my son when he was younger). Their Soothing Foaming Gel creates a nice frothy bath for dry, sensitive types.
Pink Himalayan Salt. Available from Whole Foods or any good health food shops. I'm a believer in at herapeutic salt in general I have a stock of Epsom, Magnesium Flakes and Pink Himalayan Salt in my bathroom cabinet. Himalayan pink salt contains over 80 minerals and trace elements which are similar in ratio to those that naturally occur in our body, including high levels of magnesium and sulphate, very similar to Epsom salt. Both help to reduce inflammation, soothes aches and generally help detox. I also find salts really good if my immunity needs a bit of a boost or if I'm coming down with a cold. Add 1-2 cup fulls to a hot bath, soak for half an hour, and you'll definitely feel the benefits. I sometimes add a couple of drops of lavender oil to the salts for extra relaxation. If mixing up your own salts doesn't appeal, try Neal's Yard Lavender Bath Salts. they smell lush! 
Elemis Skin Nourishing Milk Bath. Legend has it that no less than 700 donkeys were needed to provide the quantity of milk necessary for Cleopatras daily bath. If you don't have any donkeys to hand, Elemis's Skin Nourishing Milk Bath captures the essence of her ancient bathing ritual perfectly. A potent blend of plant collagen from oat extracts and Japanese Camelia Oil this divine special treat leaves skin spectacularly soft and soothed.
Calming Candles
Neom Candles.  I'm a mega fan of these candles, which are not only 100% organic, but burn slowly and are jam-packed with essential oils, so always scent the entire room – and work quickly to soothe the psyche. For a pre-bedtime sedative, I really love their Tranquillity candle, with English Lavender, Sweet Basil and Jasmine, this combo will have you nodding off in – and out of the bath!  Two of my other favorites are their Relax Candle with french lavender, geranium & juniper, perfect calming ingredients after a long day.  Or for a richer aroma their Cocooning Home Candle with mandarin, ylang ylang and chamomile is also dreamy. 
Oskia Rose de Mai Massage Candle. I had reservations about a candle that also claimed to be a massage oil, but I'm a complete convert! With beeswax, soybean and coconut oil, light this candle while you're bathing – the Rose de Mai fragrance is divine – and then post-bathing, use the warm oil to massage hands, limbs and feet. Its quite a substantial texture and a little goes a long way, so long firm, sweeping strokes will help your skin absorb this wonderful stuff.
Soothing Softeners
Dr Hauschka Moor Lavender Body Oil. This milky oil is super weighty and perfect for anyone with especially desiccated winter skin. I love to baste my drier areas (legs, elbows and feet) with this whilst my skin is still damp so its extra receptive to the treatment.. It smells heavenly! Perfect for when you need  an extra nurturing treatment. It's very concentrated so a little goes a very long way.
Aromatherapy Associates Rose Hydrating Body Gel. This is a great product for anyone who hates oils and heavy creams. A gorgeously light combination of rose and geranium, teamed with softening evening primrose and jojoba oils that moisturises skin after bathing without feeling heavy or greasy. The gel formula sinks in completely without residue and is perfect for anyone who doesn't have particularly dry skin.
Dove Limited Edition Winter Care Nourishing Body Lotion. If you want a quick fix for parched, winter skin, then this is it. Dove's winter edition is scented with warming amber, and has a high concentrations of essential oils.  Another good staple from Dove is their Intensive Nourishing Lotion which is also perfect for parched limbs. 
What are your favourite bathing rituals and products?
*The bathers in the pictures are - from top to bottom: Jean Harlow, Rita Hayworth, Joan Collins ... and me!