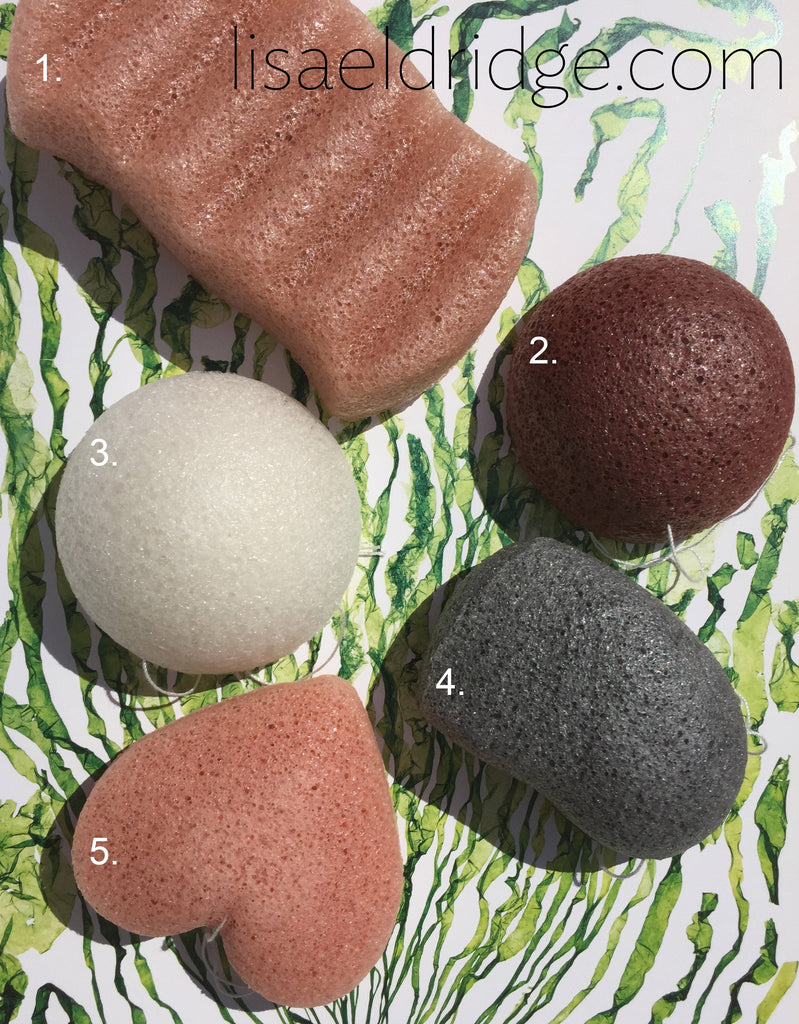 Skincare Trend Alert: Konjac Sponges
Currently on trial at the #HouseofEldridge are these konjac sponges - they look a bit like pumice stones (or kitchen sponges!), but they're designed for daily facial cleansing/exfoliating and can be used on all skin types, including sensitive and rosacea or acne-prone.
Konjac is a porous potato root that grows naturally in many parts of China, Korea and Japan, often at high altitudes, which makes it very pure and pollutant-free. Although new to the skincare scene, Konjac has a long history and was originally used in Asian medicine in the sixth century, and Japanese people have been eating it for over 1500 years (it's often found in noodles) as it's loaded with vitamins and minerals, including vitamins A, B1, B2, C, D, and E, folic acid, protein, iron and zinc. More recently it was developed as a skincare sponge (originally for baby skin as it's gentle, pH neutral and irritant-free) - the soft fibres, combined with the net-like structure of the sponge, claim to gently massage skin, helping to dislodge dirt and oil, stimulate blood circulation and buff away flaky skin.
To use, soak the sponge in warm water (they're very hard when dry, so you definitely need to soften them with water first), wring out and gently buff over your face in circular motions. You can use with a cleanser or without. If I'm wearing make-up I do a proper cleanse to remove that first (especially any eye makeup) and then use the sponge as part of a second cleanse. Its also nice to use post-cleanse just with water as a gentle exfoliating 'treatment'. The sponges have a bouncy, rubber-like texture that feels nice and squishy against your face - gentler than a cleansing brush but a bit scrubbier than a muslin cloth.
Once you've massaged for a minute or so pat your skin dry, give the sponge a really good clean and let it air dry. It takes a few days before you notice any brightening effects - it's not like the instant glow of a peel or active exfoliator, and the results are much more subtle. As the sponges are really gentle you can use them every day if you want to but, like everything, experiment to see what suits your skin - drop down to two or three times a week if that's better for you. And remember that you shouldn't keep each sponge for longer than a month or two (they're biodegradable, so you can compost them afterwards).
As well as the half-spherical 'pure' sponges (3 Original Konjac Sponge), there are lots of different shapes available (including slightly bigger ones for body 1 Body Sponge with Pink French Clay, hearts 5 Heart Sponge with Pink French Clay, and 'mouse' shapes designed fit your hand 4 Mouse Sponge with Bamboo Charcoal). You can also buy some that are infused with micro molecules of bamboo or charcoal (for oily/acne-prone skin 4) and clay (for brightening 2 Face Sponge with French Red Clay), which are nice, natural additions but the percentages used are so small they won't replace your usual blemish/brightening products.
The jury is still out at the #HouseofEldridge, I dont think these are life changing but, as far as new trends go, it's not a bad one and won't do you any harm. The fact that the sponges are 100% natural and biodegradale already gives them a thumbs up. Let me know if you've tried a konjac sponge in the comments - I've photographed ones from The Konjac Sponge Co above but there are loads of different brands and types around (just check that they use pure konjac before you buy). I'd love to know what you think about them.