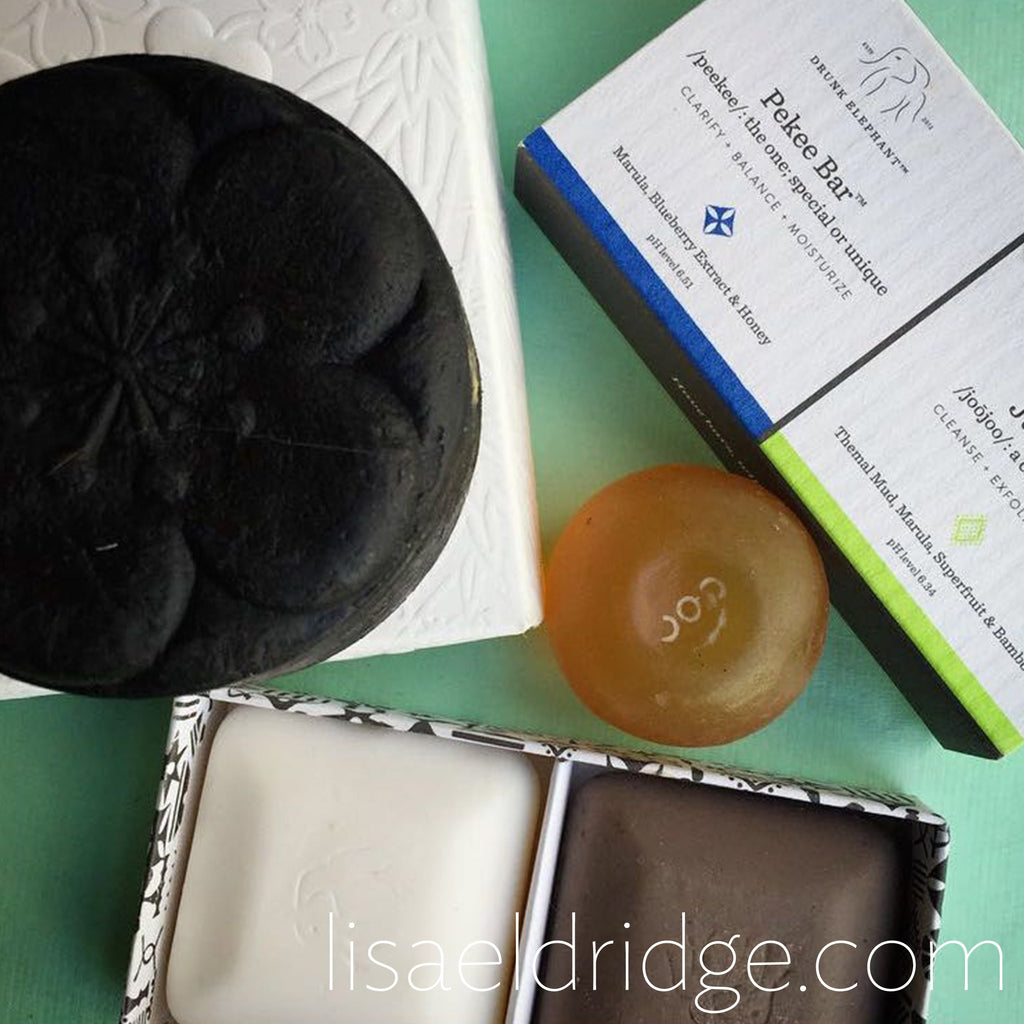 Skincare Comeback - Would You Wash Your Face With Soap?
While there's something quite romantic and nostalgic about a beautifully wrapped bar of hand soap (think Fresh and Diptyque), recently at my studio I've seen an influx of new soaps bars that are designed for cleansing - and treating - your face. I'm sure I'm not the only one who thinks soap and imagines tight, stripped, filmy-feeling skin, but these new-gen facial soaps are designed for gentle, non-abrasive cleansing, and claim to be the perfect cleansing partner for lots of different skin types. They're also great for travel as they're easily transportable (you could even cut off a slice and leave the rest at home) and, as they're water-free, don't need to contain any preservatives.
I spoke to a few cosmetic science experts I know about the hygiene aspect (i.e., will soap harvest germs and bacteria if you leave it on the side of your sink all day), but they assured me that bacteria only grows in the presence of water - keep soap in a dry environment in between uses. Plus, any germs that are present on the bar won't be transferred onto your skin when you use it - chemistry lesson in short, when you lather up, the oil-attracting ends of the soap molecules pick up the dirt, oil and grime on your face. Then, when you rinse, the water-attracting ends of the soap molecules follow the water, rinsing away all of their attached impurities (from your face and the bar) with them.
If you want to try the trend, here are three soaps currently on trial at the #houseofeldridge…
Drunk Elephant JuJu Bar and Pekee Bar
These soaps come in two formulations, one designed for morning cleanses (JuJu) and one for evening (Pekee) - you can buy them separately or together in a travel duo, like the image above. While a lot of traditional bar soaps are formulated via a process which results in a high, alkaline pH (around a 7-9), which is irritating to natural acidic skin, these soaps are made with mild synthetic cleansing detergents, meaning they have pH neutral (6.34 and 6.51 respectively) formulas, and cleanse super-gently.
The morning JuJu bar contains marula oil, finely-milled bamboo powder (which gives a very mild exfoliation) and clay, so a good one for oily/combination skin - although I asked one of my dry skinned #houseofeldridge team to test and she said that it didn't leave her face feeling tight or stripped. She actually said it was nice to be able to use a foamy cleanser without feeling desperate for moisturiser afterwards. The evening Pekee bar also contains marula oil alongside honey, glycerin and antioxidant blueberry, and lathers up to a really gorgeous creamy foam. You can also use this one to remove makeup - as the formula doesn't contain any fragrance or irritating ingredients, there's no reason why you shouldn't use it around your eyes, however, waterproof mascara will need something a little more heavy duty to remove. JuJu Bar available here and Pekee Bar available here.
Cor Silver Soap
I spotted this soap a couple of years ago but only tried it recently. It's designed with oily and breakout-prone skin in mind as it contains silver, an antimicrobial that curbs bacteria multiplication, and I've heard good things from people with acne-prone skin who've tried it. You can leave it on your face for a couple of minutes (while you brush your teeth for example), to try and reap as much benefit as possible from the ingredients before you rinse it off. It also contains numerous hydrators like hyaluronic acid, glycerin, jojoba, avocado oil and aloe, so a good one for dry skin too - my dry-skinned tester (who applied and rinsed off straight away rather than leaving it on), said that this left her skin cleansed but soft and removed light makeup (not mascara) well. Unlike the Drunk Elephant soaps which don't have much of a scent, this one is quite highly fragranced. Available here.
Black Paint Pore Cleansing Soap
I picked up this soap when I was in Kyoto recently. It's quite messy as you have to soak and soften it in warm water before using, which left my sink black (luckily it rinsed clean with water!). Once the soap is soft and warmed up you rub it over your face (it smells to me like a 'classic' bar soap) then massage in for around two to five minutes to cleanse and remove makeup. The black colour and warming element reminded me of the Boscia Detoxifying Black Cleanser I've been using recently. Like Boscia, this contains charcoal as well as 23 organic plant oils (including jojoba, olive, almond, coconut, avocado, hazelnut and rosehip), honey, green tea, and no fragrances or colour. Again, it didn't feel stripping and removed facial makeup well, but it did somehow feel like more of a 'treatment cleanse', so it's probably something that I'll keep for whenever I have time for a long facial massage. Available here.
If you use a soap to cleanse, let me know which ones you rate. We're still debating at the #houseofeldridge whether or not we'd switch to using one full-time - tell me what you think in the comments. X