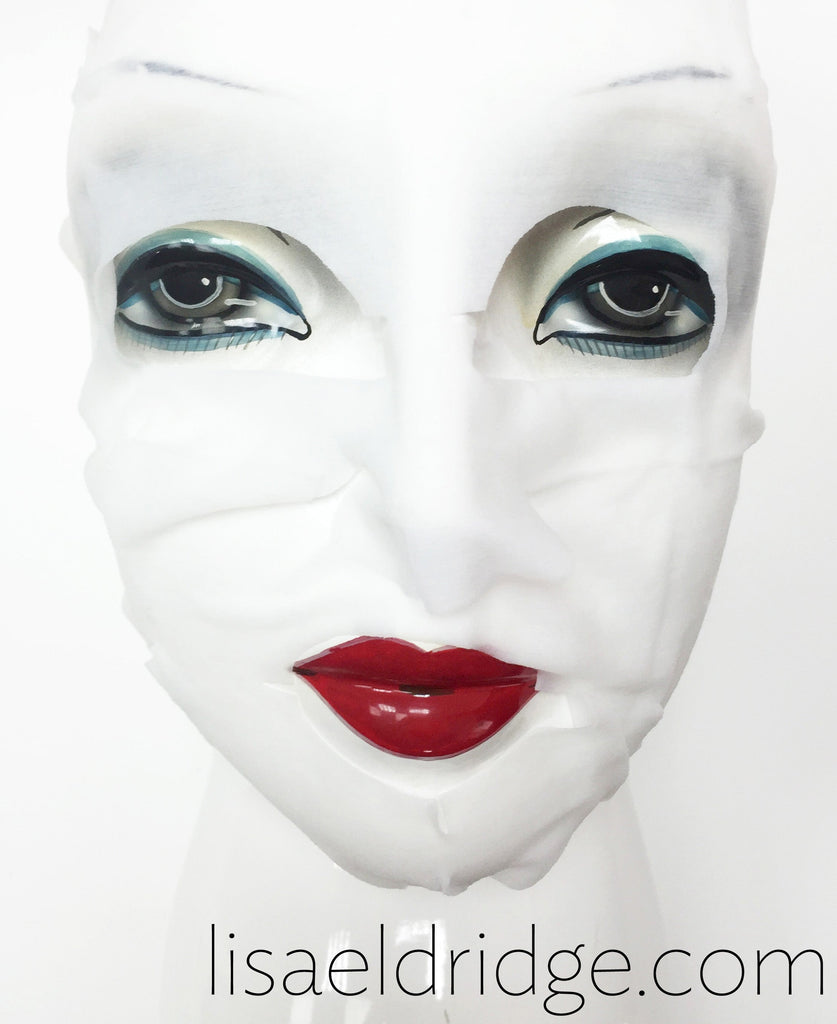 Sheet masks: easy at-home facials
A lot of beauty trends are born in Asia, from BB creams to cushion foundations and the graduated lip (watch my Korean 'Beauty Trends' Inspired Makeup Tutorial if you want to see me try this), and another Asian skincare obsession that's quickly gaining popularity globally is the sheet mask. Even June, the #HouseofEldridge studio muse, loves them - here she is having a midday facial in the photo above ;)
If you haven't tried them, think about sheet masks like individually wrapped facials - they come in single sachets and are usually made from a microfiber that feels like cotton, or a jelly-like hydrogel, both of which are saturated in serum and cut to fit the contours of your face. They might make you look a little scary, but they also give your skin a high dose of hydration in around 10 minutes - so you're left left instantly brighter and plumped-up (definitely worth the temporary creepy face!).
If I'm working at fashion week or with a celebrity client and I want to give their skin extra glowiness, I'll use a sheet mask for quick results. They're also great because they come without any of the fuss and mess of usual masks - you just open and stretch over your face, press into place and relax (if there's any serum left in the sachet, squeeze it into a pot, keep it in the fridge and use it as a serum over the next few days).
As the sheet rests it forms a seal to lock in all of the goodies so they can treat your skin before they have a chance to evaporate. After 10 or 20 minutes, remove the fabric and, if you're not putting any makeup on top, massage the leftover liquid into your skin. If you're applying foundation directly afterwards, I prefer to rinse off any residue (either with water or damp cotton wool) as, depending on what kind of base you use, it can sometimes end up forming little rolls and peeling off. So rinsing will make sure your foundation (or whatever you apply next) goes on smoothly.
I bought a LOT of different sheet masks while I was in Korea at the end of last year (have a look at them in my Korean Makeup, Skincare and Beauty Haul film) but as they're becoming more mainstream everywhere you can pick them up in most pharmacies and drugstores now. Here are some of my current favourites – let me know which ones you've used and if you have any favourites of your own… 
IF YOU WANT TO… HYDRATE The primary aim of most sheet masks is to hydrate, so if you have dry or dehydrated skin chances are your skin is going to love them. My most recent discovery is Sarah Chapman 3D Moisture Infusion Mask (1). It's full of my all-time favourite hydrator, hyaluronic acid (as well as rosewater and pentavitin), and the first time I used it it gave me a visible facelift! Indeed Labs Hydraluron Moisture Boosting Mask (2) is another, slightly cheaper, hyaluronic offering.
Two that I come back to time and time again (and always keep in my kit) are DHC Bio Cellulose Mask (3), packed with hydrating coconut water, and the cult SK11 Facial Treatment Mask (4). It's said that some Asian brides use this every day for 90 days prior to their wedding, but I find it great for quick results as it literally drenches skin in vitamins, minerals and amino acids from pitera, a naturally-derived liquid from yeast fermentation (pitera was originally discovered in Sake brewing - the brewers had lined faces but plumped, youthful hands from handling the yeast all day). While I was in Korea I also picked up Missha 2D Bamboo sheet mask (5), which uses bamboo as a humectant to draw moisture into skin.
IF YOU WANT TO… ANTI-AGE Sheet masks can help to plump out fine line lines, gently exfoliate and boost collagen. Shiseido Benefiance Pure Retinol Intensive Revitalizing Mask (6) contains retinol, squalane (to moisturise) and chlorella, which helps to speed up collagen production. Suqqu Stretch Face Mask (7) are also interesting - the sheets have extra folds under the jawline that are designed to be pulled up to to your temples to 'lift' your face (inspired by Suqqu's Gankin facial massage technique). The antioxidant-rich serum contains honeysuckle (good for calming red or inflamed skin), niacinamide (or vitamin B3, which helps boost elasticity and fade discolouration) and lactic acid from whey (exfoliating and softening).
Naisture Collagen Mask Pack (8) is a more natural anti-ageing option that contains hydrating shea butter and hyaluronic acid alongside a vegetable collagen derived from carrots to maintain plump, elastic skin. I also bought a couple of sheet masks from Etude House in Korea - Collagen Moistfull (9), that plumps skin using hydrolysed collagen and brightens with vitamin C-rich baobab and peony, and I Need You Pomegranate Mask (10), with vitamins E and C alongside pomegranate, a great collagen-stimulator and intense moisturiser, perfect for more mature skin. Both have lovely, creamy formulas (a bit like a lotion mixed with a serum), so they're not too drippy when you apply them. 
IF YOU WANT TO… BRIGHTEN Look out for masks with vitamin C (often listed as ascorbic acid) which helps to gently exfoliate and brighten. I've been trying Masque Bar Brightening Sheet Mask (11), with vitamin C from orange extract alongside moisturising glycerin and hyaluronic acid, and Maskeraide Pre Party Prep (12), with orange oil, honey and argan oil, both lovely to use before a big event or night out to give dull skin a boost.
Inisfree Intensive Ampoule Mask [vita C] (13) is a two-step Korean offering - start by massaging the concentrated hyaluronic acid ampoule into skin, then apply the serum-soaked mask on top, which contains vitamin C from mandarin (sorry there's no picture of this one, but I've used the only sample I bought!). Decleor Aroma White C+ Intense Brightening Masks (14) are slightly pricier but good for pigmented skin as alongside vitamin C, which helps to fade existing pigmentation, the masks contain saxifrage to prevent future dark spots appearing. Mamonde Lotus Flower Essential Mask (15), which I picked up in Korea, is another good vitamin C-rich brightener, with added lotus to help relieve redness.
Watch my Korean 'Beauty Trends' Inspired Makeup Tutorial below and let me know if you have any favourite sheet masks in the comments.