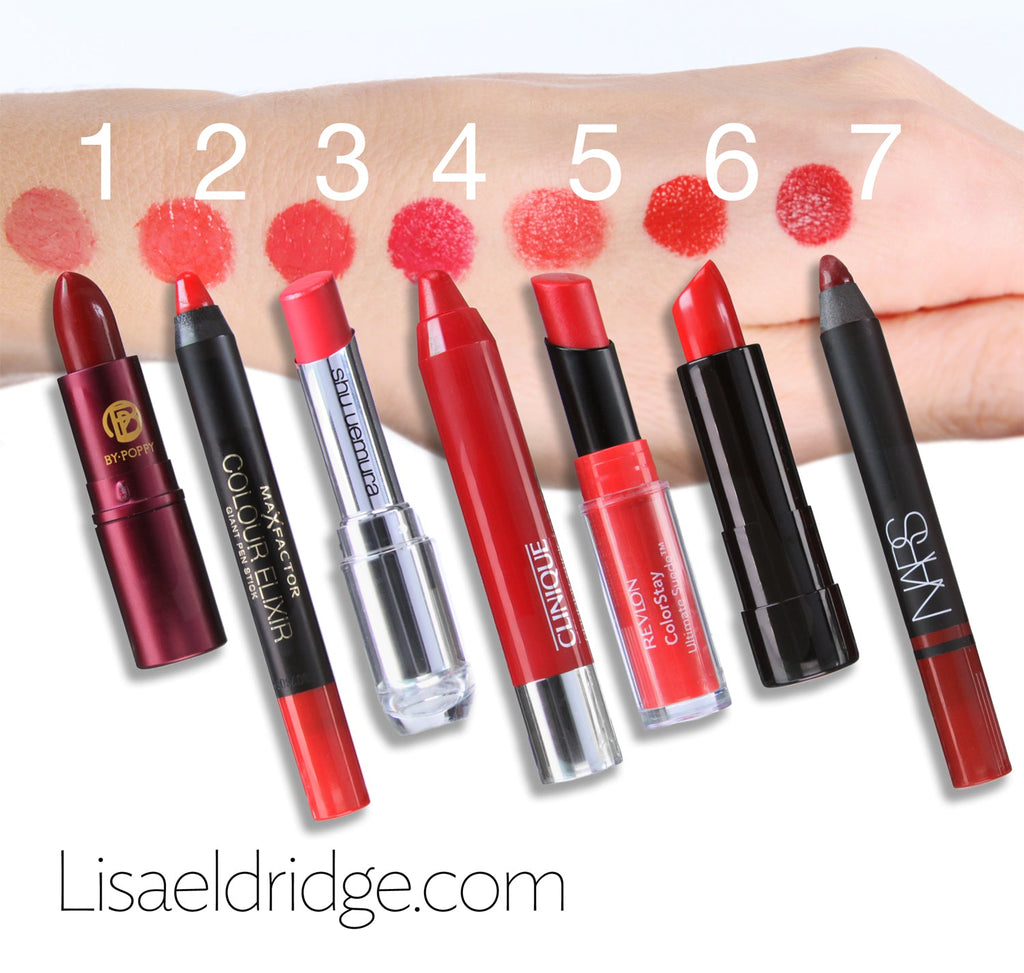 Seven Summer Reds
1. Lipstick Queen Medieval - For anyone who is scared off at the thought of red lips, this product is perfect. Firstly it's a joy to use as the stick itself is pure vitamin E and extremely moisturising and comfortable to wear. Secondly it gives your lips a natural 'just been eating berries' stain that suits everyone. The end result are very healthy looking, not too shiny lips that look sexy and feel gorgeously soft. This product is particularly useful to very fair girls who just don't feel comfortable in bold, dense reds.

2. Max Factor - Colour Elixir Lipfinity Lip Tint Pen in Designer Blossom 30 - This sheer bright red lip pencil is easy to apply and makes lips look super shiny, happy 'popsicle' bright without too much pigment. The colour has pinky, corally undertones (although I found it looks different on everyone depending on skintone) and is buildable whilst remaining transparent and wearable. 

3. Shu Uemera - RD160 - I'm crazy for the colour and texture of this creamy lipstick. It's almost like a muted neon red with bright warm undertones. The texture is so soft and creamy that it feels like a dream on the lips. It looks quite matte in the stick but goes on with a beautifully creamy sheen. Not a classic red by any means, it makes a great modern statement.

4. Clinque - Chubby Stick Intense in Mightiest Maraschino - Ohh La La this yummy lipstick is gorgeous! A real pop of uber glam and summery cherry red. The fuchsia pink blue undertones look amazing on all skin tones. Not for shrinking wall flowers, this shade will really get you noticed! It has excellent colour payoff delivering rich colour with real depth and satin luminosity that lasts.

5. Revlon Colourstay Ultimate Suede Lipstick in Finale 095 - A bold, classic red with neutral undertones this lipstick feels impossibly light on the lips, you will forget you are even wearing it. Half way between a full pigment cream lipstick and a stain, there is enough colour to make a statement without feeling too much. The finish is a soft velvety sheen and the staying power is off the chart. I applied this to the back of my hand when I first tried it and after several hand washes and a shower the colour still remained - the following day I went for a massage and the therapist asked me if I had injured my hand. Suffice to say, you will need an oil based cleanser to remove it! As with most very long lasting products, this can make dry lips feel drier so apply a little balm over the top for extra moisture if necessary.

6. Bare Minerals Marvelous Moxie Lipstick in Live It Up - If you're a fan of mineral make-up and are feeling brave, you will LOVE this lipstick. Beautifully creamy with a huge pigment payoff this classic, saturated hot tomato red pops on all skintones and is a great option for a show-stopping evening pout.  The colour really clings to the lips as you apply and it has a nice nurturing, cooling feel due to the various oils and active skincare ingredients.  Lovely rich, satin finish.
7. Nars Satin Lip Pencil in Majella – ever since I worked on the advertising film for this product I've had this shade in my kit. Pure 'Studio 54' 70's disco glam… I always think of Bianca Jagger when I apply! It's a fabulous glamorous summer evening red for olive and dark skin (also looks good, although more dramatic and deep, on fair skins). The pencil itself is quite a bit skinnier than other pencils on the market which means you can use it if you need to manipulate the shape of your natural lip line as you add colour if needed. Creamy, densely pigmented with good staying power and shiny satin finish.
Do let me know if you have tried of these already. love to hear how you got on X
For tips on how to make thin lips look fuller when using reds, watch my video here:
/video/25716/how-to-make-thin-or-uneven-lips-look-full-fabulous-without-surgery/