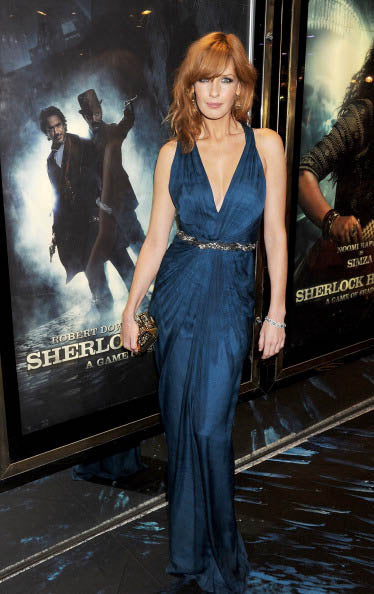 Red Carpet - Kelly Reilly
This week saw the European Premiere of the new Sherlock Holmes movie in London's Leicester Square. I was thrilled to be making up fantastic Brit actress Kelly Reilly, one of the films leading ladies. Kelly has appeared in many films including the first Sherlock movie, Eden Lake and Pride & Prejudice. 
I just love her amazing red hair and icy blue eyes, perfect for a smudgy smokey eye. Kelly asked me to use her favourite eyeshadow Dior's Ultra Violet to create the soft and messy, smokey eyed look she prefers. I hadnt used this shadow before but found it to be a total winner for bringing out her eyes. The base of the shadow is matte black shot through with large violet pearl to give an iridescent effect.
After using Chanel's Vita Lumiere Aqua foundation in No.50 sparingly so's not to cover Kellys skin (and fabulous freckles), I buffed Macs paintpot in Blackground all over the eyelids lightly as a base for the eyeshadow. Next I worked the sooty ultra violet shadow over the paintpot bringing it up and out slightly at the outer corners. I then smudged it along the lower lashes to create a soft cloud of smoke. Next I used Macs Fluidline in Blacktrack along the lower waterline and through the upper lash roots, smudging well.
Cheeks were given a soft bloom with Make Up For Ever HD blush in Light Rosewood and Dr hauschkas bronzer was used to shape and define Kelly's killer bone structure.
Lips were incredibly simple with a a layer of No7's Nude pencil follwed by a light dab of MUFE HD blush in Cassis (a rich red berry shade) as a stain.
I love making up redheads as you can really have fun harmonizing the colours. The slightest hint of colour shows up and reacts immediately with red hair which is why I felt Kelly choice of the violet/black shadow worked so well. The photo below is a little blown out with flash but I hope you get the general idea and like the look X