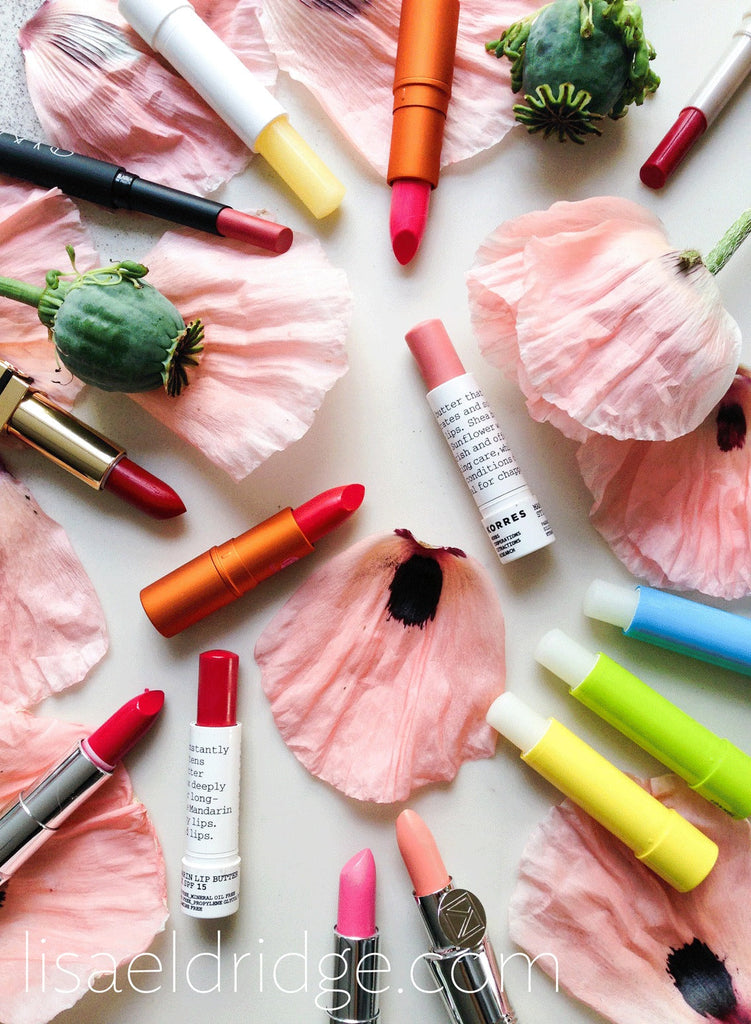 Pout Protection - Lipsticks for Summer
I'm a big believer in daily SPF to protect from the ravages of time. Most of us are pretty good at making sure our faces are well coated but lips can be easily neglected.
Susceptible to sun damage, lips are more sensitive as the skin is very thin so extremely delicate and vulnerable to burning. They also have almost no melanin - the pigment that helps shield our skin from harmful rays - so a little TLC for our pouts wouldnt go amiss! Use a specific lip product (using your normal face SPF can be a little too creamy and can leave a strange waxy look) with minimum SPF15 and don't forget to reapply regularly. 
Summer lip products, like face and body SPFs, have improved leaps and bounds with better textures and more effective technology. From clear subtle balms to brightly coloured lipsticks, here are some of my favourites…
Clear & Sheer  
UltraSun Ultralip 30 - SPF 30 (No.1) 
If you're after a high protection lip product without colour, this is a good option - one for all the family (even the boys!) and great for city breaks or festivals when you want to keep your makeup bag streamlined. Plus you can also use it on other vulnerable areas of your face or body.
Maybelline Baby Lips - SPF 20 (No.2) 
I love the fun, bright packaging of these cult balms. It's worth noting that only the clear ones (Hydrate, Intense Care and Mint Fresh) have SPF. Some dermatologists are skeptical that the level of UVA protection they contain is inadequate, so if you're heading somewhere with extreme sun it might be worth packing something a little more heavy duty.
Kaplan MD Lip 20 - SPF 20 (No.3 Sheer Peach Shine Featured) 
Colour, sun protection and a treatment in one! The colours are fairly sheer (like tinted lip balms rather than lipsticks) but beautiful. They contain hyaluronic acid spheres that plump lips with vitamin A, antioxidants and collagen, so a good anti-ageing lip product for more mature gals. The twist up silver packaging is pretty sleek too (available in nine shades).
Korres Mandarin Lip Butter Sticks - SPF 15 (No.4 Pink Featured) 
If you're prone to chapped lips or just want something hydrating, you can't go wrong with these. They're packed with shea butter, sunflower wax and mandarin oil so are instantly softening and the colour payoff is pretty yet subtle (available in four shades).
NARS Pure Sheer SPF Treatment - SPF 15 (No.5 Angelique Featured) 
A hydrating lip product with mango butter and vitamin C to keep your lips smooth and hydrated, the colour is gorgeously subtle (available in four shades).
Carmex Moisture Plus - SPF 15 (No.6 Berry Featured) 
The original Carmex balm has been reincarnated into lots of different fruity flavours. I like these Moisture Plus versions - another good option for dry or chapped lips, fuss free packaging perfect for chucking in your handbag! 
Colour
A lot of lipsticks now come with added SPF as standard, (just double check before you buy) so there's more choice than ever. These are the ones I'm currently using in my kit (and on myself!).
YSL Rouge Pur Couture - SPF 15 (No.7 Shade 14 featured) 
If you're a lipstick lover, chances are you already have one of these YSL lippies - the creamy textures are luxe and the colours super-pigmented yet non-drying.  
Lipstick Queen - Endless Summer Lipsticks - SPF 15 (No.8 Stoked / No.9 Perfect Wave featured) 
Team one of these pretty, sheer lipsticks with bare, lightly tanned skin. All of the shades have UVA and UVB filters so you know you're getting the right level of protection (available in four shades).
Rimmel Moisture Renew Lipsticks - SPF 20 (No.10 / No.11 featured) 
I know I've mentioned these lipsticks a lot recently, but I really do love them! I used the Nude Delight shade on Alexa Chung in my recent tutorial and it looked so good on her she took it home. The formulas are great for a high street product - rich and glossy and even the brightest shades don't feel dry thanks to added vitamins A, C and E and all-round moisture magnet hyaluronic acid (available in twenty shades).