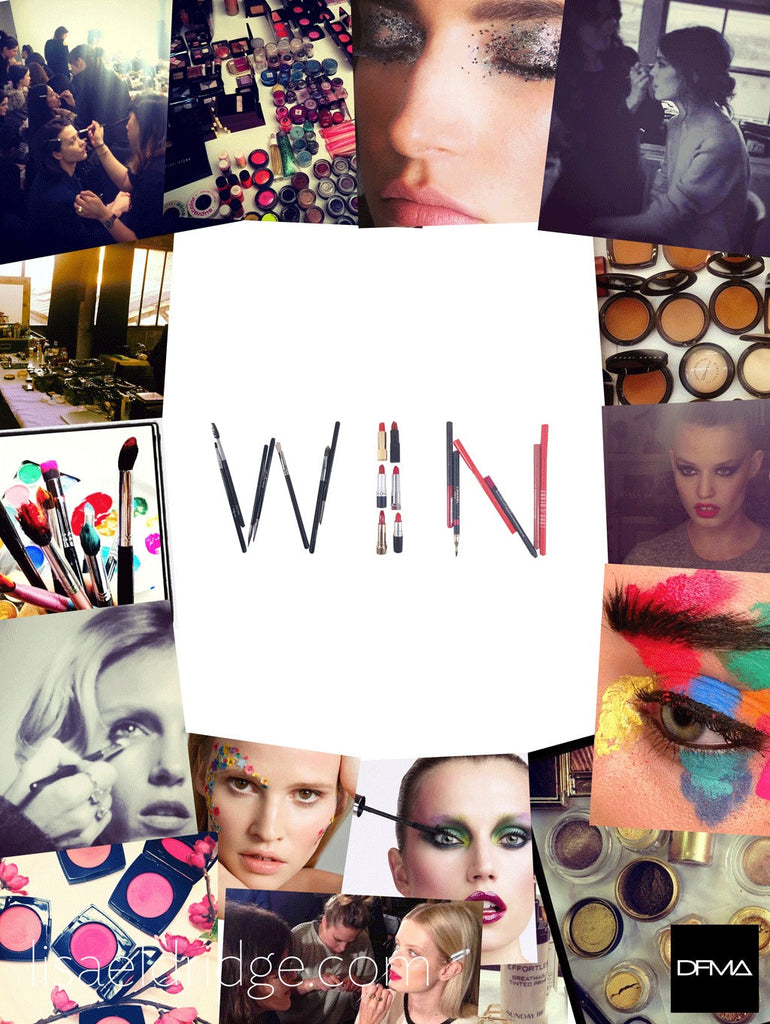 Over £5000 worth of Make-Up training for a star of the Future!
This competition is now closed, judging is about to commence! To view the entries, click on my facebook page here. 
I adore looking at all the make-up looks you create and post on my social media so much so that I set up a #mylisalook Pinterest board which features all your fabulous creations. It's fun to see how you adapt my tutorials to suit your personal style (and great to see skills developing so fast!). This time however, in the spirit of #mylisalook. I've got some exciting news for all the aspiring makeup artists out there...
The Prize

You have the chance to win a 4/5 week course in 'Fashion, Media and TV Makeup and Hair' at the fantastic DFMA Makeup Academy worth £5,180 ($8,600)!! The owner of the school used to work on my team many years ago and, after carving out her own career, has gone on to launch a successful make-up school.
The school has three UK locations in Brighton, Bournemouth and London (and soon to be Manchester). Its classes have a maximum of 12 students allowing you to get a much more hands on training with tutors who are actively working within the industry. These small classes and level of tutoring mean you finish with a high standard and level of makeup knowledge. 
On the course, you will learn the basics from flawless base makeup, editorial, period looks from the 30s to the 80's and much, much, more. The choice of when in 2014 you would like to take the course and which location you should prefer to attend is up to you. You will also receive a full hair and makeup kit!!  A few years ago I did a similar competition on my youtube channel and the winner (from New York) excelled and is now practicing makeup artistry. For more information on the course click here. 
You do not need any experience to enter ....just passion and love for make-up artistry!
How to Enter

Unlike my usual #MyLisaLook competitions, this is solely on Facebook.
To enter, you just need to...
'Like' my Facebook page here
Upload your photo to my wall or in the post that mentions the competition. (maximum of two images per person please )
Include the @ for my facebook page and the DFMA facebook page (just to make sure we see it and know it's for this particular competition )
You can create anything you like! If you've recreated one of my looks (you don't have to), let me know which one - I love to see your interpretations
I will then add your photos to a Facebook Album so you can see all the looks created and you can share with your friends.
I will be announcing the winner on Thursday the 1st May 2014 at 15.00 GMT but all your pictures need to be posted by Midnight (GMT) on Tuesday the 29th of April.
So, get those makeup brushes out and start creating! I'm looking forward to seeing all the looks you create and extremely excited to announce the winner!
Good Luck!  
Terms and Conditions
This free competition will run from 14th April and will finish on 1st May 15.00 GMT
The competition is open worldwide to people aged 16+
Accommodation, Flights etc are not included in the competition, the prize is only the 5 week course in Fashion, Media and TV Makeup and Hair at the DFMA Makeup School
Maximum two photos per person and your pictures need to be posted by Midnight (GMT) on Tuesday the 29th of April.
The winner will be announced on Facebook and will be included in my newsletter, on LisaEldridge.com and on my social media channels on the 1st May at 15.00 GMT. 
The winner will be chosen by me and Davinia Fermi, the owner of the DFMA School
Some students will require a visa to enter the UK. We would advise you to visit www.ukba.homeoffice.gov.uk to check your eligibility. Whilst we are unable to provide residential courses, DMFA can help you with your search for accommodation for any of the academies and have negotiated special rates for DFMA students. 
I retain the right to publicise the winners' names across all my channels.
I cannot be  responsibility for difficulties experienced in submitting an entry to this Competition. 
Entrants are deemed to accept these terms and conditions by entering the Competition.
This promotion is not sponsored, endorsed or administered by, or associated with, Facebook. It is simply an arrangement between me and Davinia
Entry must be the original work of the entrant, and must not infringe upon the copyrights, trademarks, rights of privacy, publicity or other intellectual property or other rights of any person or entity.