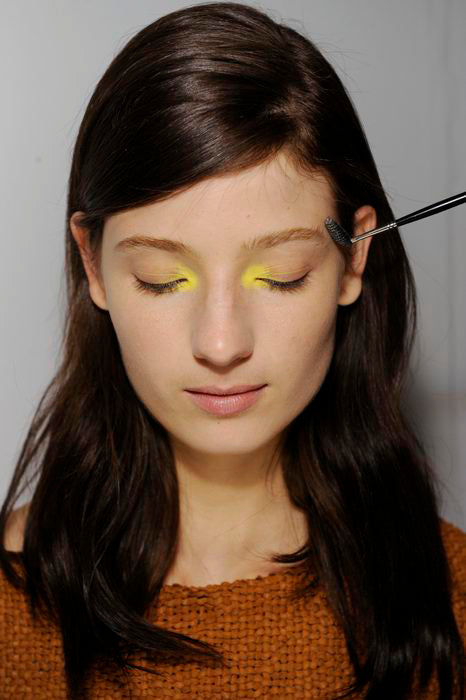 Osman Backstage
Just as we are gearing up for the next bout of fashion shows taking place this month, I took a bit of time to reminisce about last seasons shows (which showcased the Spring looks you'll be getting ready to wear now!) when I was sent these brilliant pictures from backstage at the Osman Spring/Summer show I worked on last September.
Osman is a fantastic talent who is flying high and set to go even further this year! I've worked on his show for the past 5 or 6 seasons. I'm a huge fan of his work – his clothes are beautifully minimalist, but he is also (like me) a huge lover of colour. I have to take all of this into account when designing the make-up look for the show, and this look – flawless, glossy skin, teamed with a pop of bright yellow at the inner corners of the eye – seemed the perfect compromise between colour and minimalism, and a great reflection of his work and style.
To make all of my gorgeous model's skin glow, I managed to persuade Suqqu Gankin massage therapists Tziana and Sze Wan to perform Gankin massages on the girls before I applied their make-up. And not only were the models completely in heaven, but their skin was absolutely glowing!
Take a look at my Backstage Secret Beauty Weapons blog post which I posted shortly after the show to see the girls at work, and to find out where you can download a free step by step guide to doing a Gankin massage on yourself.
I used very little base on the models skin, just enough to really enhance their natural features. I made this bright yellow by mixing Suqqu eyeshadow with Fardel white paint and daubed it just at the inner corner of their eyes. To add a modern futuristic feel to the skin I used Suqqu's highlighter palette to create a strong pearly highlight on the high point of the cheekbones and brows were natural, lightly powdered and brushed into shape. Lips were kept pale and neutral to keep all the focus on the eyes.
Of course, if you're not a fan of yellow, you could try out a similar look using any other bright, summery colour.
It was a really fantastic show – I hope you like the make-up, I'd love to know what you think!
Photographer: James Cochrane
Styling: Gillian Wilkins