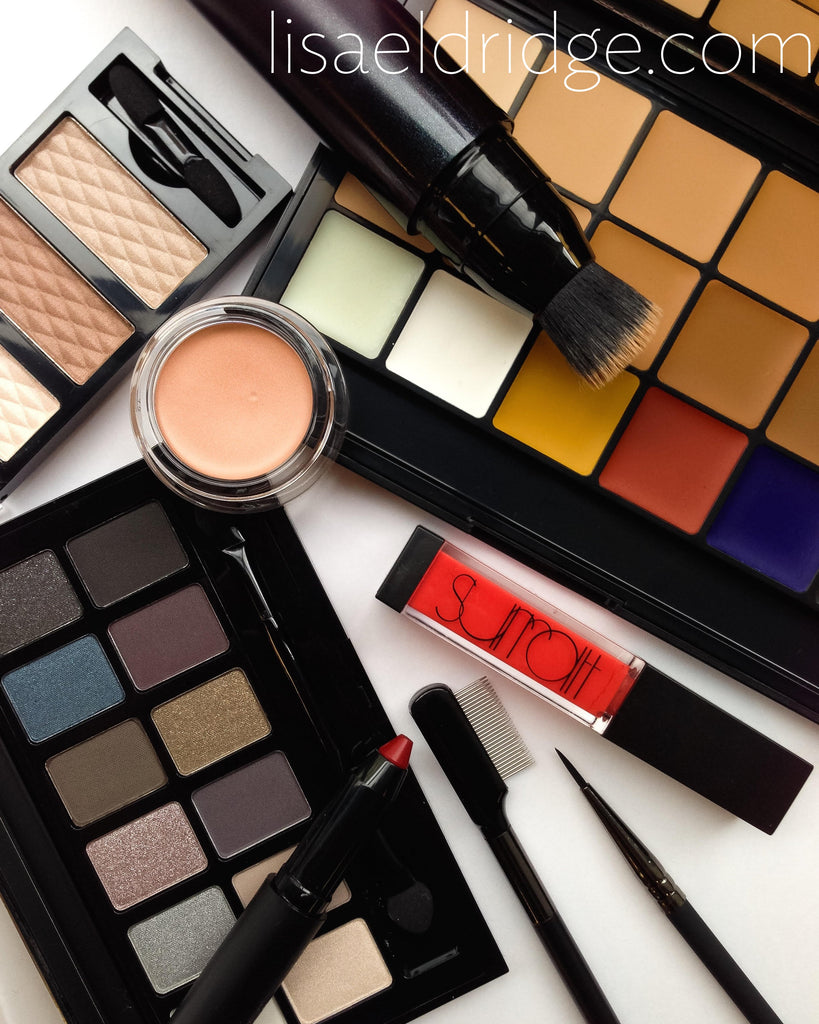 New York Beauty Spree!
If you follow me on Instagram you might have seen that I was in New York recently to be a keynote speaker at IMATS (International Makeup Artist Tradeshow). It was great to meet so many other artists and chat makeup all day. Naturally I also used the trip as an opportunity to stock up on some of my Stateside beauty favourites, as well a few new things I've been meaning to try. My shopping trip took me from strictly pro, to department store to drugstore...
FACE
I picked up a few foundations, the first was Surratt Surreal Skin Foundation Wand (available here in 15 shades) as I was really keen to try something from Troy Surratt's new range - he's a fantastic makeup artist and I'd heard good things. This is a click pen that dispenses the foundation through an angled brush - I don't normally go for foundations with built-in applicators, as I find they have a tendency to overload the brush, but was pleasantly surprised with this one. It has good coverage with a very dewy finish, so a great one if you like your skin to look extra glowy or you have a drier skin - as a combi skin gal I needed to powder my T-zone for the best result. I used it in my East Meets West film so you can see how it applies and looks on the skin. 
Next was clé de peau Radiant Fluid Foundation (available here in 12 shades) - I picked up the two darkest shades as these are only available in the US (the shades in Japan are very light). I love the formula - it's super lightweight, with a slightly luminous finish and sheer-to-medium coverage. I also wanted to try  Serge Lutens Cream Foundation (available here), the latest addition to the makeup line. The texture is very rich but it blends well and settles down to an extremely natural-looking, matte finish.
I was also given the RCMA KJB Complexion Palette (available here) while I was at IMATS. Specially designed for makeup artists, it contains 18 cream shades - two rows of foundations (with a mix of cool and warm tones) and a row of adjusters (red, yellow, blue, black and white), so you can custom-blend the perfect foundation shade. There's also a clear 'mixing medium' (same formula, minus the pigment) - good for sheering out base. This is definitely more of a 'pro' buy - it was created by a makeup artist, Kevin James Bennett, who's worked in a mixture of makeup mediums (film, television, red carpet etc) so really knows his stuff.
EYES
clé de peau Cream Eye Color Solo in 305 (available here) - I hadn't planned on getting this (you know how that goes!), but this gorgeously pretty golden/peachy cream-to-powder shadow caught my eye. It will look beautiful on a bare eye and I'll also use it as a base colour to layer other shadows on top of.
Maybelline The Rock Nudes Palette (available here) - continuing the multi-pan palette trend, I liked the look of this 'twist on nudes' 12 pan palette - it contains six matte and six shimmer shades, ranging from an off-white to a beigey nude, deep purple and gold-flecked chocolate. I'll let you know about the pigment payoff and longevity when I've had a proper play around with it.
NYC Trio Eye Shadow in Long Beach Sands (available here) - a great, basic, drugstore shadow trio with three neutral shades, perfect for a softly sculpted day look. This kind of colour way suits lots of different skintones - and is pretty foolproof to use.
LIPS
Surratt Automatique Lip Crayon in Shocking (available here) - an impulse buy as the on-counter makeup artist was wearing this shade and it looked amazing against her black hair. It looks like a deep, burgundy red in the packaging but applies as a gorgeous, matte red-pink. I love the pencil applicator which is a lot narrower than other 'chubby' lipsticks - it's more like a 'maxi lip liner'! You can get a good lip shape with it, and make adjustments if you need to. 
Surratt Lip Lustre in Flamant (available here) - I'm loving gloss textures at the moment, especially for lips - I think it looks so fresh and modern. I couldn't resist this peachy, coral orange shade - it would look great on fair to medium skin tones for a pretty hit of colour.
TOOLS
I was given some makeup brushes while I was at IMATS - Royal & Langnickel [R]evolution Pointed Concealer (available here) and [R]evolution Detail Liner (available here) - the tip is super-fine, great for uber-precise liner application. I was intrigued to try this brand when they told me that they make art brushes as well as makeup brushes - I often use art/craft store brushes on jobs as I find they're great quality (and usually not too expensive), so I'm looking forward to trying these.

I also got to meet fab makeup artist Rae Morris - we've been chatting on Twitter for years and I'm a big fan of her brushes, so she already felt like a friend and it was lovely to be able to meet in person. We signed and swapped a copy each others books, and she gave me a couple of her new brushes to try - Cream Shadow Shader (available here), which looks like a great, basic, fluffy eye brush, and Mascara Applicator (available here), a metal comb which you load up with mascara then brush through. 
Another Surratt purchase was the Relevée Lash Curler (available here) - eyelash curlers are one of my absolute makeup must-haves, and I didn't think I would find anything that would make me put down my Shu Uemura ones... but these totally have. Like Shu they're Japanese-made, but differ in that each finger slot is formed of two metal loops, rather than one, which gives a better grip so you don't have to squeeze as hard to get a full curl. They also have a much flatter, wider arc than the Shu ones which I absolutely love! (I also used these in my latest film).

SKIN
On my last day in NYC I went to see my New York facial guru, Yurga Kors (you can read about my first facial with her in my blog post here). After a manic weekend, and with a strange mix of Tokyo and New York jet lag setting in, I was excited to spend an hour in her skin-repairing hands! Yurga recently launched her own skincare line so I bought a couple of products to try out. I'm not normally one for moisturisers (I prefer more fluid serums), but back-to-back long haul flights and endless hotel air conditioning had left me feeling unusually parched and her Complete Day Moisture is dreamily lightweight. It contains a 'super-antioxidant' called lipochroman, which is apparently is able to neutralise both oxygen and nitrogen free radical damage (whereas a lot of other antioxidants are only able to neutralise oxygen free radicals), as well as a brightener that claims to be 50% more effective than kojic acid (good for skin like mine that's prone to uneven texture and pigmentation). I also picked up her Green Tea Elixir, a serum with green tea (an antioxidant that's thought to be able to help clear acne and reduce inflammation), Vitamin E and, my favourite hydrator, hyaluronic acid. Yurga doesn't sell her products online yet but if you're in NYC you can request an appointment for one of her amazing facials or customised skincare products here.
As Lancôme's Global Creative Director, I like to keep up to date with what's happening regionally when I travel, especially when it comes to products that aren't available in the UK or Europe. In NYC I picked up a box of Génifique Second Skin Bio-Cellulose Masks (available here). Each mask contains a month's worth of Génifique serum in one hit, so makes for a potent skin-plumping, hydration-boosting at-home facial treat. They're are also available and very popular in Asia.
I also got a Progrès Eye Créme (available here) as I'd heard so many great things about it from the Lancôme international makeup artist team. It's been around for years (it was discontinued at one point, but brought back after mass demand!) and is still one of the best, seriously moisturising eye creams on the market. It's high in humectants and hydrators like glycerin, shea butter and urea, making it an excellent night eye treatment for seriously dry and/or mature skin to help prevent lines and boost moisture. The texture is dense and greasy so you only need a tiny amount. You can also use it on any dry/scaly patches on your face.
So there you go, that was my New York shopping trip in a nutshell! Tell me about your latest makeup and skincare purchases in the comments. X
Watch my East Meets West - Makeup Trend Transformation film below to see a few of my New York purchases in action.