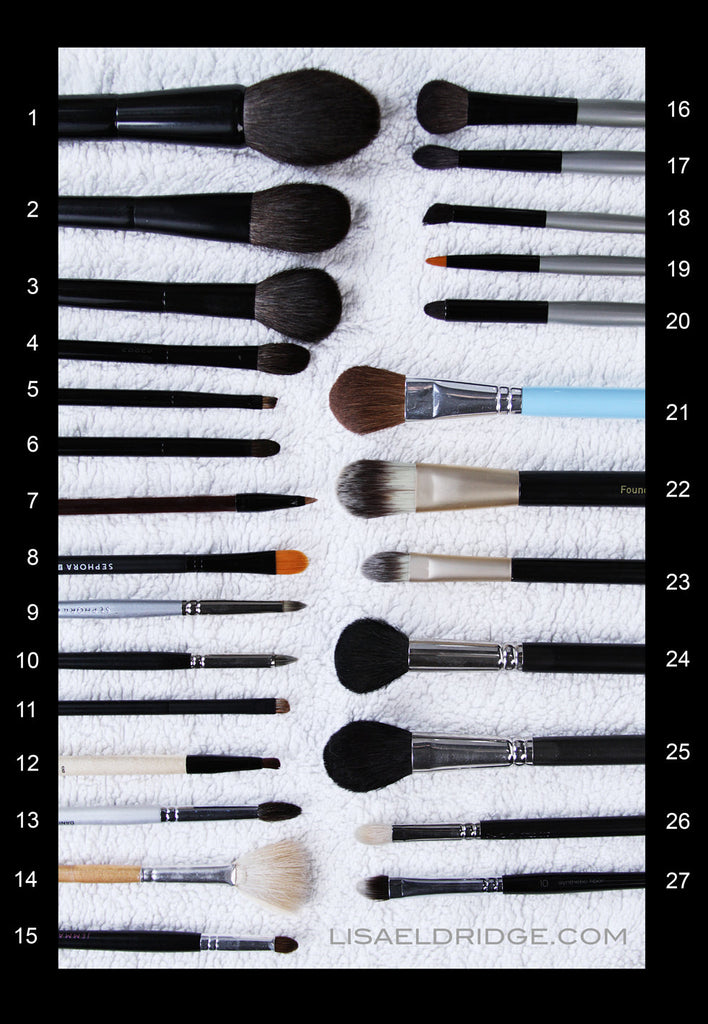 New Video: My Favourite Brushes
My personal favourite brushes has been the most requested video recently. I've also been asked to do a video of the ideal bushes and tools that non professionals should have in their make-up bags… that one is coming soon. So here are the top favourite brushes from my kit. I'm mentioning 27 (there were a few more but I ran out of time) and each and everyone is essential for me in my working life as a professional Make-up Artist. For non professionals, there are some great brushes here that will really help you to apply your make-up with a more polished finish. Enjoy and let me know what you think…your comments are always gratefully received.! Lisa x
UPDATE - for anyone outside of the UK and Japan who are looking to purchase the SUQQU brushes. At the moment the best way to buy them is via mail order from Selfidges Department Store in London. The PR Christa told me this .... "The number to ring is +44 20 7318 3538, which goes directly to the SUQQU counter.  The girls will be able to process the order over the phone and ship any products to anywhere the buyer so wishes" 

They will also be launching onto the Selfridges online shop within the next month or so too. Hopefully word will spread about this great brand and they will be available in more countries soon.
Watch the video here.
These are my favourite brushes and links to find them online:
1. Suqqu - Face Brush
2. Suqqu - Cheek Brush
3. Suqqu - Brush pouch set
4. Suqqu - Shadow Brush L
5. Suqqu - Eye Brow Brush
6. Suqqu - Eye Shadow Brush S
7. Kevyn Aucoin - Concealer Brush
8. Sephora - Professional Concealer Brush 46
9. Sephora - Smoky Eye Brush 24 - Professional Platinum
10. Laura Mercier - Smokey Eye Liner Brush
11. RMK - Eye Brow Brush
12. Bobbi Brown - Lip Brush
13. Daniel Sandler - Blending Brush
14. Benefit - Fantail Brush
15. Jemma Kidd - Deepen Brush
16. Paula Dorf - Eye Blender
17. Paula Dorf - Sheer Crease Brush
18. Paula Dorf - Eye Contour
19. Paula Dorf - Lip Brush
20. Paula Dorf - Smoke Lid
21. Sue Devitt - Powder Brush
22. No7 - Foundation Brush
23. No7 - Concealer Brush
24. MAC - Brush - 109
25. MAC - Brush - 129
26. MAC - Brush - 217
27. Shu Uemura - Synthetic Brush - 10