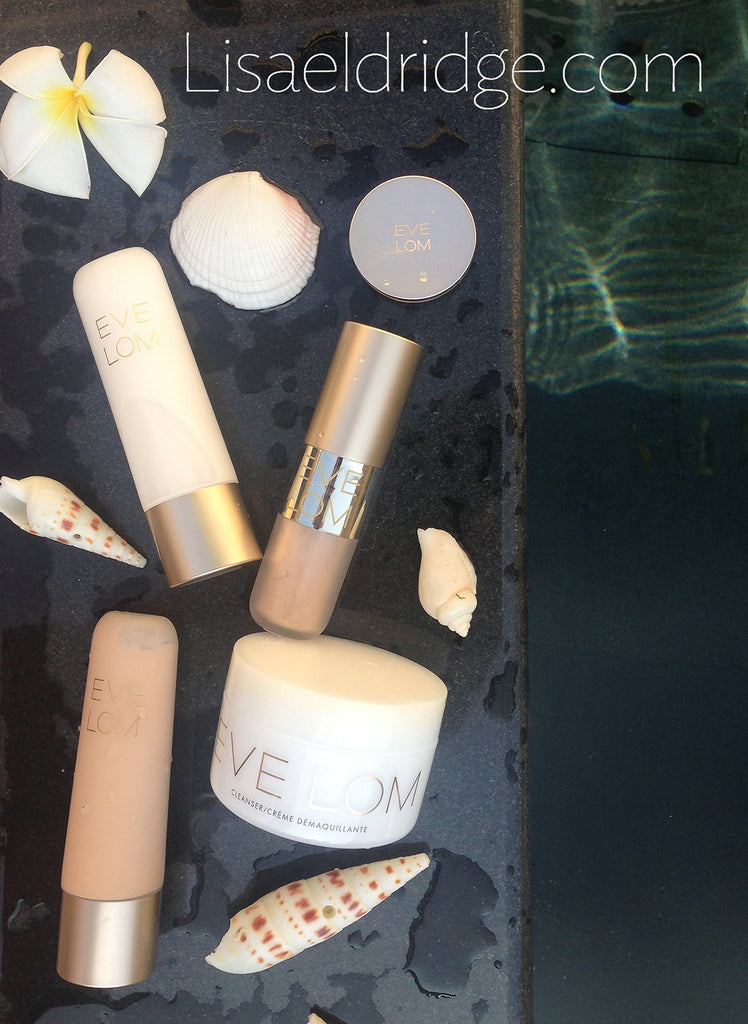 New For New Year - Eve Lom Launches Colour Cosmetics
Devotees of Eve Lom's award winning facial products and cult cleanser are going to go gaga over her first foray into colour cosmetics.
Starting with foundations, tinted moisturisers (so glad she called them that and didn't spin the marketing with a JJ or GG cream!), concealers, primers and powders. All the products are skincare/makeup hybrids and work in synergy with her hugely popular and successful skincare range. Featuring botanical stem cells and advanced skincare ingredients, all of the products are radiance boosting, easy to apply, simple and effective. I'm on holiday in the Maldives at the moment so haven't been wearing much in the way of make-up but I have tried the tinted moisturiser which has great coverage, correcting and evening out the skintone to perfection. The formula really reminded me of the early Korean BB's. I've also tried the concealer which is pretty generic as concealers go but does the job. Not as opaque as Laura Mercier's Secret Camouflage, Vichy Dermablend or some of the heavier duty Mac ones but it covers minor imperfections and shadows seamlessly. Its light to medium coverage and hydrating formula will suit drier skins without any major flaws or pigmentation.
My favourite so far is the portable translucent powder – just wow! It's so light and inpercievable on the skin and mattifies beautifully leaving a soft velvet glow. The handy travel-friendly pack with brush allows just enough powder through and the whole process is clean and simple. There is also a bronzer available in an identical pack.
I haven't had time to fully test everything in the line yet but anything I love will no doubt be popping up in my tutorials in the next couple of months so look out for them. Judging by the ingredients and price point this range is really going to appeal to a slightly older market of discerning skincare junkies.
The full line up goes like this:
Light Illusion Concealer £30 – a light reflective concealer in a pen format. Available in 6 shades (love it when a brand produces a good variety of shades for this type of product)
Radiance Perfected Tinted Moisturiser £48 – A reassuringly weighty but not heavy formula with a good level of pigment, glides on easily to perfect skin naturally without emphasising fine lines. As the coverage is quite substantial you will need a good colour match from the 15 shades available. Contains SPF 15
Radiance Lift Foundation – £50. Available in 15 shades. I haven't tried this yet but I'm intrigued as the 'Lifting' element suggests its aimed at mature skin but the finish claims to be matte. At £50 a bottle it's way ahead of Chanel, YSL etc (more in the Tom Ford arena) in terms of price point so I'm expecting great things! I know her cult cleanser is very pricey but it was revolutionary at the time of launch and became the benchmark for all the balm style cleansers that followed. This is a lifting foundation …. I'll get back to you.
Natural Radiance Mineral Powder Foundation £45 - I'm not a fan of mineral powder foundations but as they go this is up there with the best. Finely milled, soft and sheer its 100% natural and comes in 6 shades.
Sheer Radiance Translucent Powder £42 – Pricey for the amount you get, what this product lacks in value it makes up for with sheer dreaminess. The finest, softest, hydrating powder and one of the best portable packs I've used. A good sized practical brush and chic pack, this one is firmly in my personal handbag for the foreseeable future. Considering I've only road tested a few of the products so far it's impressive to have something in my handbag already. I'm not easily impressed. Don't forget, I've been receiving free make-up to try for over 20 years now … the novelty wore off a loooooong time ago. So for me to promote something to my pro kit or handbag is MAJOR.
Golden Radiance Bronzing Powder £45 - this will appeal to anyone who likes to bronze on the go. I'm personally not a bronzing powder addict so I can't see it making my bag but, again its quality light weight, finely milled powder that glides on smoothly. Available in two good shades.
Flawless Radiance Primer £40 – a skin strengthening and radiance boosting primer. It very light textured and doesn't feel oily on the skin at all whilst providing a good level of hydration. With my oily skin i found it too shiny but it  would perfectly suit a more mature or normal to dry side skin.
Brushes £30-£38 - Three standard but nice quality brushes for concealer, foundation and powder application.
All in all a high end, high quality, nicely packaged, modern range of no nonsense products with some interesting and innovative skincare ingredients. As an exercise in brand extension this is beautifully done with the doyenne of skincare's stamp is all over it.
The range launches February 2014 and will be available from SpaceNK stores and online.