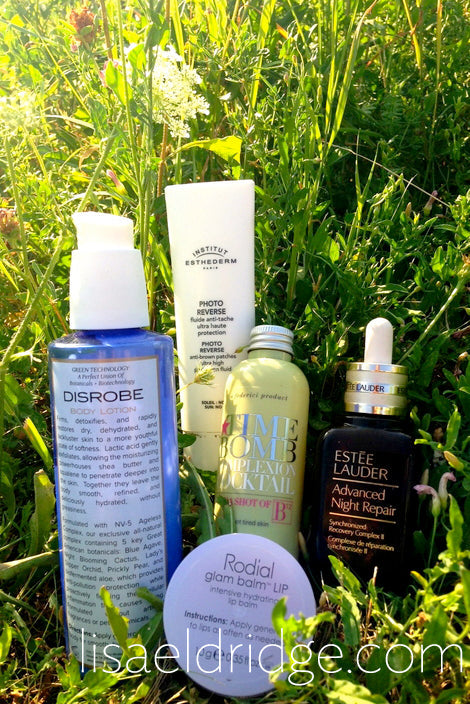 My 'Zero Make-Up' Holiday Skincare Essentials
It's been almost 2 weeks since I've worn any kind of make-up - I haven't even curled my eyelashes, which is unheard of for me! Whilst I do have similar days at home, I don't ever carry on for this long.
I arrived at the original Mayr Clinic in Austria 12 days ago for my annual detox/re-charge and decided to not bother with the small but perfectly formed bag of make-up I'd packed. During the detox process you have days when you feel and look absolutely dreadful and in previous years I've worn a little make-up, mainly eyelash stuff, to cheer myself up– but this year I thought I'd have a complete make-up detox. I've tried to keep my skincare routine simple too (for me) and after basic cleansing morning and night, here's what I narrowed it down to:
During the day:
After cleansing I have been using Time Bomb Complexion Cocktail with a shot of B12. I thought this would be a good thing to pack as during the first week of the detox process you look like death warmed up. I suffer the effects of sugar deprivation including headaches, sleeping badly, feeling generally horrible and looking like a zombie. This product contains B vitamins, brown algae, ginseng and 12 amino acids in addition to one of my all time favourite ingredients, hyaluronic acid which helps skin look immediately fresher and more plumped. The other thing that attracted me was that it's non greasy and feels just like water, perfect for my oily T zone in baking hot weather. I just poured it into the palm of my hands, rubbed them together and then smoothed and gently patted it in all over. I've used it after every shower and swim too.
Indoors I've stuck to just using the Complexion Cocktail but whenever outside (I've done at least 3+ hours hiking a day since I've been here….argh!) I've added my all time favourite holiday facial sunblock Institut Esthederm's Photo Reverse. Whilst I don't think this product gets rid of existing pigmentation it definitely prevents it developing and increasing and stops any new pigmentation forming. I've used it for 10+ years and still balk at the price but for skin like mine that's prone to moles, pigmentation and general brown spots, it's been a lifesaver. The consistency is a bit greasy for my oily-ish (in summer) skin to be honest but I don't care. I'm much more interested in the long term benefits than looking perfectly matte on holiday. During the summer in the UK when I'm working, wearing make-up and going in and out of the sun, I don't tend to use it….. but for holidays and trips to sunny countries its essential for me. I apply it to my face, neck, chest and the back of my hands (prevention is better than cure!) and re-apply every 2+ hours. It ran out today – thank god I'm leaving tomorrow!
On my body outdoors I've been using The Organic Pharmacy Cellular Protection Sun Cream in SPF30 - WHICH I STUPIDLY FORGOT TO INCLUDE IN THE PHOTOGRAPH! It's a natural mineral sunscreen with good old titanium oxide and zinc oxide plus micronized minerals and soothing ingredients like Aloe and Rose Hip (it smells lovely). It also contains nourishing Shea Butter and Calendula. It needs a good massage on application as it's quite thick but once on I have found it to be perfectly sweat proof on my long hikes.
In the evening:
My new obsession is Sunday Riley's Disrobe Body Lotion which I've been applying every evening after my shower. Initially I was attracted to the lactic acid in the ingredients list as it's my favourite ingredient ever but the delicious smell, similar to a lemon meringue pie has also been a huge plus point – when you're a sugar addict deprived of your drug you'll do anything! After about 4-5 nights I found my body skin was feeling a lot softer and was noticeably smoother (so much so my masseuse here commented). I can't tell you how many boxes this product has ticked for me during my time here. First the sweet smell (its made up for all the delicious puddings I've missed) and the great results. After 12 nights use, my body skin feels very firm and smooth. The combination of the exfoliating and firming effects of the Lactic Acid, cell renewing Yeast Extract and Phosphate and the moisturizing properties of Shea Butter, Urea and Glycerin (still the best humectant out there in my books) have worked a treat. It also contains something called NV-5 Native American Botanical Base which claims to detoxify and rejuvenate the skin. I must admit I know nothing of that but in this case, I'll go with it.
I'm not a night cream person, preferring to use either nothing or a serum. For this trip I went back to basics with the now cult Estée Lauder Advanced Night Repair. It launched more than 25 years ago and was revolutionary at that time for its use of skin plumping hyaluronic acid in a large dose. That coupled with its unique texture and innovative brown bottle made it an instant hit which it remains to this day. It had a 'facelift' in 2009 when new ingredients were added to bring it up to date and if you are someone who hates the idea of heavy night creams and just want a good, solid, moisture binding, repairing treatment you cant go too far wrong with this.
Finally, my only concession to 'make-up' has been glossy lips and brows courtesy of Rodial's Glam Balm Lip. It also contains hyaluronic spheres (can you see a theme developing here) and rose wax which gives it its delicious scent.