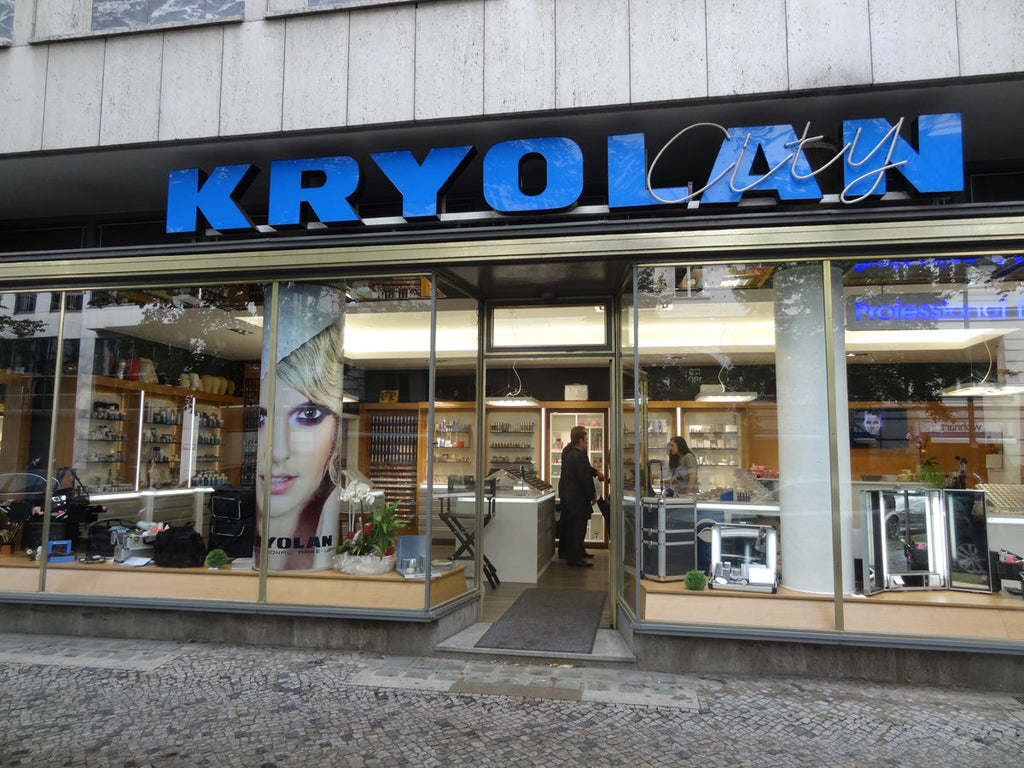 My Visit To The Berlin Kryolan Make-Up Factory
In July, I was invited to the Kryolan make-up factory in Berlin to celebrate the re-launch of its brand and flagship store. I was really pushed for time and needed to be in New York for a job the next day but invitations to visit make-up factories are to me what catnip is to cats, simply irresistible, so I had to make it work! It's the part of my job I think I like most – something to do with the synergy of creativity and technology (and the smell of the greasepaint) that I'm a little addicted to.
I remember using Kryolan a lot when I was starting out as a make-up artist. That was in the days before brands which offered vivid, strange colours, dense pigments and unusual textures like MACpro and Illamasqua (which is made by Kryolan) were so widely available.
I still religiously use a couple of their products for more creative editorial shoots – their aqua colours, dermacolours and greasepaints. I'm also a big fan of the Charles Fox pro make-up supply store in London's Covent Garden, which was acquired by Kryolan in 1992 as the main stockist of their products in the UK. I wasn't however aware of what they'd been doing over the past few years so this trip was a great eye-opener for me.
The brand was born in the 1940s, founded by Arnold Langer, a chemistry student who wanted to combine his two loves, science and theatre, by developing a make-up line for theatre. Since then, it's developed make-up and colours for thousands of theatrical and film productions across the world (including the famous Shrek green!).
Kryolan really wants to reintroduce themselves to colleges and make-up artists in-training to show that, although theatrical and prosthetic make-up is still very much at the heart of their business, thats not all they are about. I was really surprised by and impressed with a lot of the new formulations I discovered which have super-light, fine textures, brought in for HD (they were the first brand to provide HD make-up to artists in 2006). I especially loved the make-up blender, a really useful multi-tasking product that you can use to make other make-up products sheerer and more blendable (due out in October).
Over the past 15 years I've spent a lot of time in various high tech make-up factories in Europe and the Far East and I thought I'd seen it all but Kryolan was all together different from anything I've experienced. The factory itself was amazing – it was a lot more home spun than many of the slick, marketing focused factories I go to regularly. There were buckets of pigment everywhere and everyone working there seemed so happy, friendly and inviting. You could definitely sensel the family atmosphere. You can see from my photos the bright coral lipsticks that were made, very simply, in front of me. Look also at how labour-intensive some of their processes are. I couldn't quite believe that all of their hot pouring is done by hand – even into those teeny tiny lipstick and DermaColor palettes I've used in my kit for years! Not a job you'd want to be put on after a particularly heavy night! Everyone was using identical, quaint GDR standard milk jugs from East Germany which are sourced from local flea markets as they have found them to be the most accurate for hot pouring – incredible!
Kryolan make the majority of products used for prosthetics and movie special effects, including tonnes and tonnes of fake blood which the technicians test on their arms to make sure it's the right consistency before bottling – made for a rather ghoulish sight I have to say!
There was an authenticity to the Kryolan factory which I loved – there's no big marketing machine behind the scenes, this is a real family business. I just kept thinking that it was all really charming and longed to roll up my sleeves and get stuck in, hot pouring and pressing!
Arnold (now aged 92) still works a four-day week at the company's Berlin HQ alongside his son Wolfram who is now the Managing Director of the company and grandson Dominik, another director. The staff as a whole tend to stay in their jobs for years – as we were walking around with Wolfram and Dominik, lots of the ladies were telling us how they remembered Dominik as a little boy, 'running around the factory making mischief, then he was hot pouring and labeling, and now look at him!'
There is also a fierce loyalty from the directors towards their staff – Dominik told me that if a member of staff's husband had been made redundant, they would do everything in their power to find him a job with Kryolan. It's easy to see why the staff doesn't leave.
After touring the factory, Wolfram took us for a drive around the city. I've been to Berlin a few times for work but have never seen it in this way. He was something of a raconteur and had some great stories of how they used to smuggle make-up across the border to the theatres in East Berlin! We visited all the major theatres of the city and he spoke with genuine warmth and love for the family company and what it's achieved over the years.
Today, the brand has stores all over the world and, although my trip showed me that they've come leaps and bounds in terms of formulas and cutting edge technology, I was really surprised to learn that they never discontinue colours, and can re-reproduce at any time, past products, even in tiny quantities. When I asked Dominik how this could possibly make economic sense, he told me, 'it's what we do.'
The working make-up artists they supply are the most important thing to them. If, for example, someone calls to ask for a specific colour from a 1940s opera, which they provided the make-up for, they will still have the original recipe and be able to make it up again immediately, which really is astonishing in this day and age.
Kryolan's aim isn't to be a consumer brand – they just want make-up artists and other professionals they work with to know that they are not just purely theatrical, and this trip really did open up loads of possibilities for using the brand to me.
There are very few true make-up artist brands left today, some brands that began that way have turned 100% consumer over the years. Kryolan have clearly stuck to their roots and have so much integrity and history, it's really refreshing.
If you're a make-up artist, I'd love to know if you've used the brand before –what are your favourite products and colours from the line? Non make-up artists could also do a lot worse than check out some of their newest HD formulations. Have any of you tried their products for your own personal use?